As beautiful as a jewellery box! Take a bus tour of the Kanmon area and enjoy the beautiful night views! "The KANMON Straits Night View Tour" runs every Saturday until March 2020♪

Spend a romantic night taking in gorgeous night views!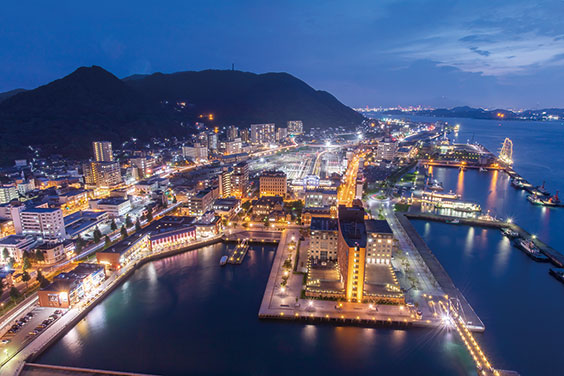 Kitakyushu City was recently selected as one of "The New Three Japanese Cities with the Most Spectacular Night Views." But did you know that there is bus tour that goes around the local sights in the Kanmon area, providing visitors with a chance to enjoy stunning nightscapes? The "ぐるっと関門夜景バス" (Gurutto Kanmon Yakei Bus / The KANMON Straits Night View Tour) will run every Saturday until March 14th 2020! The service will also be available on Fridays during November and December, which means there are even more opportunities to take part in this wonderful trip!
There are four locations to get on and off the bus tour: JR Kokura Station North gate, JR Mojiko Station (both Kitakyushu City), JR Shimonoseki Station South Gate, and Kamon Wharf (both Shimonoseki City, Yamaguchi Prefecture). Visitors can choose from one of three courses. Course A offers visitors a night tour of the Kanmon area. Course B includes the bus tour and a fugu (blow fish) set menu . Course C will take guests on night cruise around the Kanmon area and also includes a set menu that serves fugu. And that's not all... Visitors who are staying in the Kitakyushu or Shimonoseki City areas are eligible for a 500 yen discount! These night tours are an awesome way of taking in a number of local tourist attractions, such as the Mojiko Retro Observation Room, Kanmon Bridge, Mekari Park (Second Observation Deck), and Hinoyama Park in a fast, relaxed manner♪
* Reservations are required for all courses. The maximum capacity for each course is 40 participants. Please check the
official website
for more details (fees, schedules, etc.)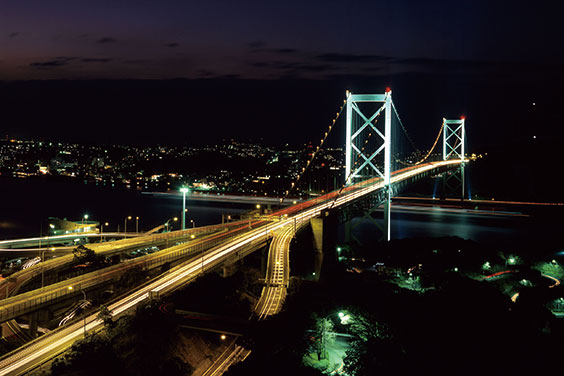 The Mekari Second Observation Deck (Moji side) is one of the best spots to see the Kanmon Strait.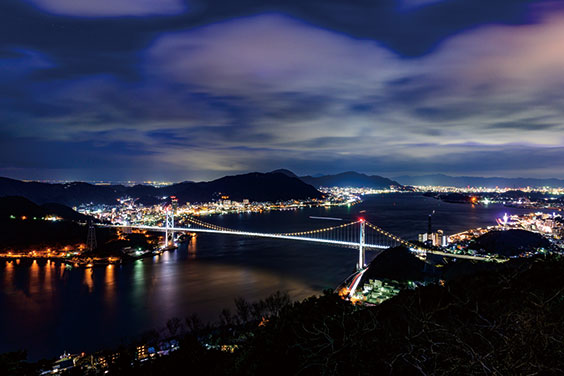 This stunning view of the Kanmon Strait is visible from Hinoyama Park (Shimonoseki side).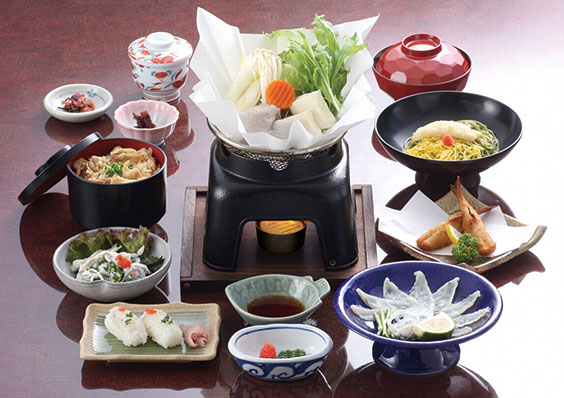 The set meal gives visitors the chance to sample fugu, a dish that is strongly associated with the local area. (*The meal shown in the above picture is served as part of Course B and C, which both depart from Kitakyushu)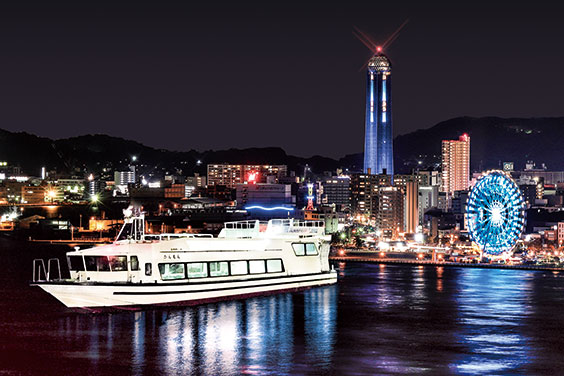 Course C includes a trip on a cruise ship! This means that customers can enjoy incredible views of the local area from the sea.
The glittering lights sparkling in the night sky resemble a beautiful jewellery box! These views are only visible once the sun goes down, so why not check them out during a romantic date night? (Editorial Dept.: nika)
"ぐるっと関門夜景バス" (The KANMON Straits Night View Tour)
- Period in Operation: Every Saturday until 14th March 2020 (* The service also available on Fridays during November and December)
* Not running on Saturday 4th, 11th, 25th January and 1st February 2020.
* The service is available on the following Sundays and public holidays: 3rd November 2019, 12th January 2020, and 23rd February 2020.
* Course C is only available on two dates (Sunday 12th January and Saturday 7th March 2020).
- Official Website:
https://www.kanmon-yakeibus.jp/
- Facebook:
@kanmon.yakeibus
- Instagram:
@kanmon.yakeibus
Related Articles