Japan Rediscovers 'Yurukyara' Mascots

It has been a couple months since the 2012 'yurukyara' grand prize contest has come to a close. With over 500 participants, it makes you wonder exactly how many 'yurukyara' mascot characters are out there! Each of these characters represents the hope and love of their mother prefectures and they wage a tough battle every year to see who will come out on top. The current number one and last year's runner-up is Bari-san from Ehime prefecture, who won by a gigantic lead and left any of this year's subsequent competitors in the dust.
Last year's winner 'Kumamon,' in favor of re-entering the competition this year, has decided upon taking on the role of cheerleader instead. The extremely popular 'Mon Bear' having pulled 2.5 billion yen in merchandise sales last year probably feels no reason to join this year's contest. I, myself admit to having been one of those individuals that has bought into the 'Kumamon' fever – his candy goods, and also his products that are affiliated with the Softbank Hawks industry.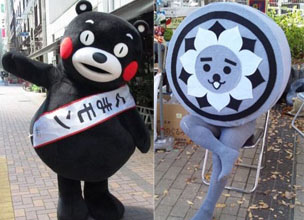 ● Kumamon of Kumamoto and Nishiko-kun of Tokyo posing for the camera.
The character, however, that has really caught my attention is Yamanashi prefecture's Torimotsu-chan. His eyes are irresistible. Bearing a striking resemblance to Chibimaruko-chans father, Hiroshi, this mascot's eye's aren't your stereotypical type and add to his uniqueness as a character. Upon further research, Torimotsu-chan was found to be the promotional face of a B-grade gourmet 'Kofu-style Chicken Giblet Hotpot'. He is said to bring an abundance of blessings. And while I have never been to Kofu prefecture I do feel an undeniable closeness to it now.
● Torimotsu-chan!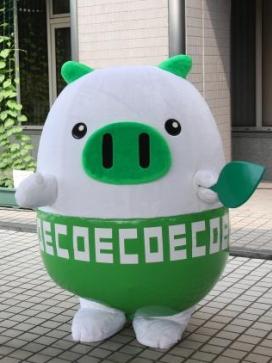 ● Fukuoka prefecture's very own Ecoton!
PRESENTS
All the info. on asianbeat's present campaign!