The worlds of Kabuki and Hatsune Miku collide! "Cho Kabuki 2022" will be on at Fukuoka City's Hakataza Theater from 4th August to 7th August 2022!

Enjoy a form of entertainment that brings together traditional Japanese performing arts and the latest technological developments!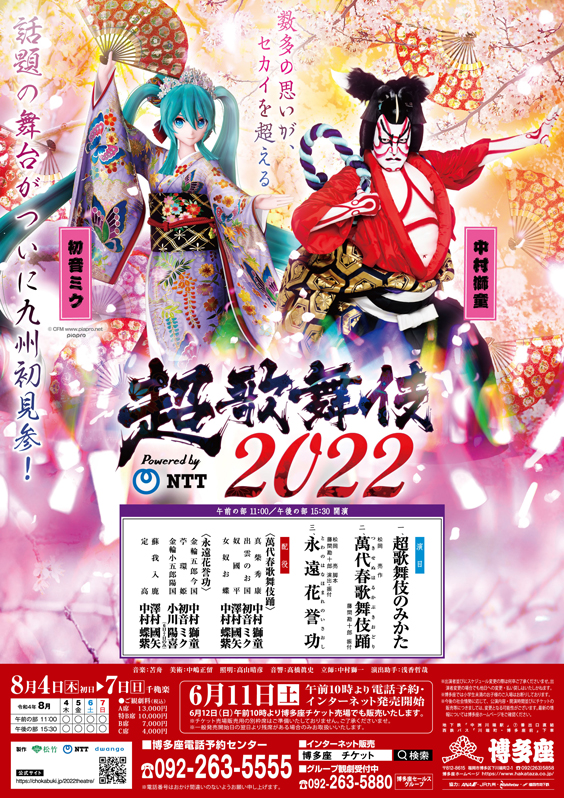 Experience a wonderful fusion of traditional Japanese theater Kabuki and technology this Summer! "Cho Kabuki 2022 Powered by NTT" will be on at Fukuoka City's Hakataza Theater from Thursday 4th August 2022 to Sunday 7th August 2022. This innovative show stars Nakamura Shidou, a performer who appears in kabuki productions, movies and dramas. The world-famous virtual singer Hatsune Miku will also be making an appearance!

Before the performance starts there will be an introductory session called "Cho Kabuki no Mikata (lit.: How to Enjoy Cho Kabuki)." The next part of the show features a performance titled "Tsukisenuharu Kabuki Odori." Some notable historical characters make an appearance during this gorgeous dance. A troupe led by Izumo no Okuni appear alongside the warrior Mashiba Yuki Shosho Hideyasu. The next segment is called "Towa no Hana Homare no Isaoshi." This new piece is based on the assassination of Soga no Iruka, an incident that triggered the start of the "Taika Reform." This special show draws inspiration from Hatsune Miku's famous track "Hatsune Miku no Shoshitsu (THE END OF HATSUNE MIKU)". The audience can really get involved in Cho Kabuki. You can even take penlights into the theater! This is not permitted at more traditional kabuki performances, so be sure to make the most of it! Viewers will have a great time watching and participating in this unique show. It is a fantastic opportunity for newcomers to kabuki and international visitors to enjoy a fresh take on a traditional performing art. The staging brings together some wonderful Japanese aesthetics. Head over to the Hakataza Theater this August to experience everything first hand! (Editorial Dept .: Nika)

「超Kabuki2022 Powered by NTT」
"Cho Kabuki 2022 Powered by NTT"
© Crypton Future Media, INC. www.piapro.net