A death battle is awaiting! "Demon Slayer: Kimetsu no Yaiba the MOVIE: Mugen Train" to be released soon!

Tanjirō's new mission begins! Main theme "Homura" by LiSA is a must-listen!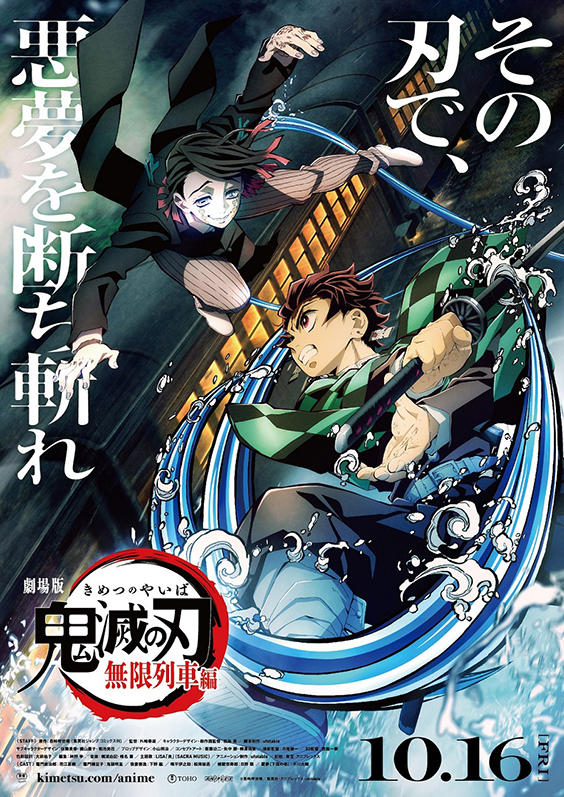 With more than 100 million copies in circulation as well as various types of collaboration and tie-ups, the manga series "Kimetsu no Yaiba" has had a meteoric rise in popularity. The theatrical version "Demon Slayer: Kimetsu no Yaiba the MOVIE: Mugen Train" to be released in Japan on Friday 16th October has been attracting lots of attention from all over the world! The movie is a sequel to the TV anime version of "Kimetsu no Yaiba" aired in 2019. The story follows the protagonist Kamado Tanjirō, who boarded a mysterious steam locomotive named "Mugen Ressha" (lit.: Mugen Train) where more than 40 people have suddenly disappeared, causing him to begin a new mission fighting the demons.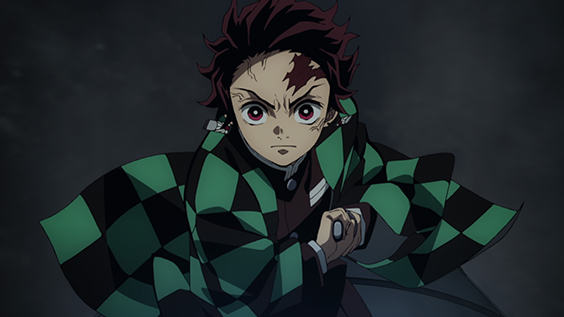 Tanjirō and his team joins one of the strongest swordfighters of the Demon Slayer Corps, "The Flame Hashira" Rengoku Kyojurō. This time Tanjirō will have to face the strongest enemy ever - Enmu. It is likely to have many thrilling duel scenes and we can't wait to see that! The death battle between the two as well as Tanjirō's personal development are definitely the highlights of this movie!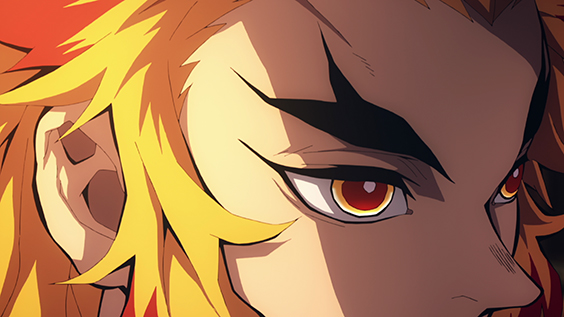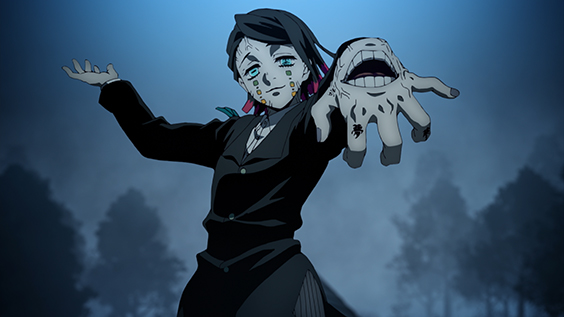 Following the main theme of the TV anime version, "紅蓮華" (Gurenge) by LiSA, this time they are going to have LiSA's "炎" (Homura) as the main theme for the movie version! The delicate yet powerful ballad is such an intoxicating piece, perfectly matches the sad story developed between humans and demons that depicts the life, death and fate of humans. (Editorial Dept.: Nika)
List of characters!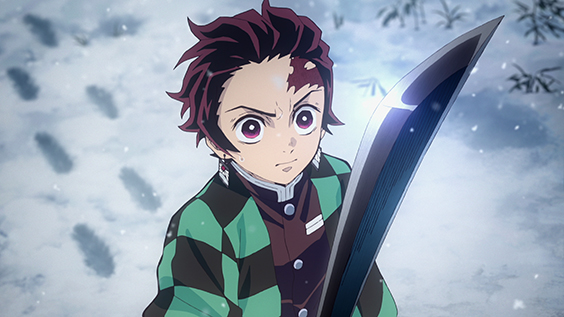 竈門炭治郎 / Kamado Tanjirō
(CV: Hanae Natsuki)

A kind-hearted boy whose family has been attacked and slaughtered by an Oni / demon. He joins the Kisatsutai (the Demon Slayer Corps) that hunt demons so as to turn his demonized sister into human again and to avenge his family. He has the ability of discovering weak points by using his sharp sense of smell!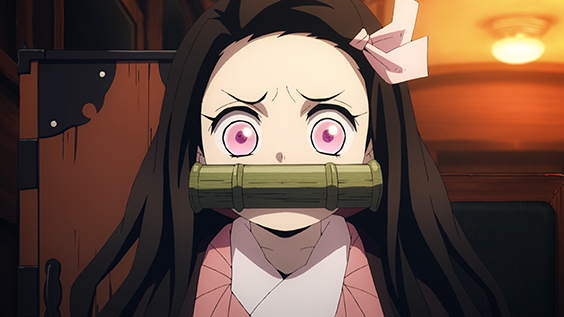 竈門禰豆子 / Kamado Nezuko
(CV: Kito Akari)

Tanjirō's sister, who has been transformed into a demon when the demon's blood enters her wound during the attack. Despite that, she is trying to protect Tanjirō and the people around him while resisting the demon's nature of attacking humans. Although she cannot speak, her movements and facial expressions are absolutely adorable!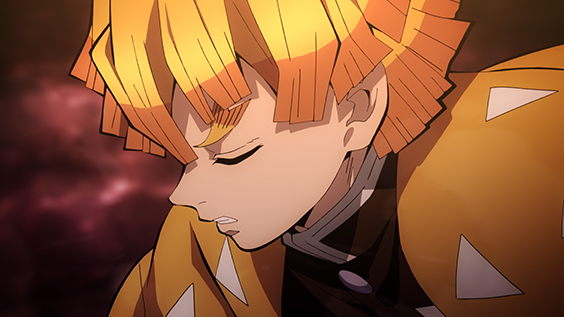 我妻善逸 / Agatsuma Zenitsu
(CV: Shimono Hiro)

Joins the Demon Slayer Corps at the same time with Tanjirō. With his exceptional hearing he is able to distinguish people and demons by "sounds". He has rather low self-esteem and sometimes self-deprecating, but when he falls asleep after undergoing extreme fear he will show his true power. The extreme difference of his personalities is one of the traits that make him attractive.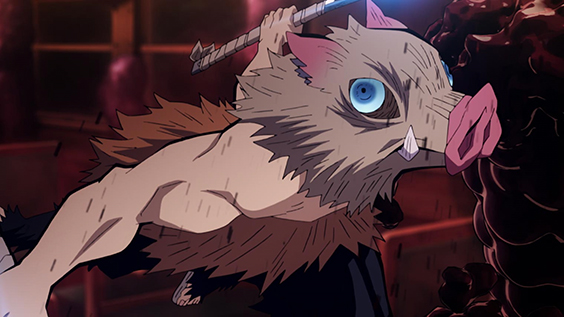 嘴平伊之助 / Hashibira Inosuke
(CV: Matsuoka Yoshitsugu)

One of the member of the Demon Slayer Corps. A belligerent, strange character who always wears a boar's head, but actually has a rather charming face. Raised in the mountains, he possesses remarkable tactile sensation that he can capture someone's whereabouts even without seeing it.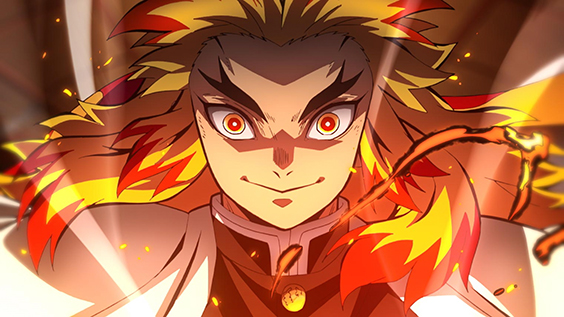 煉獄杏寿郎 / Rengoku Kyojurō
(CV: Hino Satoshi)

"炎柱" (Enbashira / The Flame Hashira) who has mastered "Hono no Kokyū" (Flame Breathing). His outfit consists of a Haori with flame-like pattern. With a straightforward personality, he is an enthusiastic and honourable swordsman that burns like a flame!

「劇場版『鬼滅の刃』無限列車編」
Demon Slayer: Kimetsu no Yaiba the MOVIE: Mugen Train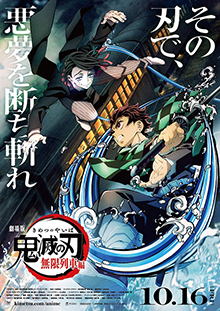 - Written by: Gotōge Koyoharu ("Weekly Shōnen Jump" published by SHUEISHA Inc.)
- Director: Sotozaki Haruo
- Music: Kajiura Yuki , Shiina Go
- Animation Produced by: ufotable
- Distributed by: Toho Co., Ltd., Aniplex Inc.
---
- "Demon Slayer: Kimetsu no Yaiba the MOVIE: Mugen Train" Official Website:
https://kimetsu.com/anime/
- "Kimetsu no Yaiba" Official Portal Site:
https://kimetsu.com/
- "Kimetsu no Yaiba" Twitter:
@kimetsu_off
© 吾峠呼世晴/集英社・アニプレックス・ufotable
Related Articles