Ever thought that your voice would be on-air? "Seiyu Stadium 2020 - Koe no Shukudai (lit.: The homework of voice)" is now calling for participants!

No participation fee required! Send over your voice to join the contest!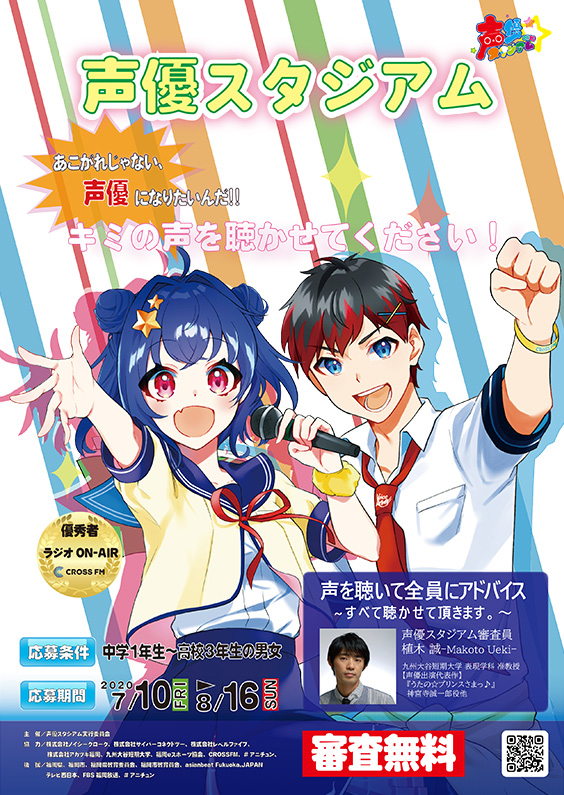 "Seiyu Stadium 2020" is now calling for all junior and high school students who wish to become voice actors! In the past years, those who have passed the final screening were gathered at the venue where the final round took place, but this year (the 6th year) there will be a new method - the best performer's voice will be announced on the anison (anime song) radio program, "Ani-tune"! The participation is free! Those who are interested may check the official website for more details of the application. In addition, there will be a video by one of the judges, Mr. Ueki, that explains the key points of the tasks (>>
HERE
!). The application is available until Sunday 16 August, every applicant will receive an advice from the judges of Seiyu Stadium by email. Ever thought that your voice might be on-air? Grab this chance and take the challenge to achieve your dream!
* This event will be carried out in Japanese.
Seiyu Stadium 2020 - Koe no Shukudai (lit.: The homework of voice) Outline
- Target participants: Students from 1st grade of junior high school to 3rd grade of high school
- Application period: Friday 10 July 2020 - Sunday 16 August 2020 (JST)
- Radio broadcast schedule: 13, 20, 27 August 2020 (all on Thursday)
- Organized by: Seiyu Stadium Executive Committee
- Official Website:
http://www.crossfm.co.jp/~anista/
Related Articles (* Following articles are available in Japanese)