PÂTISSERIE GEORGES MARCEAU LaLaport FUKUOKA
INFORMATION

In order to prevent the spread of COVID-19, some of the facilities might have taken various measures such as reducing business hours or temporarily closing their doors. For more information, please check the relevant facility's official website or social media account.



Enjoy cakes made with fresh and juicy fruits.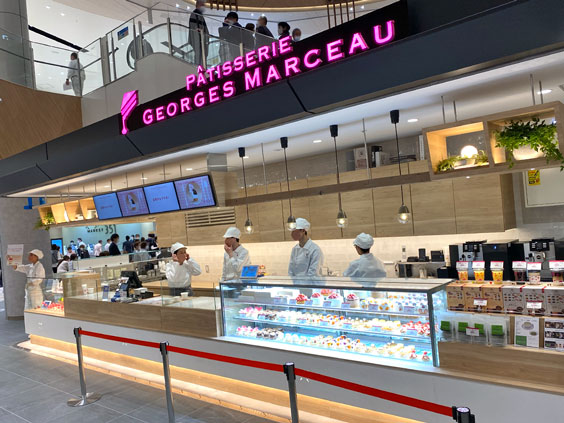 Introducing a new cake shop, which opened in Mitsui Shopping Park LaLaport FUKUOKA, a large commercial shopping facility in Fukuoka City: PÂTISSERIE GEORGES MARCEAU! Produced by the renowned French restaurant in Fukuoka, Georges Marceau, this pastry shop offers a variety of delicatessen such as fruit juices made from fresh pears or peaches, extracted from fresh produce, delivered directly to the cake shop by farmers. Choux pastry filled with a generous amount of cream, cup cakes and "Fruttini", a dessert served in cups with a mix of ice cream and soft serve ice cream, are also available! Many people can not help reaching for the phones to take pictures of these gorgeous desserts and rightly so. When you visit LaLaport FUKUOKA next time, please stop by to be amazed by this shop.

* The content of the article is as of the time of the interview. Please check the official website / social media accounts of the store for latest information.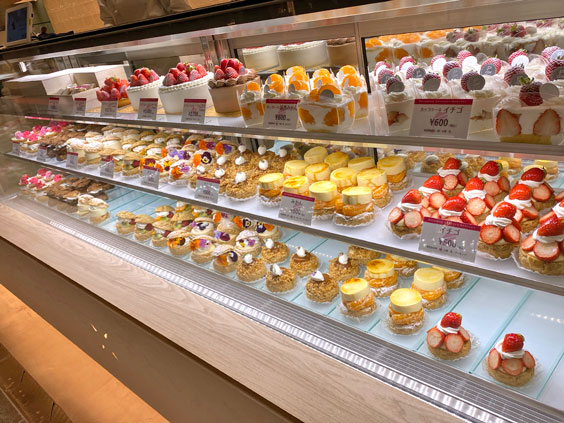 It is exciting to look at these unique line up of cakes and deserts.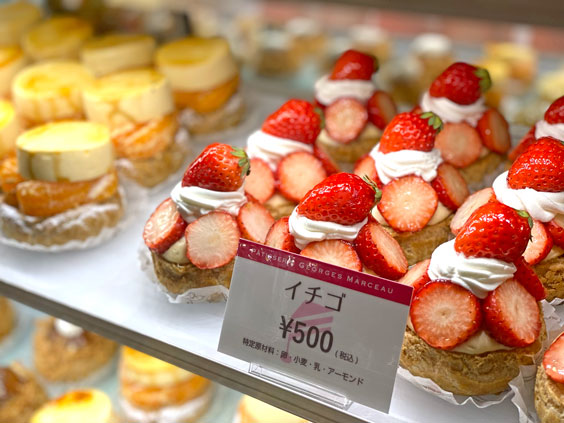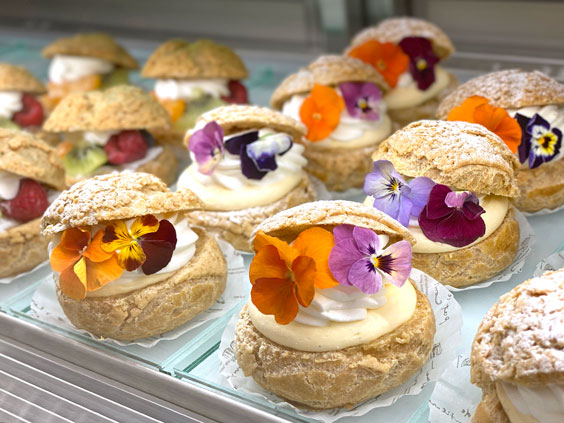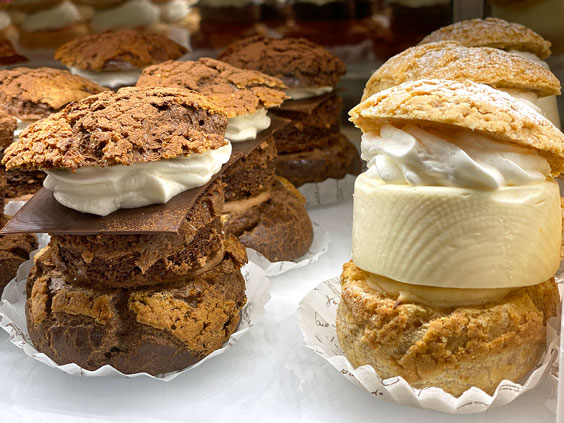 A difficult choice to make: will you try the chocolate or cheese cake choux pastry?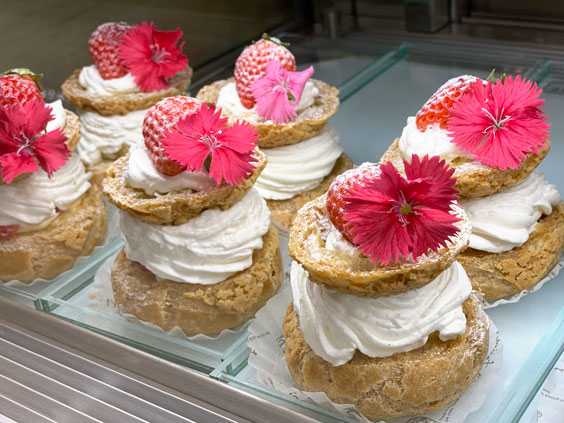 Choux pastry with rich fresh cream and smooth custard cream, decorated with colorful edible flowers.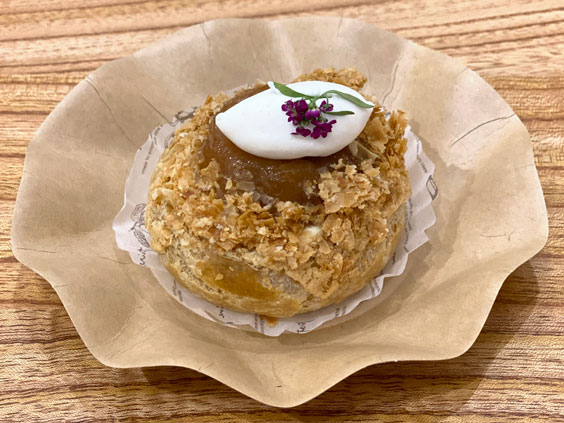 Choux pastry "Apple"
Enjoy the sweet and sour mixture of slowly stewed apples.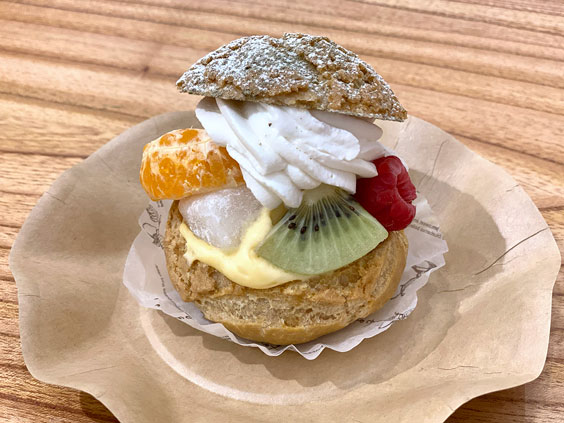 Choux pastry "Daifuku"
A delicious collaboration of plenty of fresh cream and custard with mochi-rice cakes and fruit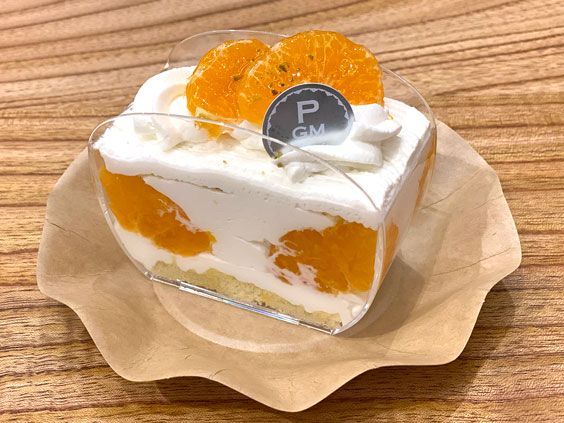 Cup cake "Mikan"
Irresistible match: fresh cream and sweet and sour mandarines that complement each other perfectly!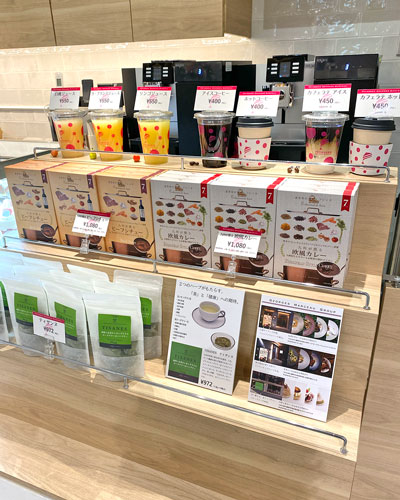 A surprising find in a cake shop: "
Kyushu ga Kaoru Oufu Curry
(lit.: European curry with hint of Kyushu) pouches produced by Georges Marceau main store: "retort"-curry toppings that you only need to heat in a pan of boiling water.
INFORMATION
PÂTISSERIE GEORGES MARCEAU LaLaport FUKUOKA
- Location: 1F Mitsui Shopping Park LaLaport Fukuoka. In the vicinity of 6-23-1, Naka, Hakata-ku, Fukuoka-shi, Japan
- Official Website:
https://gm.9syoku.com/lalapgm/
- Facebook:
@georges.marceau.rf
- Instagram:
@p_gm_0610
---
Mitsui Shopping Park LaLaport Fukuoka
- Address: The site of the former Seika Ichiba site (Fukuoka-shi). In the vicinity of 6-23-1, Naka, Hakata-ku, Fukuoka-shi, Japan
- Official Website:
https://mitsui-shopping-park.com.e.act.hp.transer.com/lalaport/fukuoka/
* All information correct as of April 2022. The information for this article was gathered during a media preview that took place prior to facility's opening. There are occasions when the layout / menu of the store differs from the current.
- Hot spots around this area! -