Kushida Jinja (櫛田神社)

A shrine that has close ties to "Hakata Gion Yamakasa," one of Fukuoka's most famous festivals!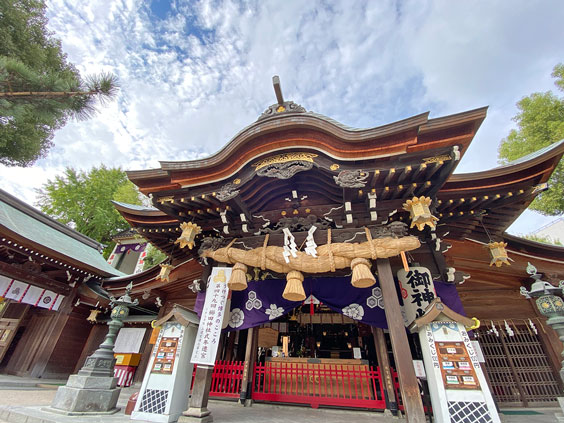 Kushida Jinja shrine is dedicated to the local Shinto deity associated with Hakata and can be found right in the heart of Fukuoka City. Once you pass through the magnificent stone torii gate and enter the precincts, you will find yourself engulfed in a calm and peaceful atmosphere. Kushida Jinja is the starting point for "Hakata Gion Yamakasa," which is one of the area's best known summer festivals. Inside the grounds of the shrine you can view a "Kazari Yamakasa" decorative float, which is approximately 13 meters high. A number of floats go on display at various locations around the city during the Summer festival. The one inside Kushida Jinja can be viewed all year round except for the month of June. The site is also home to one of the largest "
Otafuku Masks
" in Japan during Setsubun, a ritual that takes place in early February to ward off evil. The iconic mask is about five meters in height and covers the gates to the shrine, serving as a uniquely decorative entrance to the grounds. Indonesian influencers Stefi and Ayu visited Kushida Jinja during their trip to Fukuoka. They had the chance to explore some of the sites best known spiritual spots such as the
Reisen-tsuru
well (believed to provide water that bestows perpetual youth and longevity) and a big
Chikaraishi
(lit.: power stone).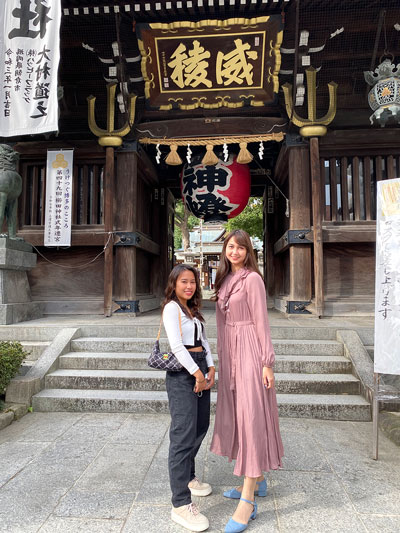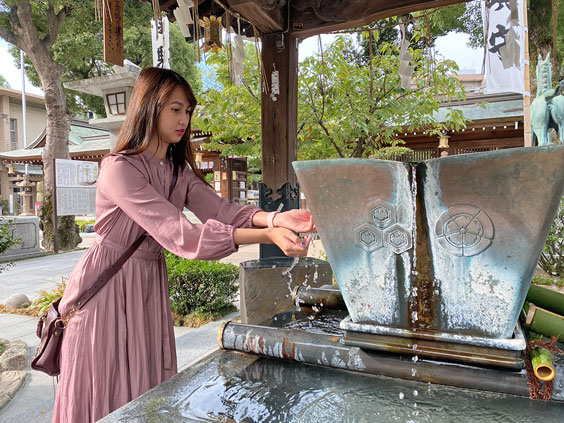 Visitors to the shrine are usually expected to clean their hands and mouth at the
chozuya
(water-filled basins worshipers use to purify themselves) once they have entered the precincts. Images connected to the Hakata Gion Yamakasa festival can be found on the side of the chozuya.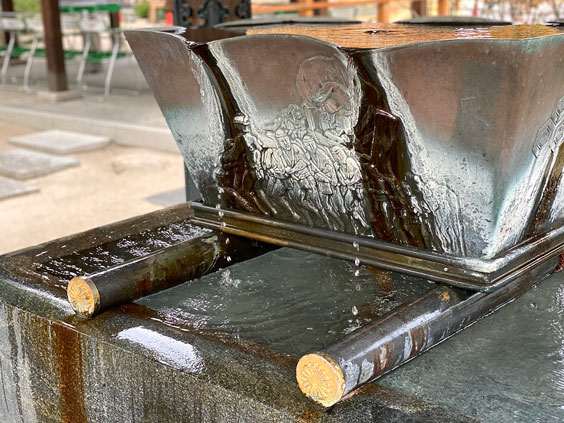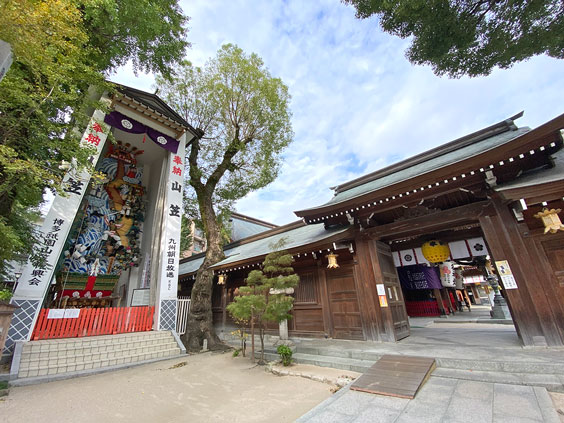 This Kazari Yamakasa is out on display all year round except for June. Stefi and Ayu were both in awe at the size of the float!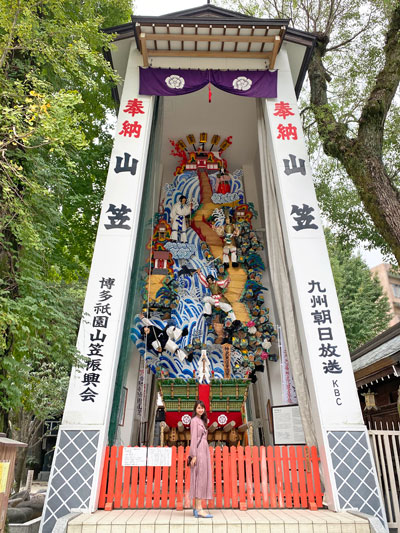 Stefi: The Kazari Yamakasa float associated with Hakata Gion Yamakasa was really amazing! I was surprised to see that the Wind God and Thunder God near the top of the worship hall were making silly faces! I would not have noticed if it hadn't been mentioned to me! If you get a chance to visit Kushida Jinja, please make sure to look out for the faces on these figures!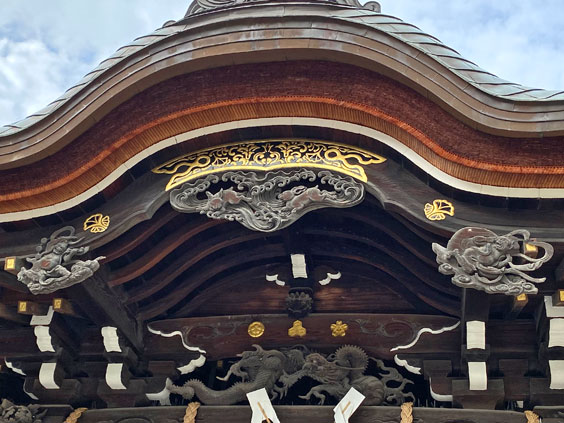 Here is the wood carving of the Wind God and Thunder God (seen on either ends of the photograph) facing towards each other.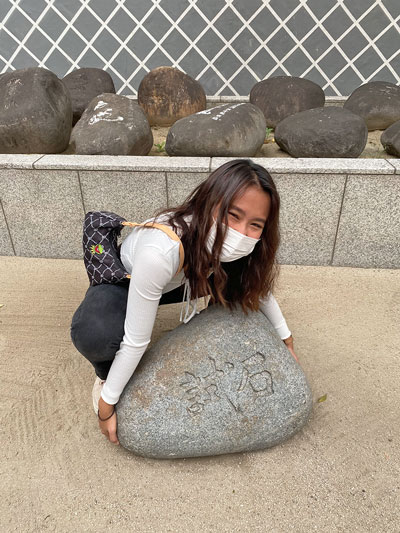 Ayu tried to pick up the "power stone" to test her strength!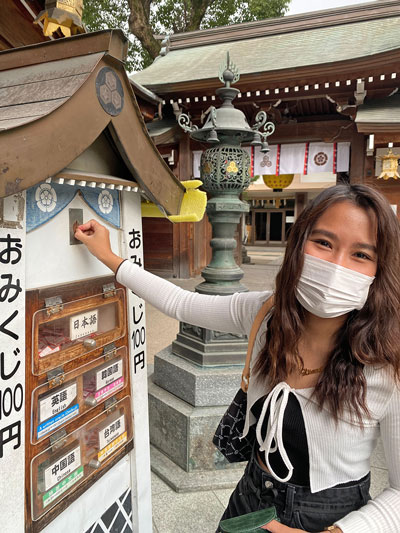 Why not pick up an Omikuji (fortunes written on strips of paper at shrines)? In Japan, visitors often get one if they visit during the New Year. It is said that if you tie your Omikuji by the tree in the photograph, your fortune will come true!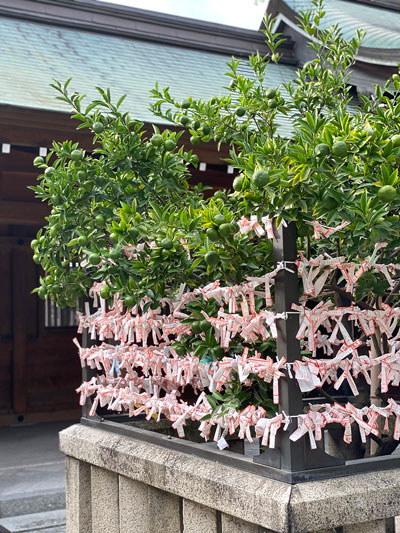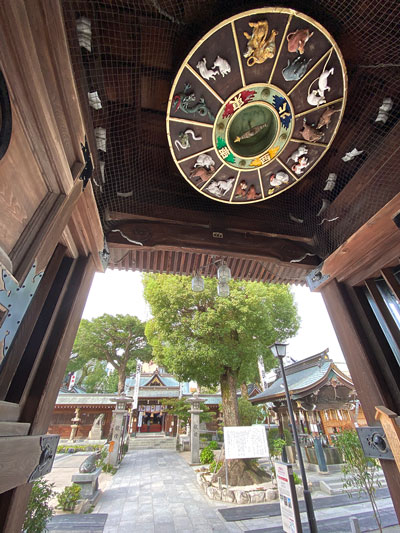 Ayu: I found the big Kazari Yamakasa super impressive! I tried to pick up the power stone! I also collected an Omikuji and saw the Reisen-tsuru well. There are so many things to see at this shrine!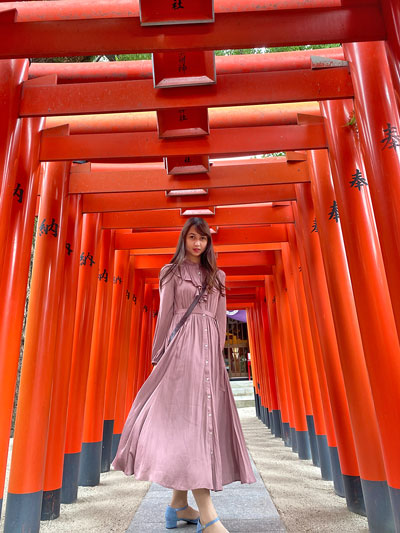 A long row of red torii gates are located by the somewhat mysterious Shimekake Inari Jinja shrine. This is also located inside the Kushida Jinja precincts.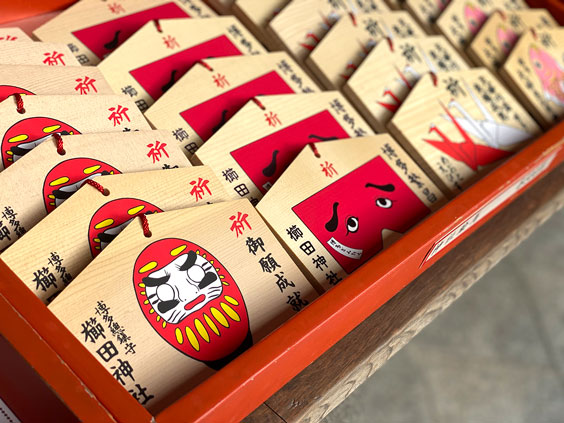 You can find a wide variety of
ema
(small wooden tablets that worshippers use to write their prayers or wishes on) and omamori (charms or amulets). Some of them feature items commonly associated with Fukuoka, such as niwaka-men masks and ume plums.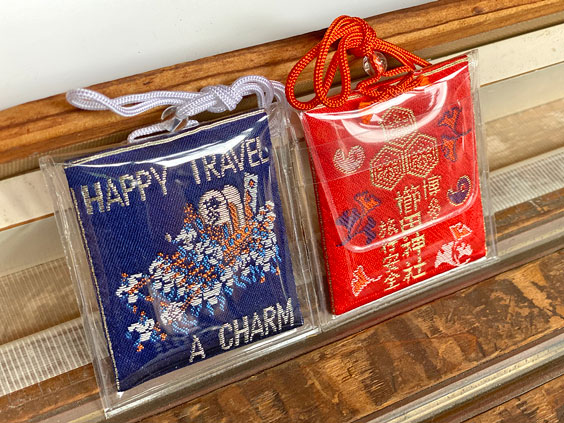 INFORMATION
Kushida Jinja / 櫛田神社

- Address: 1-41 Kamikawabata-machi, Hakata-ku, Fukuoka-shi Japan

* All information correct as of October 2021.
INFORMATION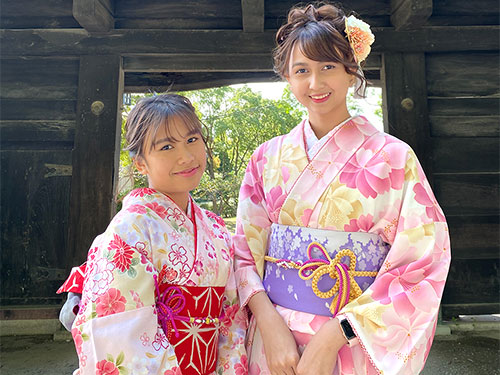 (From left) Ayu and Stefi
Stefi (Stephanie Pricilla Indarto Putri)
- Twitter:
@sutepiii
- Instagram:
@sutepiii
- YouTube:
HERE
!
Ayu (Sasaki Ayu)
- Instagram:
@sasaki_lisana
Related Articles
- Hot spots around this area! -