Tetsudo Jinja (鉄道神社 | Train Shrine)(1/5)

The Tetsudo Jinja is located on the JR Hakata Station rooftop!
"JR Hakata City" is a huge commercial facility right in the center of the city that is connected to Hakata Station. The facility is one of the biggest station-linked shopping complexes anywhere in Kyushu. "JR Hakata City" is home to more than 200 specialist stores. Visitors can check-out a range of shops selling all kinds of goods, fashion boutiques, a movie theater, and the "City Dining Kooten," which is one of the biggest collections of restaurants and dining options in Japan! The complex is bustling with energy everyday! The Tsubame no Mori Hiroba rooftop garden is full of seasonal flowers and also the site of the Tetsudo Jinja (Train Shrine)! People from all kinds of age groups visit the garden and shrine. The site has proven particularly popular with young children! Aimed with younger visitors in mind, the "Tsubame Densha (Train)" and "Kuro Densha (Train)" replicas have proven a real hit with kids! It is a lot of fun to see these trains on top of the building! A lot of people stop-by during weekends. During special events you will be able to find stalls selling snacks such as dagashi-ya (small candy stores)! Visitors will also get the chance to play fun games like shateki (target practice), and super ball scooping! These kinds of stands provide a snapshot into the atmosphere of a traditional Japanese festival! They tend to be really popular with tourists visiting from overseas!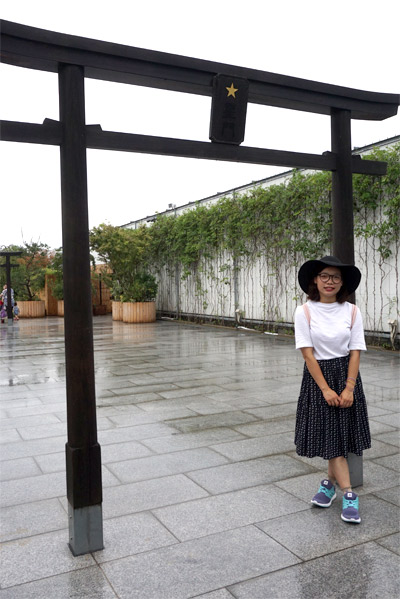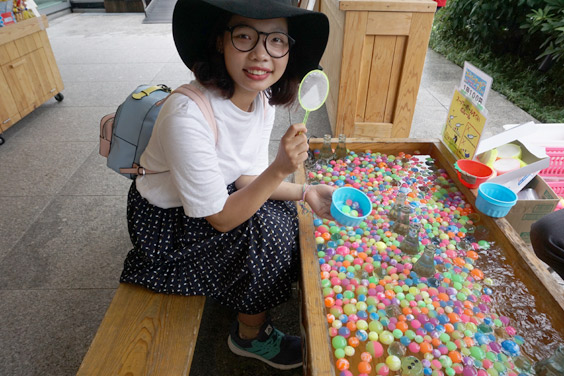 Super ball scooping!
INFORMATION: Tetsudo Jinja (鉄道神社) INFORMATION
Venue: Tsubame no Mori Hiroba, JR Hakata City Rooftop
Opening Hours: 10:00 to 23:00
*Times are susceptible to change depending on weather and the season
JR Hakata City Official Website (Tsubame no Mori Hiroba):
https://www.jrhakatacity.com/tsubame/
Related Articles