Restaurant New Inaba / 食事処 ニュー因幡
INFORMATION

In order to prevent the spread of COVID-19, some of the restaurants might have taken various measures such as reducing business hours or temporarily closing their doors. For more information, please check the relevant facility's official website or social media account.



Restaurant New Inaba― A place to enjoy Dashi-based nibbles and drinks!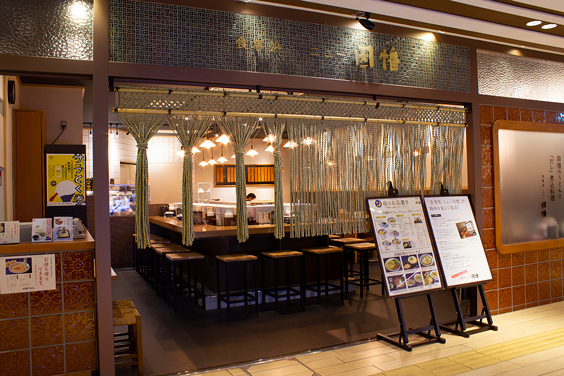 "Restaurant New Inaba" is located in the restaurant area called "Hakata Ichibangai" on the B1F of JR Hakata Station. As the name suggests, this is an affiliated store of "Inaba Udon", which is known as one of the representatives of Hakata Udon restaurants. However, unlike other stores, Restaurant New Inaba offers not only Udon noodles, but also their own menu that makes the best use of Dashi (broth). For example, in the morning, in addition to the standard set of Udon and Kashiwa Onigiri (rice ball prepared with chicken meat and stock), they also have a teishoku set meal where you can enjoy miso soup that makes the best of Dashi with ham and eggs or simmered fish. While after 3PM, you can enjoy izakaya menus such as "Mentai Potato Salad" and "Edamame", as well as one-of-a-kind dishes that make use of Dashi such as "Gyu-suji Nikomi" (Simmered beef tendon), "Agedashi doufu" (Deep fried tofu), and "Dashi Maruten". You can enjoy the taste of Dashi from morning till night. (* Currently, the breakfast menu is temporarily suspended due to the COVID-19 pandemic, and the number of dishes served at night is limited.)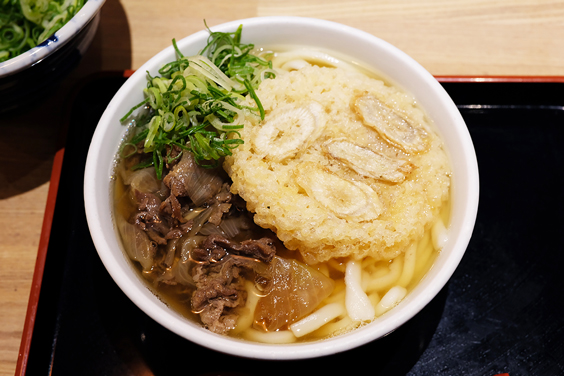 Niku Gobou-ten Udon (Meat and Burdock Tempura Udon)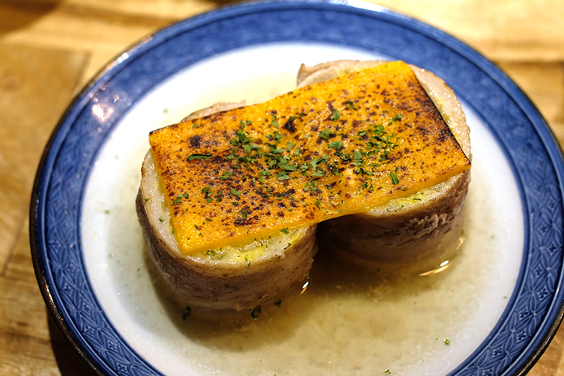 "Yasai no Nikumaki" (Vegetable filled meat rolls)
The classic warm soup udon noodles includes the "Gobouten (Burdock Tempura) Udon," "Ebiten (Shrimp Tempura) Udon," "Maru-ten Udon," and "Niku-Gobouten (Meat and Burdock Tempura) Udon". Basically, the characteristic of Inaba Udon is to use udon noodles that have been boiled, but a dish called "Tokusei (Special) Hakata Hoso-udon", which is made by freshly boiled thin noodles rinsed in cold water and dipping them in warm soup, is also gaining popularity.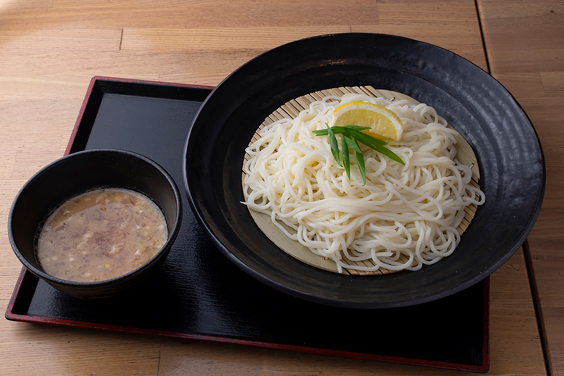 Tokusei Hakata Hoso udon (Special menu: Hakata thin udon)
In fact, "Restaurant New Inaba" was open from 1962 to 1992 in a restaurant district"Nishitetsu Meitengai Aji no Town" in Tenjin, Fukuoka City. The new style Inaba Udon restaurant, which was one of the first place to focus on Dashi cuisine, still shows its presence.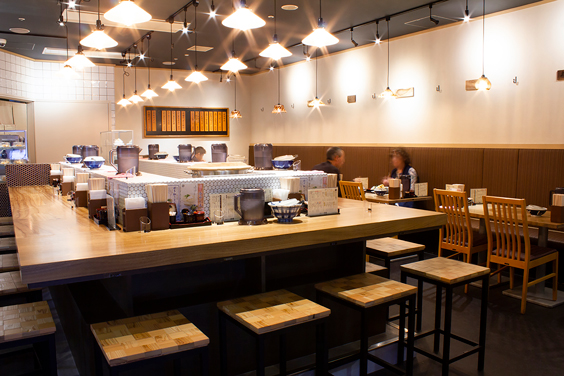 TEXT & PHOTO BY: Yuichiro Yamada
INFORMATION
Restaurant New Inaba / 食事処 ニュー因幡
- Address: Inside Hakata Ichibangai, JR Hakata City B1F, 1-1 Hakataekichuogai, Hakata-ku, Fukuoka-shi Japan
- Tel.: 092-481-2085
- Capacity: 42
- Opening Hours: 7:00-22:00 (Order stop) * Currently, due to the covid-19 pandemic, business hours are shortened from 11AM to 9PM on weekdays and 9AM to 9PM on weekends and holidays, and the morning menu is temporarily suspended.
- Closed: Closed day is depends on JR Hakata City
- Official Website:
https://inabaudon.com/english/
* Please Note: Business hours and closing days may differ due to the COVID-19 outbreak.
* All information correct as of October 2021.
WRITER PROFILE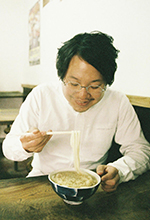 山田祐一郎 (Yuichiro Yamada)
Born in Fukuoka Prefecture 1978. Moved into the Fukuoka-based editing industry in 2003, and then began a career as a writer. Contributes articles for food and drink magazines, as well as informative Fukuoka publications. Established "KIJI" in August 2012. Became a noodle writer and started a web-based series called "Sono Ippai ga Tabetakute (lit. trans: I want to eat that bowl)" in the same year. Yamada uses the online resource to record the various kinds of noodles he samples on an almost daily basis. Published a book titled "Udon no Hanashi Fukuoka (lit.: Udon Noodle Talk Fukuoka)" that delves deeper into Fukuoka's udon culture and the local area's role as a pioneer of the food in July 2015. Also released "Noodle Writer Hizou no Ippai Fukuoka (lit.: Noodle Writer Treasured Bowl Fukuoka)" in March 2019. The book introduces the reader to a wide range of noodles (such as udon, ramen, and champon) and recommends some of the best places to find tasty dishes in Fukuoka city. Has developed the motto "One Day One Noodle a day." Now seeks out delicious noodle dishes both at home and abroad. His work has gained a considerable amount of attention from noodle fans. Currently, Yamada has taken over his father's noodle-making business and works on making noodles as a representative of the noodle factory "Yamada Seimen".
■ Related sites
- KIJI:
http://ii-kiji.com/
- Web-based noodle magazine "Sono Ippai ga Tabetakute (lit. trans: I want to eat that bowl.)":
http://ii-kiji.com/sonoippai
- App version "KIJI NOODLE SEARCH": http://ii-kiji.com/app