Minori (みのり)

A Fukuoka first... Standing bar meets udon izakaya!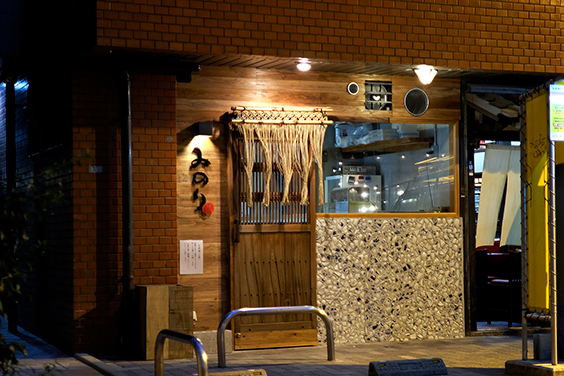 The udon izakaya "Minori" opened in August 2017. The idea of creating an establishment that combines the best qualities of an izakaya (which offers diners drinks and snacks) with a restaurant that specializes in udon generated a lot of excitement. The Daimyo-based eatery is just a five minute walk from the Fukuoka City Subway Akasaka Station. Minori serves reasonably priced snacks and delicious udon dishes in a standing-style bar setting. This kind of style really makes Minori stand out among similar kinds of bars in Fukuoka. That is why this unique joint has won over so many fans since it first opened.

Their well-known thin, flat noodles are made with wheat harvested both inside and outside of Japan. This type of udon is not commonly found in Fukuoka! Be sure to give them a try! You will definitely get hooked on their loose, flat textured noodles, which nestle into the tsuyu soup perfectly! The combination is sure to hit the spot! The dashi is made from kombu (kelp), katsuobushi (sliced dried bonito​), and iriko (dried sardines), ensuring that the broth delivers a wonderfully rich aroma. The owner recommends their "Wagyu Niku Udon. (Japanese Beef Udon)" This irresistible dish is topped with a generous helping of Japanese beef. The soup then absorbs the wonderful umami flavor of the meat. It is common to see customers completely clean their bowls!

The restaurant offers a range of side dishes, including a potato salad that has even gained praise from related eateries, "godofu (a dish from Saga and Nagasaki)," and a daily sashimi special. The items range from 300 to 500 yen. You will be able to eat and drink more than enough if you have 2,000 yen in your pocket. The restaurant introduced a lunch menu last year, which is well worth checking-out! In addition to the udon menu, there are a la carte items and beers for just 300 yen each! Why not stop-by on a weekday for lunch? (*The lunch is only available on weekdays)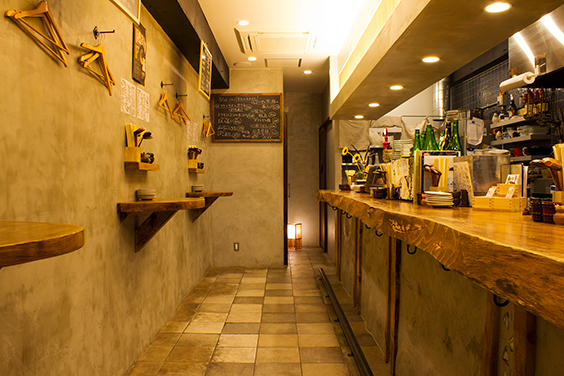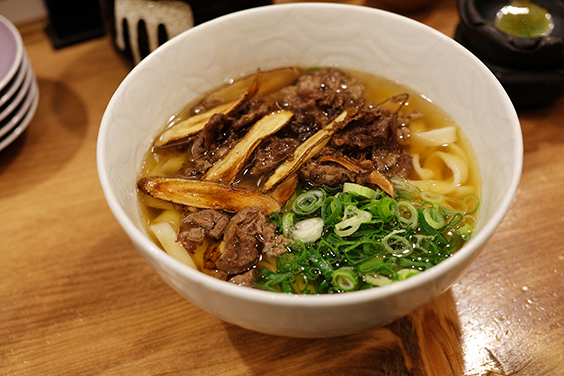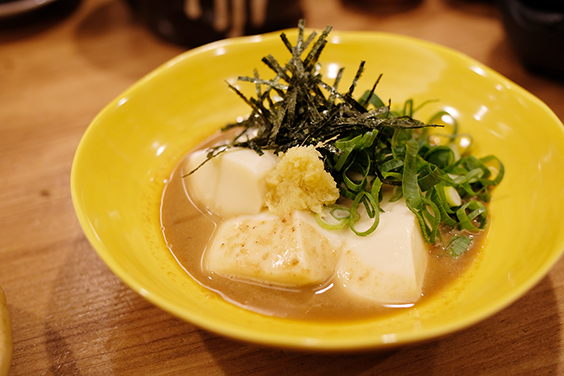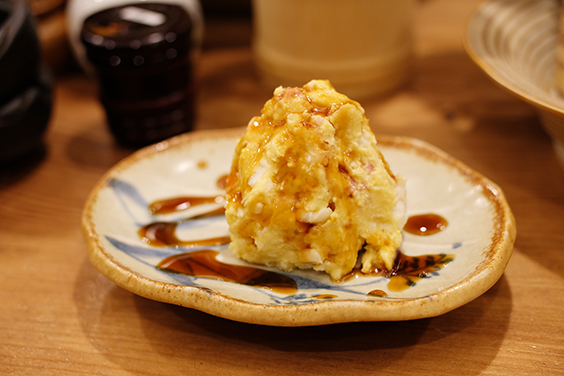 TEXT & PHOTO BY: Yuichiro YAMADA
INFORMATION
Minori (みのり)
Address: 1-9-25 Daimyo, Chuo-ku, Fukuoka-shi, Fukuoka-ken, JAPAN *About a five minute walk from Akasaka Station (Fukuoka City Subway)
TEL: 092-715-0603
Capacity: No chairs - Standing only
Opening Hours: 11:30~14:00 (Last Order 13:30) *The lunch is only available on weekdays / 18:00~03:00 (Last Order 02:00)
Holidays: Open everyday of the week
Official Website:
https://unity-minori.owst.jp/
Instagram:
@unityminori
*All information correct as of January 2019
WRITER PROFILE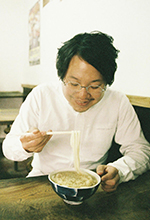 山田祐一郎 (Yuichiro Yamada)
Born in Fukuoka Prefecture 1978. Moved into the Fukuoka-based editing industry in 2003, and then began a career as a writer. Contributes articles for food and drink magazines, as well as informative Fukuoka publications. Established "KIJI" in August 2012. Became a noodle writer and started a web-based series called "Sono Ippai ga Tabetakute (lit. trans: I want to eat that bowl)" in the same year. Yamada uses the online resource to record the various kinds of noodles he samples on an almost daily basis. Published a book titled "Udon no Hanashi Fukuoka (lit.: Udon Noodle Talk Fukuoka)" that delves deeper into Fukuoka's udon culture and the local area's role as a pioneer of the food in July 2015. Also released "Noodle Writer Hizou no Ippai Fukuoka (lit.: Noodle Writer Treasured Bowl Fukuoka)" in March 2019. The book introduces the reader to a wide range of noodles (such as udon, ramen, and champon) and recommends some of the best places to find tasty dishes in Fukuoka city. Has developed the motto "One Day One Noodle a day." Now seeks out delicious noodle dishes both at home and abroad. His work has gained a considerable amount of attention from noodle fans.
■ Related sites
- KIJI:
http://ii-kiji.com/
- Web-based noodle magazine "Sono Ippai ga Tabetakute (lit. trans: I want to eat that bowl.)":
http://ii-kiji.com/sonoippai
- App version "KIJI NOODLE SEARCH": http://ii-kiji.com/app