Interview Now - Team Crusnik - Indonesia - (World Cosplay Summit 2016 Championship Winning Team) -(1/2)

A hobby that knows no borders, "cosplay" continues to evolve and progress!
The changes that have been taking places in Indonesia's cosplay culture over the last few years have been gaining attention from all over the world. Against this backdrop, "Team Crusnik (Rian Cyd and Frea Mai)," the Indonesian representatives who won the "World Cosplay Championship 2016" in Nagoya earlier this summer, achieved a streak of spectacular victories by taking home the "NicoNico Award" (in which No.1 spot is decided by niconico users), as well as the "OB/OG Award" (where No.1 spot is decided by former representative teams). Representatives from Indonesia first participated at the WCS in 2012. Having finished 3rd twice, it was not until this year, in their 5th appearance, that team Indonesia were finally chosen as the best in the world. Cosplaying as "Trinity Blood," Team Crusnik members Rian and Frea wowed both the audience and judges with a magical performance that had everything from appearing to cut a body in half to flying through the sky. They spoke to us about their experience at the "World Cosplay Summit (WCS)" and what it took to be selected as the number one cosplayers in the world! Read-on to find out more!
"This victory is dedicated to all the young creative people in Indonesia!"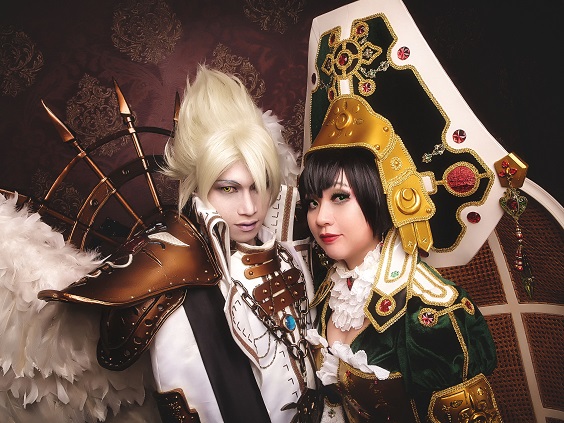 Team Crusnix - Rian Cyd (left), Frea Mai (right)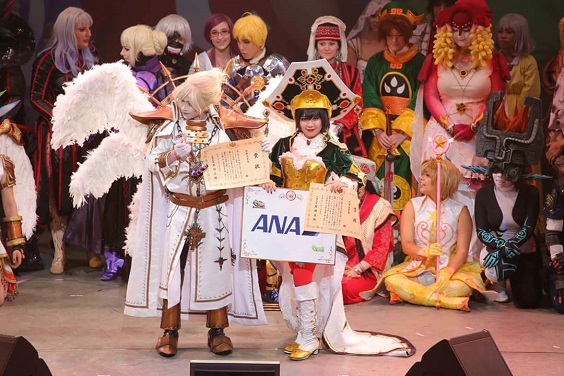 Team Crusnik "WCS 2016" Here is Team Crusnik collecting their awards at the "WCS 2016"
asianbeat (ab): Huge congratulations on being crowned the number one cosplayers in the world! Please give us your thoughts on this victory.

Team Crusnik
: At first we didn't think a team from Indonesia would be able to win. As the level of the "WCS" is truly world-class, all the competitors costumes are an incredibly high quality and their stage performances are also incredible. Each and every particpant's portrayal of a character is at a professional level. When they announced "and the winners are... team Indonesia," I couldn't believe it, but I was totally overjoyed!
ab: Is there anyone you would like to dedicate your "WCS 2016" victory to?

Team Crusnik
:Team Crusnik: This victory is dedicated to all the young creative people in Indonesia! As far as the creative sector goes, we hope that in the future young inventive Indonesians will be highly sought after.
ab: What kind of preparations did you have to make before making it to the "WCS 2016" as Indonesian representatives? And what was the reason for choosing "Trinity Blood" as your theme?

Team Crusnik
: First of all we won the "Indonesia Cosplay Grand Prix (ICGP)," which was held at "Ennichisai" (a Japan-Indonesia cultural exchange event in M Block, Indonesia). Victory there gave us the right to appear as Indonesian representatives at the "WCS." Preparation for that took about a year.
For the performance at the "ICGP," I was thinking about a concept that would combine cosplay and magic, so I searched for a partner that could help turn that idea into a reality. I met Frea, who having worked as a costume designer is really skilled at making outfits using cloth, and we worked on the idea together, before finally deciding upon "Trinity Blood" as a theme. We made our own costumes, but for the background music (BGM), video and choreography we got help from lots of cosplay companions.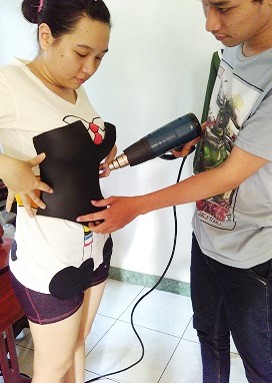 Rian and Frea creating their costumes.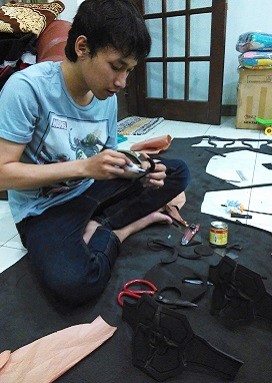 Here is Rian customizing the extra features.
ab: What are the challenges that arise when making a costume? And how do you maintain unity as a team?

Rian
: The main challenge when creating an outfit is time. I'm a company employee, so I have to balance my time between work and making the costumes. And I would say that the key to remain unified as a team is having a firm commitment to the trust you place in each other. If you can do that, I think it's possible to create a strong team.
ab: Cutting bodies in half, flying through the air… Your performance was so cool. Where did your ideas come from? And what kind of preparations did you have to make?

Rian
: The idea came from watching magic shows on TV and thinking what would happen if you mixed magic with cosplay. But actually making this happen involved a great deal of trial and error. We failed many times, and creating the perfect trick took a lot of time. Then we had to make the props and rehearse, altogether that took around 4 to 5 months.