Interview Now - 寺田克也 (Katsuya Terada) -(2/3)

It starts as soon as the line becomes visible!
ab: Over 100 people were inside the gallery watching the live drawing event! How do you think it went? What are your thoughts about the piece?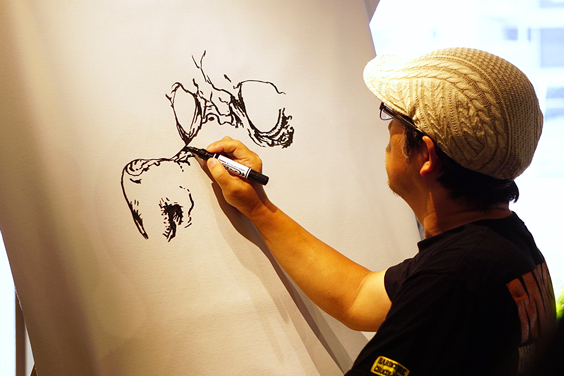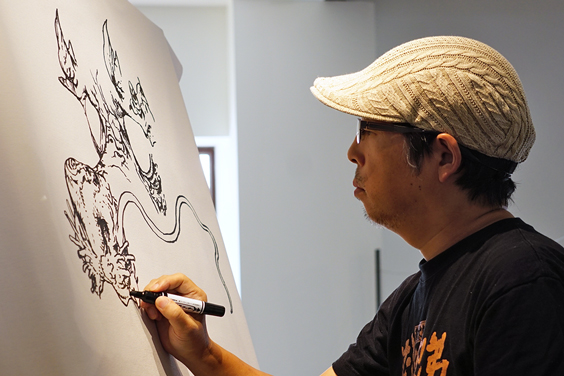 Terada
: I always have to stop just as I start to think that what I am doing is good. So maybe that means that it was a success! I was only drawing for a limited amount of time, so there are a few areas that I think are not quite complete. I guess live drawing is not the same as just creating art at your own pace. I always want to put extra emphasis on the finishing touches, so I suppose there is always going to be a few issues with this kind of work.
ab: Sometimes you seemed to be tracing over the canvas with your left finger. You appeared to be doing that with your free hand.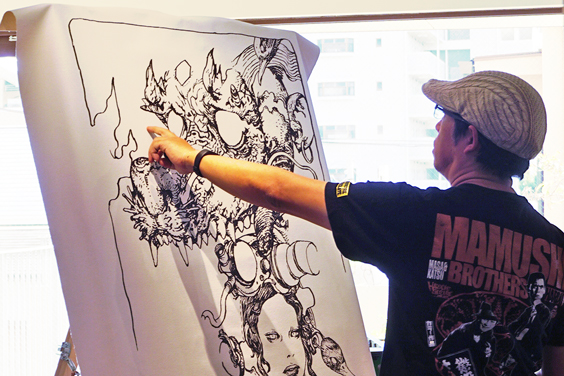 Terada
: Right, that's me kind of creating a draft in my mind. I try to measure up different angles and estimate the size of the objects that I want to create as I trace the canvas. Connections can almost organically start to emerge within a picture. As you draw, the direction of the piece starts to become clearer. For example, the perspective and lines start to flow, which adds a sense of depth to the artwork. You realize that placing something at a specific angle in one section of your canvas has an impact on the entire piece. I am trying to work out if the connections are wrong. Rather than creating a complete draft, it is a way to almost "confirm" what I am doing. It's kind of like putting a piece of furniture in a room. You usually move it around and try it out in different positions to see how it impacts everything else, right?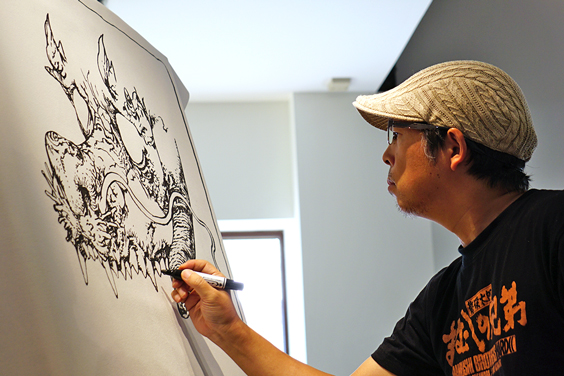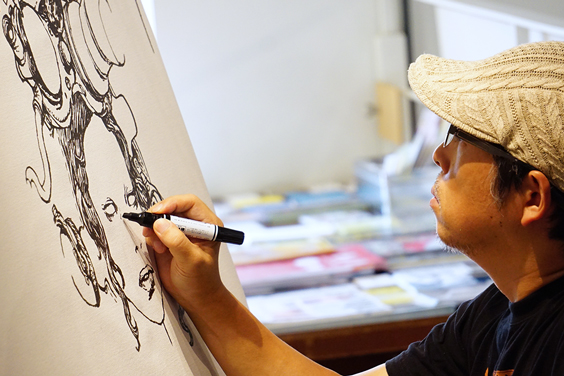 While I am drawing I constantly think about what to do next. After a while I can't even see what I'm creating. I try to find a place where I can start to drop off as the time runs down. It's important to thoroughly prepare to be able to do that. It is easier to locate that point if the work goes well during the first half of the session. That is how I usually do this type of drawing.
ab: You were staring at the canvas for a while before you started drawing. Were you just getting ready?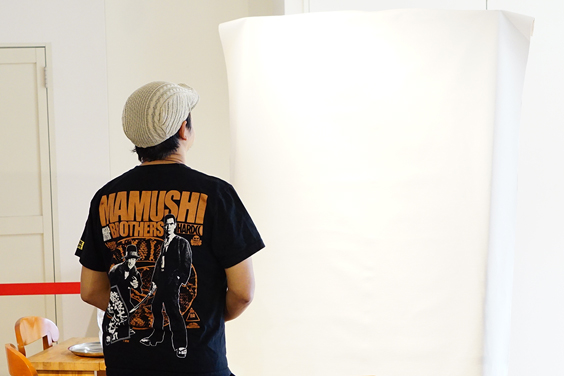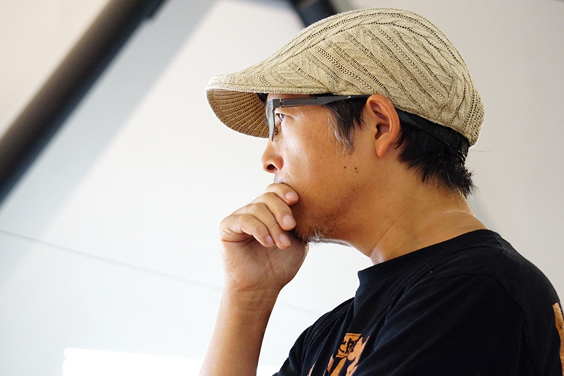 Terada
: Yeah, I was. I think it's important that the lines can be seen as "something." The drawing starts as soon as the line becomes visible. As the lines start to emerge, you start to see more connections. Things come to a halt when they stop appearing. So, I try to avoid making mistakes. I look closely at what I am doing and go through a catalogue of objects (in my head). I put them together and then start to draw, while questioning if what I am doing is correct. If I check that I haven't made any mistakes, eventually I feel alright with the creation. It might not be a feeling of total satisfaction, but I think this type of journey is what live drawing is all about.
ab: It was a wonderful experience to see you drawing up close! It would have been great to see what was going on inside your head while you create your artwork (lol)!

Terada
: Thank you. I am so glad to hear you say that. But I feel a bit bad, all I am thinking in my head is "wait, what is that (lol)?"
PRESENTS
All the info. on asianbeat's present campaign!
* "A local specialty set discovered during the trip to Tagawa Area giveaway! Apply by Mon. 11 Jan. 2021 (JST)!