Interview Now - 寺田克也 (Katsuya Terada) -(1/3)

Katsuya Terada is a manga artist and illustrator active in a wide range of fields. During his career he has designed characters for computer games, etc. His first solo exhibition in Kyushu, the 'Teraten Katsuya Terada Terra-ten "Analogue + Digital" drawing' will run until Sunday 2nd September at the "Centro Italiano di Fukuoka" SPAZIO ART GALLERY! Terada visited the venue on the opening day of the exhibition and held a live drawing event that lasted for two hours! What was created was no ordinary sketch done without a draft... Finely balanced lines were used to help create a vivid image that featured fantastic, futuristic characters. All of the fans inside the venue were totally absorbed by the artwork that was created right in front of their eyes. This report features asianbeat's interview with Terada, as well as information about the exhibition and the live drawing event. Read-on to find-out more!

This solo exhibition feels like fate!
asianbeat (here after referred to as ab): This is your first solo exhibition in either Fukuoka or Kyushu. Do you get the chance to visit Fukuoka often?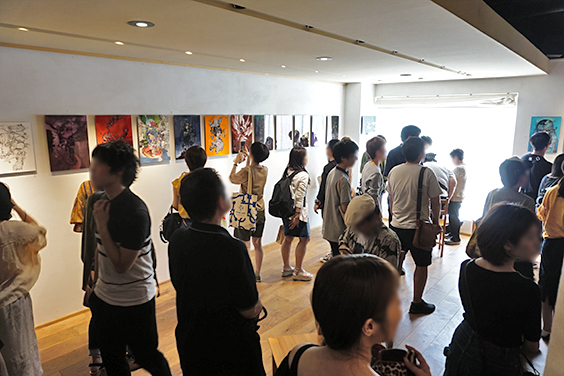 The "Teraten Katsuya Terada Terra-ten "Analogue + Digital" drawing" venue.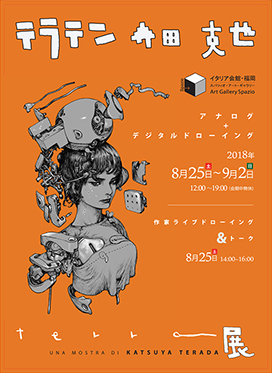 Katsuya Terada (here after referred to as Terada)
: I have friends here, so it is a place I try to come to if I get the opportunity. I really like the artwork of Fukuoka-native Koji Azisaka. We're also friends, so I sometimes come and meet up with him.
But I haven't been here for work before. I guess this is my first time... I think! There hasn't been that many opportunities for me to visit. This is the first time that I have done this kind of exhibition and live drawing event here.
It is interesting... This is not specific to Fukuoka, but I have had a quite strong association with Kyushu over the last couple of years. I did a dragon-themed live drawing event in four islands in Nagasaki (Ikeshima, Takashima, Hashima, and Iojima), I also did some drawings in Ikinoshima and at an art museum in Kumamoto. I had not visited Kyushu so many times before, but recently I have been coming once or twice a year. I have already visited twice this month! So in a way, this solo exhibition feels like fate!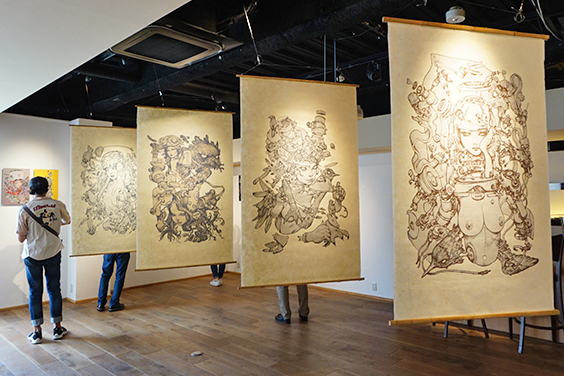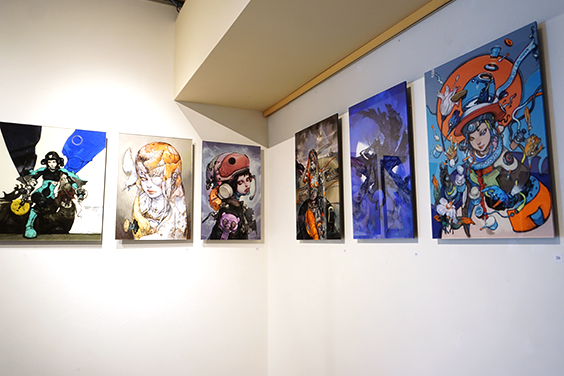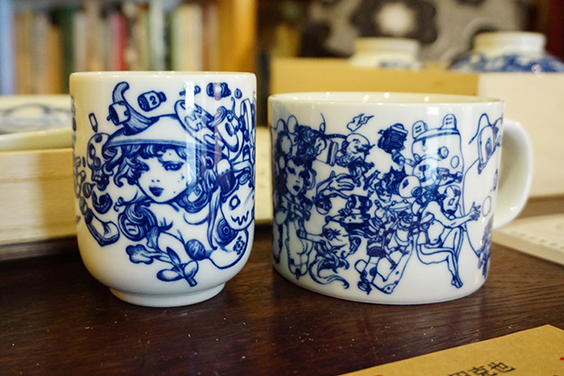 ab: Are there any places in Fukuoka you want to visit? Or any places in the area that you think might inspire your work?

Terada
: Well, I have never had the chance to do any sightseeing, so I am looking forward to finding-out more about some of the local attractions. If someone tells me that a certain place is nice or interesting... That immediately grabs my attention. I really value the advice of locals.