Interview Now - 寺田克也 (Katsuya Terada) -(3/3)

It is important to interact and make a deep connection with the things that are around you.
ab: While preparing for this meeting, we checked out your previous interviews and books. It seems like you are drawing all the time...

Terada
: That's just how things are presented. I'm actually really not like that. I am much more laid-back. But if people are around, I tend to be drawing (lol)!
ab: Oh right (lol). When it comes to drawing, would you say that you have cultivated your talent by practicing everyday? Or do you think there are some skills that you were born with?

Terada
: I think that everything has come from the time I spent drawing and the passion I have for art. I don't think it is necessarily because of my talent.
ab: Are there any days that you don't draw?

Terada
: Of course! Being a professional means that everything you see or do throughout the day feeds into your artwork. It leads you back to your drawings. I think that's the nature of being an artist. Thinking about how to express yourself and trying to find a way to put your emotions into your work can be like a disease. Seeing and drawing are kind of like two sides of the same coin. I spend hours creating images in my mind, so in a sense I am always drawing. If you stop moving your hand, you might not be able to create the same lines that you could yesterday. It is the same with athletes. It's all about learning to control your muscles. Keeping control of your tools and the lines that you create... You have also got to stay focused and maintain control of your mind... That is similar to sports. Don't you think? In the field of art, I do not think it is just about your talent or sense. There are other factors, too.
ab: What are you thinking about when you draw?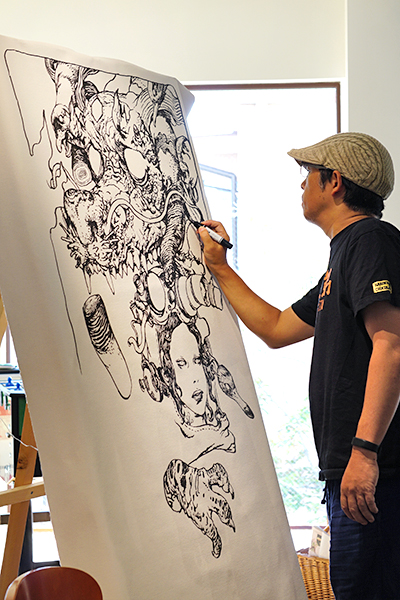 Terada
: I believe you have to let the different aspects of a picture exist. That's what drawing is. The existence of the composition = drawing! So first of all I try to figure out the internal structure and then carefully study what I am looking at. How it will actually look comes later. If you properly understand the structure, then it is possible to give life to the non-existent aspects of your composition. This way of thinking is useful if you are designing characters and that kind of thing. The main point to remember is that essentially everything is connected. First you see things, then you try to understand them, and then you draw. This is just an opinion, its a specific idea about the process of drawing something. Ultimately, the ability to understand how to see an object and accurately grasp the structure of something... This kind of perspective can be used in all kinds of situations. Even in your interactions with other people.
ab: You always need to maintain a sense of curiosity in whatever you do!

Terada
: That's right! If you just zone out in front of the TV, everything will just pass you by. Even if you are watching TV, I think it is important to engage with what is happening... Why is it so funny? What are the mechanics of it? Why is it being broadcast?… Always try to think about the things that you come into contact with. It doesn't matter if you are playing games or reading manga. It applies to everything. It is important to interact and make a deep connection with the things that are around you.
Please take care of yourselves and recognize the importance of fortune.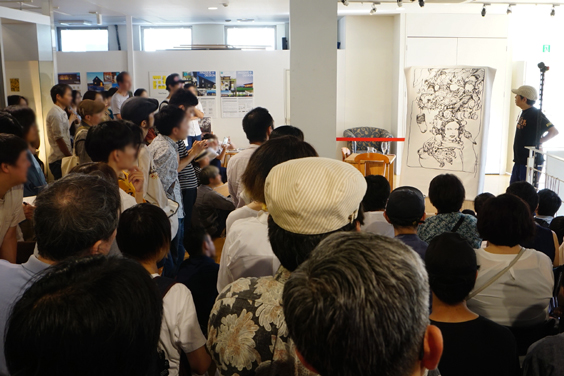 ab: Across all genres and industries, are there any people you want to meet or would like to have had the chance to encounter?

Terada
: There are people I would like to meet who have passed away. Maybe even more so than anyone around at the moment. Throughout history, there has been so many painters that have had so much ability and talent. For example, when I go to a museum in Spain, I'm always taken with the work of individuals such as Diego Velazquez. I would like to ask him how it was possible to have such a good eye in an era when cameras did not exist. I also would love to have met Osamu Tezuka.
ab: Do you have any events coming up overseas?

Terada
: I hold an exhibition in Los Angeles every December. I have done a solo exhibition in Taiwan once before and I have been invited back to do another one. Timing will be a factor, but that might happen if everything works out.
ab: Thanks so much! Finally, do you have a message to the asianbeat readers?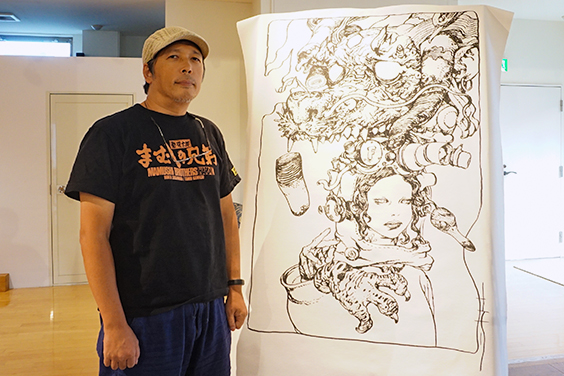 Here's Mr. Terada with the work he created during the live drawing event.
Terada
: Please take care of yourselves and recognize the importance of fortune. Life is full of coincidences. Life is about changing coincidences into inevitabilities. It is up to us whether we notice these lucky opportunities and make the most of them when they come our way. You have to be ready so that you can seize the chance and don't let it pass you by. Once you get a bit of luck it usually it leads on to something else. Act on you instincts and make the most of every opportunity. I think that is really important.
PROFILE
寺田克也 (Katsuya Terada)
Manga artist / illustrator. Born in Okayama in 1963. Creates various forms of artwork, including manga, illustrations for newspapers and novels. Also regularly designs characters for games and anime. Grew up surrounded by an abundance of Japanese manga. Came into contact with the work of Moebius during adolescence, then encountered manga written and drawn by Katsuhiro Otomo. His original style has won over fans in Japan and overseas. Expresses himself using a combination of line and shade. Has gained inspiration from both Western comics and Asian techniques.
Has worked on major manga series, including as "Saiyukiden Daienou (The Monkey King)" and "Rakuda Ga Warau." Contributed to games, such as "BUSIN" and titles in the "Virtua Fighter" series. Produced work for movies and TV shows, designing characters for "Yatterman" as well as "Kamen Rider W (Double)." The "寺田克也 ココ10年 (KATSUYA TERADA 10 TEN - 10 Year Retrospective -)" was held as at the Kyoto International Manga Museum in 2013. The "寺田克也 ココ12年~絵を描いて生きていく方法?~ (lit.: KATSUYA TERADA Koko 12 years - How do you Draw a Picture? -) exhibition was held in 2015 at the Fukushima Sakura Yu-gakusha. Has held various solo exhibitions across the West Coast of America over the last few years.
■
http://cacazan.com/
■ Instagram:
@katsuyaterada
■ terra's sketchbook (Tumblr):
https://katsuyaterada.tumblr.com/
テラテン 寺田克也 terra展 「アナログ+デジタル」ドローイングTeraten Katsuya Terada Terra-ten "Analogue + Digital" drawing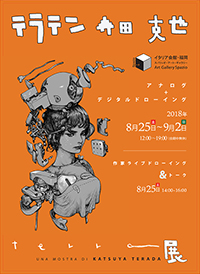 ■ Period: Saturday 25th August 2018 - Sunday 2nd September 2018
12:00 to 19:00 (*Open daily during the run of this exhibition. )
■ Venue: Centro Italiano di Fukuoka
SPAZIO ART GALLERY (Tokirikyu M2F, 1-18-25 Imaizumi, Chuo-ku, Fukuoka-shi)
Tel.: 092-761-8570
■ Entrance fee: Free
■ Centro Italiano di Fukuoka Official Website:
http://www.italykan.com/
---
■ Event: live drawing & talk
Saturday 25th August 2018
14:00 to 16:00
◎ Entrance fee: Free
Related Articles