Special exhibition "Louvre No.9 - Manga, the 9th Art" at the Fukuoka Asian Art Museum opened on 15th April!

Under supervision of the Louvre Museum! A special exhibition shining a spotlight on "manga!"
One of the world's premier art museums, the Louvre is hosting a special exhibition called the "Louvre No.9 - Manga, the 9th Art -." Having already been displayed in Tokyo and Osaka, the exhibition opened at Fukuoka Asian Art Museum on Saturday 15th April 2017!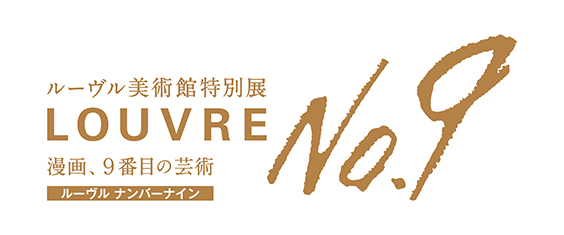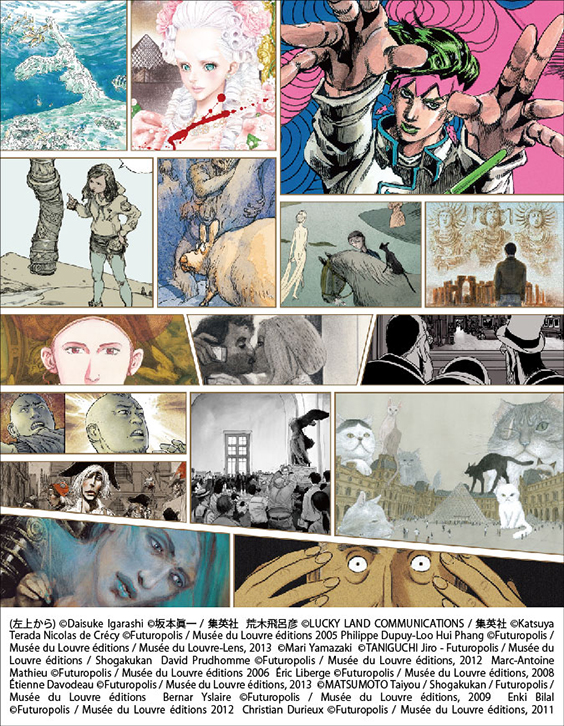 In the French-speaking world there is a culture of comic drawing known as "Bande Dessinée (BD)." Often created using fine, precise detail, BD is often referred to as the "9th art"(*) in France.
One of the world's premier art museums, since the turn of the 21st century the Louvre has been paying attention to manga, as a form of contemporary art. The "Louvre Museum BD Project" was established to give talented cartoonists from inside and outside of France (including Japan) the opportunity to freely depict the Louvre through their manga. This special exhibition will introduce the project in its entirety. There will be around 300 original drawings on display, alongside other materials and special moving images.
A total of 16 artists (and art duos) are featured, with 7 coming from Japan. The full line-up includes, Hirohiko Araki (荒木飛呂彦) ["
JoJo's Bizarre Adventure
"], Jiro Taniguchi (谷口ジロー) ["
Kodoku no Gourmet
"], Taiyō Matsumoto (松本大洋) ["
Tekkonkinkreet
"], Daisuke Igarashi (五十嵐大介) ["
Little Forest
"], Shinichi Sakamoto (坂本眞一) ["
Innocent
"], Katsuya Terada (寺田克也) ["
Saiyukiden Daienou
"], Mari Yamazaki (ヤマザキマリ) ["
Thermae Romae
"], Nicolas de Crécy, Marc-Antoine Mathieu, Éric Liberge, Bernar Yslaire & Jean-Claude Carrière, Christian Durieux, David Prudhomme, Enki Bilal, Étienne Davodeau, and Philippe Dupuy & Loo Hui Phang.
Make sure to go along and enjoy this special exhibition, which is brimming with the skill and talent that the participating manga artists possess. It is a fantastic chance to see the Louvre from the perspective of a group of artists who have been charming fans all over the world. During the run of the exhibition, there will be a talk and signing session from the manga artist Katsuya Terada, as well as various other events, such as gallery talks. It is also well worth using the audio guide, which has been recorded by the popular voice artist Hiroshi Kamiya! (Editorial Dept.: Gon)
(*) The ranking of art in France is as follows (from 1 to 8), "architecture", "sculpture", "painting" "music" "literature (poetry)" "theater" "cinema" and "media art." (There are various theories)
ルーヴル美術館特別展 「ルーヴルNo.9 ~漫画、9番目の芸術~」 The Louvre Museum Special Exhibition, "Louvre No. 9 - Manga, the 9th Art"
- Period: Saturday 15th April to Sunday 28th May 28 2017
- Opening hours: 10:00-20:00 (last entry: 19:30) *Final day: 10:00-18:00 (last entry 17:30)
- Closed: Every Wednesday *Exception: The exhibition will be open on Wednesday 3rd May (national holiday)
- Venue: Fukuoka Asian Art Museum 3-1 Shimokawabata-machi, Hakata-ku, Fukuoka-shi (Exhibition Gallery A, B and C)
- Organized by: The Louvre Museum, The Nishinippon Shimbun Co., Ltd., RKB Mainichi Broadcasting Corporation, Louvre No.9 Executive Committee
- Sponsored by: Dai Nippon Printing Co., Ltd.
- In cooperation with: Fukuoka Asian Art Museum
- Support from: Ambassade de France au Japon / Institut français du Japon
- Official website:
http://www.no9fukuoka.com/
Related Articles
External Links