Interview Now - BEYOOOOONDS -(1/2)

Check-out our interview with "BEYOOOOONDS!" The idol group performed at "Chicappa-sai 2021," which was held in Fukuoka City on Sunday 12th December! They belong to "Hello! Project," a music collective that has cultivated lots of popular idols! "BEYOOOOONDS" is formed of three units, CHICA#TETSU, 雨ノ森 川海 (Ame no Mori Kawaumi), and SeasoningS. All together they consist of 12-members. They are known for incorporating mini skits into their performances. They are a lot fun to watch live and have been generating a lot of buzz! We have a great prize for one lucky reader! The group signed a card, which we will be giving away! Make sure to keep reading to find out how to enter!
Deepening the bonds that exist between members and creating a warm, cozy feeling within group!
ab: You're about to perform live! Are you looking forward to interacting with the audience? What kind of response are you expecting from the crowd?
Maeda Kokoro
: I hope this will be a chance for people who don't know much about BEYOOOOONDS to find out more. I want us to do our absolute best and really go for it in our own unique special way!
Okamura Minami
: This is BEYOOOOONDS first live performance in Fukuoka. I haven't had a chance to visit before, so I was excited to come here!
ab: How did you decide what songs to perform at "Chicappa-sai?" What was the thought process behind the selection?
Nishida Shiori
: We are going to cover "Itoshima Distance" by ANGERME, from the Hello! Project collective. The lyrics include phrases that you hear in the Fukuoka dialect, like "
Suitouto
(I like it)!" and "
yaken
(because of that)." I really hope everyone enjoys it!
Satoyoshi Utano
: I'm looking forward to performing our original track "
Now Now Ningen
"! It will be cool to wave our hands in time with the audience! I'm looking forward to seeing the crowd from the stage!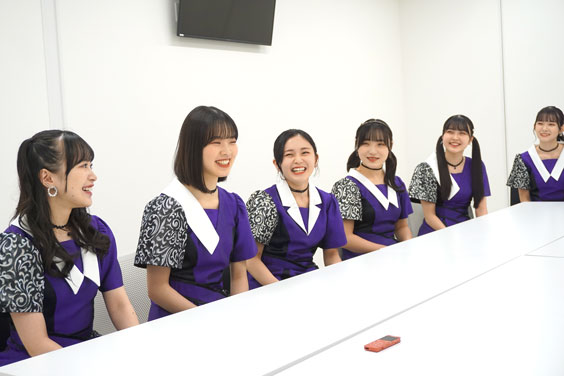 ab: For this show, you will be performing on the same stage as CAMELLIA FACTORY, another group who belong to Hello! Project. That's so cool!
Takase Kurumi
: CAMELLIA FACTORY are the senpai (seniors) we are closest to in Hello! Project. We shared the same dressing room for the show today, so everyone was supporting each other. When we were heading to this interview, they were calling out "good luck" and "have fun!" Having dependable, trustworthy senpai calling out encouragement is awesome!
ab: It has been three years since you formed. What is the relationship like between all the members? Have you developed bonds with one another?
Ichioka Reina
: I have become more aware that we are made up of 12 individual people rather than three groups. During the rehearsal, there is a time when everyone can give their opinions and say what they think. I feel like the bonds between us are getting stronger.
Takase
: An example is when one of us is worried or has something on our mind. I've come to understand the member's "instruction manual" better, so I know how to deal with those situations. Things like "it's best to give this member a bit of space" or "this member needs someone by her side."
Hirai Miyo
: Sometimes when all 12 of us our together, we get overexcited, I think "is this a kindergarten?" but when the members of SeasoningS are in a dressing room alone, it gets very quiet (lol). We have managed to create a really warm, cozy atmosphere within the group. We can be ourselves whether all 12 of us together or we're just with the members of our own unit.
ab: Some of your senpai might have been people you looked up to before becoming an idol. Have you had the chance to meet any people you admire?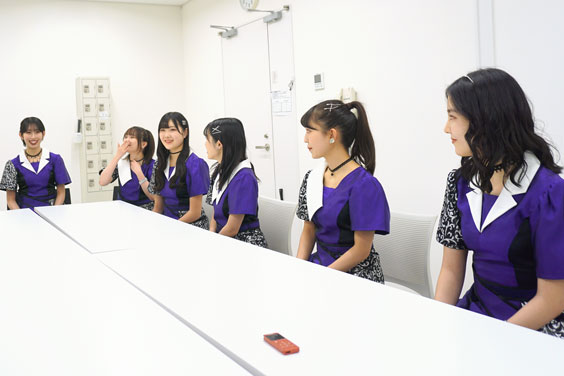 Eguchi Saya
: I've had the chance to work with Suzuki Airi who was a former member of the girl group ℃-ute. I was so thrilled when I heard her say my name out loud. Hearing a senpai who I admire and adore call out my name was so moving… I started to cry right there and then!
Kobayashi Honoka
: My absolute favorite is Sato Masaki from MORNING MUSUME 21 (at the time of the interview). When I saw her perform live at Nippon Budokan. I could not stop crying!
ab: All kinds of idol fans are gathering at "Chicappa-sai." How do you express yourself as BEYOOOOONDS? What kind of characteristics do you display?
Yamazaki Yuhane
: I think that incorporating lyrics and skits into music is a trait that is kind of unique to BEYOOOOONDS. The first song we will perform today is called "
Megane no Otoko no Ko
." It is packed full of these elements. I hope we win the audience over straight away!
Kiyono Momohime
: People who aren't familiar with BEYOOOOONDS sometimes have a shocked expression on their face for a couple of moments but it is fun to see a look of disbelief in their eyes. It is like they are saying "oh, I was not expecting that!" I hope we can deliver a performance that will surprise the audience. And I also want to see their reaction… That will be fun!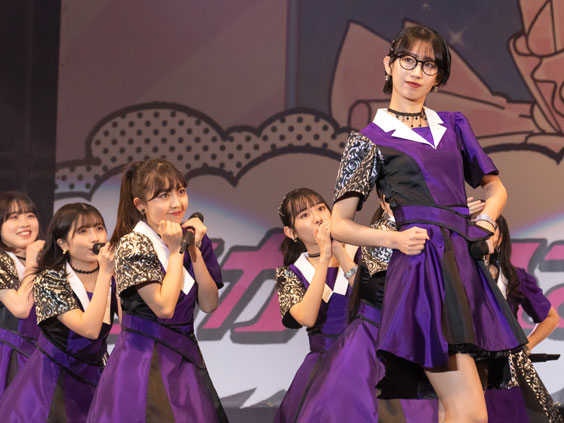 Here is a shot of the group performing "
Megane no Otoko no Ko
," the first song in their set. Incorporating skits into a routine is definitely not common for idol groups!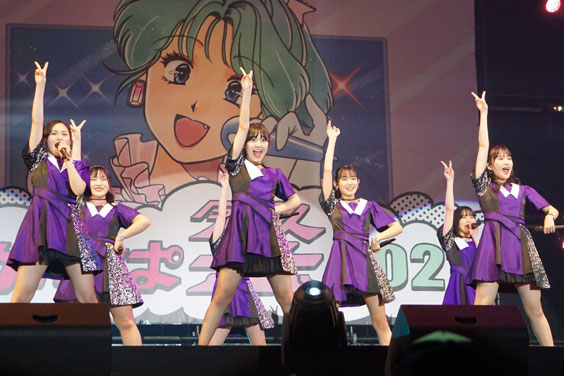 BEYOOOOONDS went on to perform "
Gannen Bungee Jump
," "
Konnahazuja Nakatta!
," "
Itoshima Distance
," (Cover), "
Now Now Ningen
," and "
Furefure Everyday
." In total, their live set featured six tunes!