Yamada Yuji - Professor at Mie University & Deputy Director of the Mie University International Ninja Research Center(1/2)

Despite the worldwide popularity, the truth of ninja remains little-known. Of the nationally famous Iga-ryu and Kouga-ryu, the Iga-ryu Ninja was based in the current city of Iga, Mie Prefecture, and Mie University is known for conducting research on ninja. This time, we have done an interview with a leading expert in ninja research, Professor Yamada Yuji (Professor at Mie University and Deputy Director of the Mie University International Ninja Research Center), when he visited Fukuoka last September. Come and find out his interesting academic perspective!
*Online interview@September 2020.
Different from what we imagined!? Yet they're still cool!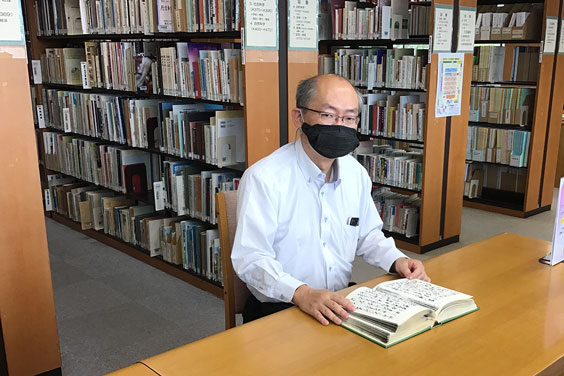 Professor Yamada doing research in Fukuoka. (*Image posted with the permission of Fukuoka Prefectural Library)
ab: Can you share with us your study of ninjutsu? Also are you working on any research about ninja in Fukuoka?
I'm actually a specialist in Medieval History of Japan. Usually in the research of ninjutsu, I study literature and documents from different places and eliminate speculations while discovering the truth of ninja. My visit to Fukuoka this time is to study ninja-related documents such as "Kuroda Kahu" (the official history records of the Kuroda clan, the lord of Fukuoka), which reveals the appearance of ninja upon mentioning "
Fukuhei
" and "
Toomi
". (* Visited Fukuoka last September)
ab: What do you expect from the research in Fukuoka?
It seems like people hardly relate Fukuoka to ninja, so it might be a chance to revitalize the city and contribute to the regional development if there's historical evidence to back the relevance, especially when Fukuoka is a gateway to Asia and "Ninja Fever" seems a big thing in many of the Southeast Asian countries.
ab: What kind of life did the ninja live?
Ninja were basically like "spies" who collect information at the command of their masters. In the turbulent Sengoku period, ninja were believed to have engaged in agricultural work in the morning, and practised ninjutsu or martial arts including the making of gunpowder in the afternoon. During the Edo period, they were believed to have been spying the neighbouring clans as well as revolts among peasants according to the command of the lords, while working as gatekeepers or guards at the castles. They were sometimes disguised in order to collect information from the local people. Hence, rather than "maverick", I would describe them as "sociable persons with great communication skills".