"Theatrical Edition: High☆Speed -Free! Starting Days-" Introduction

"High☆Speed" was the basis for massively popular TV anime "Free!" Depicting the friendships and passions that flare up on a high school boys swimming team that the series gained enormous popularity among all generations. And now "High☆Speed" has been made into a film with completely new content, which is called "Theatrical Edition: High☆Speed -Free! Starting Days-" and hit cinemas on 5th December in Japan. Read our outline of the movie, as well as our introduction to the creators of the anime "Kyoto Animation," to find out more!
Story
Haruka Nanase is an individual who possesses a special feeling for water. Together with his medley relay team of Makoto Tachibana, Nagisa Hazuki and Rin Matsuoka, he finally reached "a place that they had never seen before."

With the cherry blossoms in full bloom Haruka and Makoto, prepare for the next stage of their journeys by moving into Iwatobi Junior High School. Keen to begin their new lives, they both enter the swimming club, aiming to start a medley relay team with Shina Asahi and Ikuya Kirishima in order to participate in a swimming competition.

All 4 of them had different goals and ways of thinking. Then they had each of their own worries and struggles to deal with. Amidst all that, they also had their relay training to contend with. Things were not going well and it seemed like they were going to stay that way...

What do they need in order to become a "team?"
With his heart still firmly clinging to his old medley relay, what will Haruka be thinking in his new surroundings?

"High☆Speed! -Free! Starting Days-" depicts the characters slowly getting to know each other, as well as the new feelings they get from swimming. With the youthful vigor of adolescence, their dedication to swimming starts here.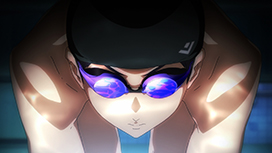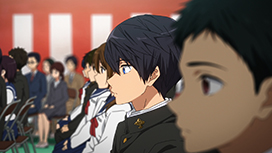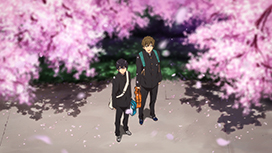 Producing one hit after another! Find out more about the anime production company "Kyo Ani!"
The film "High☆Speed! -Free! Starting Days-" was produced by "Kyoto Animation," who are widely known as "Kyo Ani." This anime production company has garnered a great deal of attention since 2000, having created a number of series, such as "Chūnibyō demo Koi ga Shitai! (Love, Chunibyo & Other Delusions)," "Tamako Market," "Tamako Love Story" and "Kyoukai no Kanata (Beyond the Boundary.)" The vibe of the characters who appear in what they create, as well as the scenery and background, have all been depicted in the finest detail. The high quality of work they produce is simply excellent, and has both attracted and captivated a legion of fans base in both Japan and abroad. One such example is "K-ON!" A late-night anime show that tells the story of 5 easy-going, normal school girls who belong to a light music club, it has gone one to spark an unprecedented social phenomenon!

The film version of "High☆Speed! -Free! Starting Days-" lays the foundations for the "Free!" series, differing somewhat from other Kyo Ani's works, many of which have, until now, been aimed female school students. Depicting male high school students, who belong to the swimming club, this story became a huge hit with boys and girls from all age groups. This brand new animated movie version, which is set during the protagonist, Haruka's time at junior high, is sure win over a whole new fan base, whilst at the same time ensuring that those who love swimming-related anime stories will become even bigger fans. So make sure not to take your eyes of "Kyo Ani," a production who continues to create new animes from all kinds of different genres!

Theatrical Edition: High☆Speed -Free! Starting Days-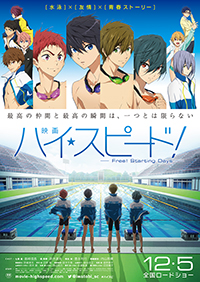 [CAST]
Nobunaga Shimazaki as Haruka Nanase/Tatsuhisa Suzuki as Makoto Tachibana/Toshiyuki Toyonaga as Asahi Shiina/Kouki Uchiyama as Ikuya Kirishima
[STAFF]
Original Story by:"High☆Speed" Kōji Ōji (KA Esuma Bunko / Kyoto Animation)
Directer: Yasuhiro Takemoto / Story Composition: Masahiro Yokotani / Script: Maiko Nishioka / Character Designs, General Animation Director:Futoshi Nishiya / Art Director:Joji Unoguchi / Color Design:Yūka Yoneda / Property Design:Seiichi Akitake / Director of Photograph:Kazuya Takao / Director of Audiography:Youta Tsuruoka / Music: Tatsuya Katou
Animation Production/ Kyoto Animation
Production:High Speed Production Committee
Distributed by: SHOCHIKU Co.,Ltd.
Theatrical release (in Japan):December 5th, 2015
Official Website (Japanese):
http://movie-highspeed.com/
(C)2015 おおじこうじ・京都アニメーション/ハイスピード製作委員会
External Links