What is "Idolmaster?"

This is a story about growth, friendship, and young girls' dreams of becoming superstars
Entertainment Studios, a 765th production. With it we find ourselves enraptured in a story revolving around 13 young girls and their novice producer, who together strive for the title of "top idol." Facing hardships head-on, it is a beautifully depicted story of friendship and growth.

Under the same name is the original arcade game "Idol Produce Game Experience" that not only inspired this "Idolmaster" story but has a long history dating back to the year 2005. Since its arcade game era, this series has amassed a large fan (producer) base that has since been growing. There's no stopping "Idolmaster." From the home video game, this series has been adapted into a colossal number of things including a radio show, dance performances, and songs being sold on CDs.

Summer of 2011. During this journey, the "Idolmaster" game was made into an anime TV series. By boiling down the original gaming product to its essence and developing that into a story line, producers brought their staff, cast, and fans (producers) closer together. With the developer's devotion to creating the perfect product and fans' love for the series, this TV program ended on an undeniably high-note.

January of 2014. "The Idolmaster" finally gets it's silver screen debut. Succeeding the 26-episode long animated TV series, this film is the much-anticipated sequel that many "producers" (fans) have been waiting for. However, this flick will be following a completely different story line centering around young girls, their dreams to become a top star, and personal growth. Staying in theme with the products you'll be fascinated by the group of determined girls in this movie that will stop at nothing to achieve their dreams and drive home the idea of "Kagayaki no Mukogawa" (the light on the other side [of the tunnel]), so please don't miss it!
Let's introduce you to the 13 main characters from the "Idolmaster" movie!
Pop idols at the talent agency 765 Production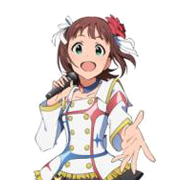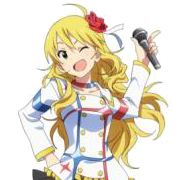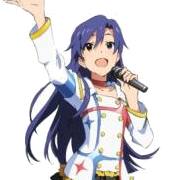 ◆

Haruka Amami (天海春香)
A soft-hearted girl that loves to sing and dreams of becoming a top idol. While a bit of a klutz, she is inherently bright and constantly maintains a positive attitude. She is very good at making sweets.
◆

Miki Hoshii (星井美希)
Miki's got the looks along with the singing and dancing skills to match. However, this girl is extremely fickle and always takes things at her own pace. She might seem carefree but when it comes to love: she's serious.
◆

Chihaya Kisaragi (如月千早)
Kisaragi's singing ability is well renowned: it's her own reason for living. She's serious and stoic, hard on herself and on others. That said Kisaragi does have a sensitive side that's easily hurt. She intends to continue working as a singer in the future.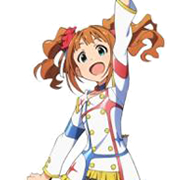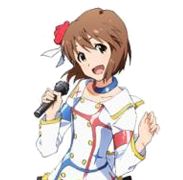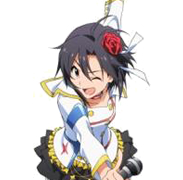 ◆

Yayoi Takatsuki (高槻やよい)
Takatsuki is an energetic and innocent girl. She's the oldest girl in her family so she's always taking care of her sisters. She's devoted to her family so after becoming a top idol she has used her income to support them.
◇Yukiho Hagiwara (萩原雪歩)
Hagiwara became an idol change her timid and nervous ways. When she makes mistakes she gets extremely depressed and just wants the ground to swallow her up. However, she is strong and always true to her core beliefs. Can't deal with guys or dogs.
◆Makoto Kikuchi (菊地 真)
Kikuchi is active and has lightning reflexes. She's also a great dancer. Because of her looks she has a lot of young tomboy fans but really she yearns to be more feminine and dreams of being on stage in a cute outfit.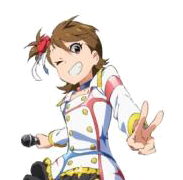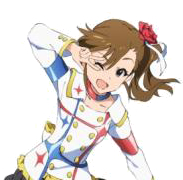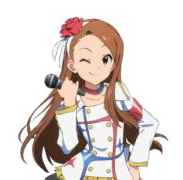 ◆

Ami Futami (双海亜美)
The youngest idol at 765th productions. When it comes to their personalities it's hard to tell Ami and her twin sister apart. Ami's hair is always tied up to the left. She says herself that she's the cute one of the pair....
◆

Mami Futami (双海真美)
Ami's twin sister. Mami say's she's the more relaxed of the two. Both of them love a good prank and are quite the troublemakers but when they time comes they really set the mood and liven up a party.
◆

Iori Minase (水瀬伊織)
Iori comes from a rich background and is a high class young lady. Full of pride she often says exactly what she wants but the truth is this girl really can be considerate and take care of her friends. She's always carrying her stuffed toy rabbit.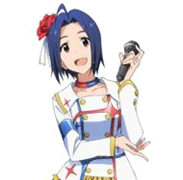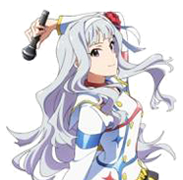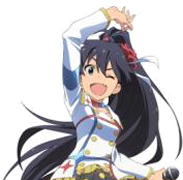 ◆

Azusa Miura (三浦あずさ)
Azusa is a gentle and soothing young girl. With her glamour and style she's the top idol at 765th productions. And her bust size is 91cm! The reason Azusa became an idol is to find the man of her dreams. She has no sense of direction.
◆

Takane Shijou (四条貴音)
Takane is a politely spoken traditional girl who comes from a long lineage wrapped in mysteries. Owing to her hair color and her majestic standing fans have labelled her "The Silver Princess".
◆

Hibiki Ganaha (我那覇 響)
Coming from Okinawa and sporting the motto "We'll do it somehow", Hibiki is a spirited young lady. On one hand she's an optimist with confidence in her singing, on the other hand she's a lonely girl who misses her family back home. Also, she loves animals.
◆

Ritsuko Akizuki (秋月律子)
Ritsuko is the producer who put together the whole 765th Production. She's cool calm and collected as well as an expert analyst. However she also has times when she can't show her true feelings. When the group are short-handed she can even handle being an idol!