Hakata Dontaku Terminology

Hakata Dontaku Terminology
Why do people dance around beating "shamoji" (wooden spatulas) together during Dontaku? You may have seen the "hana-jidosha" (decorated floats) driving around during the festival but did you know these actually used to be "hana-densha" (decorated trains)?! Here are a few terms and a few unique traditions specific to Hakata Dontaku that you might help you to understand the festival a little better.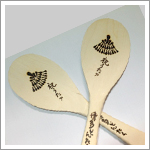 【Shamoji】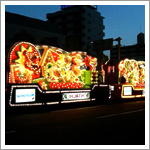 【Hana-jidosha】
Dontaku evokes strong images of processions of people parading along beating together wooden spatulas known as "shamoji." It is said that the reason behind the use of shamoji is, a long time ago, when the festival procession would pass by merchant houses playing their festive music, the housewives who were inside busy preparing dinner would hear this music and start merrily beating along in tune with the shamoji they had in their hands.
During Dontaku, the town is awash with color as "hana-jidosha" (decorated floats) circuit the streets of Fukuoka and Hakata. These "hana-jidosha" actually used to be "hana-densha" – tramcars decorated with various ornaments – a tradition stemming from their use in the opening ceremony celebrations of Kyushu Electric Railroad and Fukuhaku Electric Railroad (the predecessors of the current Nishitetsu).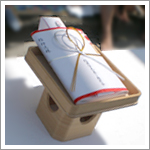 【Issoku Ippon】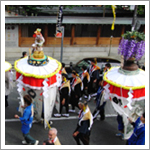 【Kasaboko】
When the three gods of fortune followed by the procession of people (known as the "toorimon") visit individual's houses during the festival, the people of these houses show their gratitude by presenting the gods with a bundle of "hanshi" (Japanese writing paper) and one "hakusen" (white fan). This gift is referred to as "issoku ippon." Even when the gods and the procession of people visited the feudal lord of Fukuoka castle, the feudal lord too presented them with "issoku ippon." This tradition still continues today with each family or business expressing their gratitude by presenting "issoku ippon" on a small offering stand.
"Kasaboko" are large parasol-like objects decorated with lavish ornaments on top called "dashi." Six sheets of silk hang from these umbrellas and are each inscribed with celebratory characters or images. During the festival the kasaboko are raised by three groups: the "nagare" (local group), the town and the Matsubayashi Promotion Association, at the front most section of the march. Walking beneath these kasaboko during the parade is said to ward off evil and bad luck.
Related Articles