"MAGICA☆TALK in KPF" Special Talk - Asakura Momo, Ogura Yui, Komatsu Mikako, and Hanazawa Kana -

Visitors had a chance to see "Episode One" before the official release date! The talk was full of laughter! The cast and audience smiled from to start to finish!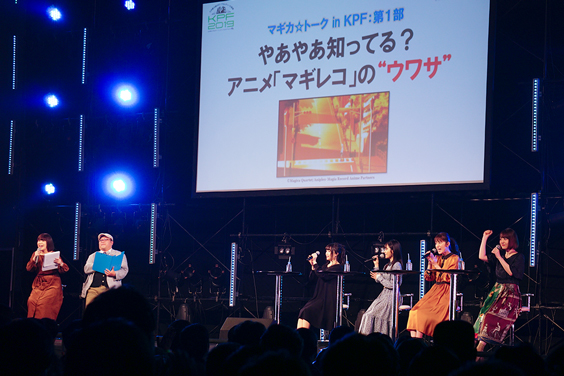 A special event called "Magica☆Talk in KPF" took place on Saturday 30th November! The talk was held during the KPF 2019 and gave visitors the chance to watch episode one of the TV anime "Magia Record: Puella Magi Madoka Magica Side Story" before its official release date (January 2020)! The crowd were excited to see the show before it airs! This was the first screening to take place in western Japan!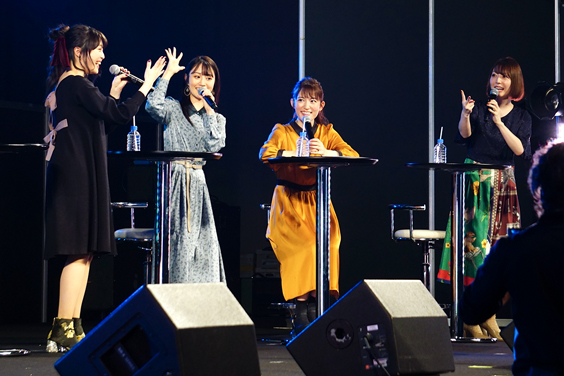 "Magia Record" has been adapted into TV anime. The title was initially a smartphone game of the same title. The anime, which welcomes a new character called Kuroe who is not featured in the game, tells the story of Tamaki Iroha's search for her missing little sister. A special talk featuring some of the cast was recorded for the Fukuoka-based radio station "cross fm." Voice artists Asakura Momo (who plays Tamaki Iroha), Ogura Yui (Futaba Sana), Komatsu Mikako (Togame Momoko), and Hanazawa Kana (Kuroe) took part in the event! The talk was emceed by Yagi Toru and Subaru. Their discussion got everyone inside the venue excited, and the atmosphere was electric! Keep reading to find-out what the stars of the show spoke about!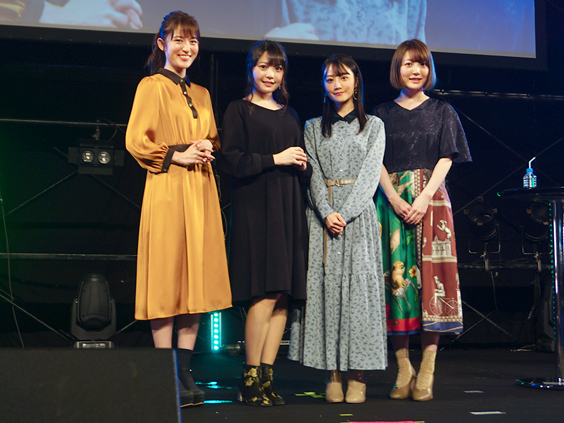 From left: 小松未可子 (Komatsu Mikako), 麻倉もも (Asakura Momo), 小倉唯 (Ogura Yui), and 花澤香菜 (Hanazawa Kana)
What springs to mind if you compare yourself to your "Magia Record" characters?

Asakura
: Iroha is shy and reserved. She is not good at handling machines or devices, and doesn't have a good sense of direction. Taking those points into consideration... I think we're pretty similar (lol)!
Ogura
: Sana is a character who has experienced trauma in the past. I've experienced something similar, so it was easy for me to get into character. Playing this role and seeing Sana's growth fills me with a sense of pride and achievement!
Komatsu
: Like Momoko, I also have a brother. I guess I might also have some of her manly qualities!
Hanazawa
: Kuroe is a new addition to the story... Her character seems to have a dark side, don't you think? What we have in common is... Hmm ... Maybe the length of our hair (lol)!
What is the atmosphere like in the recording studio?
Asakura
: There are lots of female voice artists in the cast. There's always a fun, sparkling atmosphere in the studio. Oh, I have a bit of a trouble in the studio! I don't like it when my stomach growls, but it makes such a loud noise when we sit on the sofa! I have to be careful when I sit down (lol)!
Ogura
: We have so much fun in the recording studio, we chat and gossip about the industry! There's lots of girl talk! The cast is amazing! There are lots of big names involved in the production. It makes me so happy to see everyone's name written down on the recording schedule!
Komatsu
: I am happy to get the chance to meet the artists who voiced characters in "Puella Magi Madoka Magica!" Some of the artists adjust their voices in order to make sure they sound the same as in previous titles. They have been playing these roles for a number of years. I can feel how much they care for their characters.
Hanazawa
: There are a lot of women involved in the production. I think the studio had a lovely floral aroma! I haven't had many opportunities to interact with Momo-chan (Asakura) in the recording studio, but last night we had a drink together in Kitakyushu and got to know each other better! We decided to call each other "Kana-san" and "Momo-chan." That's how close we got! I'm so happy we got to spend some quality time together!
What do you think is the best part of "Magia Record?" What do people find appealing about it?
Asakura
: I think the beautiful graphics! You can't miss them! We only see black and white drafts of the scenes during the recording sessions. I was blown away when I saw the battle scenes in the finished work, the quality exceeded what I imagined!
Ogura
: We recorded most of our own segments for the game individually. But the anime adaptation gives us more of a chance to interact with other voice artists during the recording sessions, so please enjoy that part! This production is full of energy and passion. Please stay-tuned!
Komatsu
: The characters are super kawaii, but the battle scenes are pretty rough! The gap that exists between these two extremes is amazing! I think it's one of the reasons people find "Madoka Magica" and "Magia Record" so interesting! Please stay-tuned and check-out this exciting world!
Hanazawa
: The production is amazing! I even muttered "wow, what is this!" when I first saw it! I am also interested to see how Kuroe's character develops as the plot unfolds. Please stay tuned!
The main visual used to promote this year's KPF featured key characters from "MAGIA RECORD"!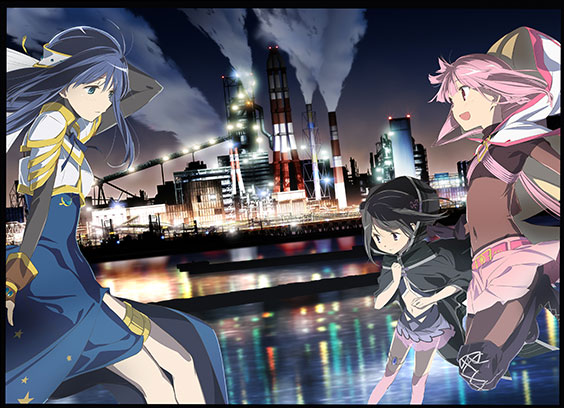 ©Magica Quartet/Aniplex・Magia Record Anime Partners
Related Articles