MECHA-UDE Talk - OKAMOTO, 松山洋 (Matsuyama Hiroshi), 豊永利行 (Toyonaga Toshiyuki) -

Constant efforts to produce something special! Anime projects coming out of Fukuoka are starting to gain a lot of interest!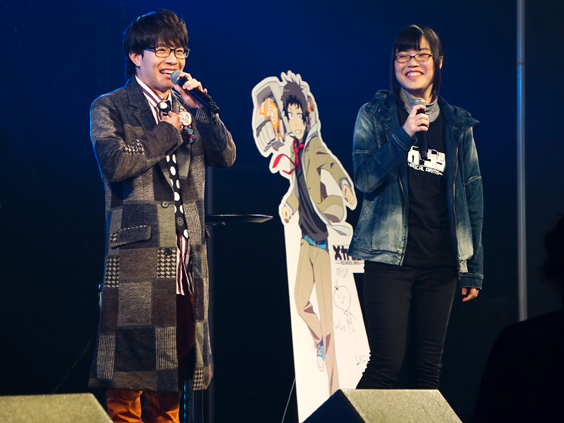 From left: Voice artist Toyonaga Toshiyuki and director OKAMOTO (TriF Studio)
The original anime "MECHA-UDE," which was produced by Fukuoka-based TriF Studio, was shown on the second day of "Kitakyushu Pop Culture Festival (KPF) 2019!" The screening was accompanied by a live audio commentary. The work tells the story of Hikaru, an ordinary junior high school student, whose life changes forever when a mechanical life form (MECHA-UDE) called Alma attaches to his body. Hikaru and Alma then get involved in a series of battles with other Mecha-Ude Wielder youngsters. Voice artist Toyonaga Toshiyuki (who provides the voice for Hikaru), joined director OKAMOTO and general supervisor Matsuyama Hiroshi (CEO of the Fukuoka gaming company CyberConnect2) on stage to talk about the production. They spoke about a number of different topics while watching a pilot episode (which will serve as episode four in the 12-part series)!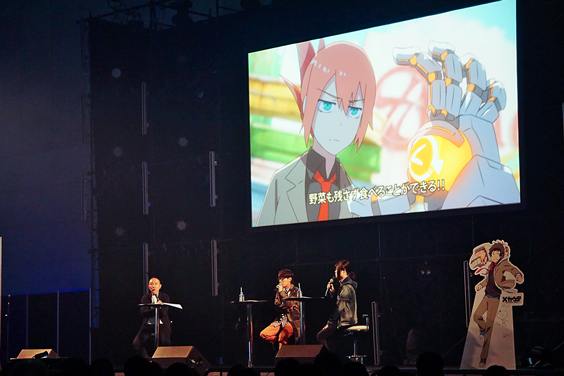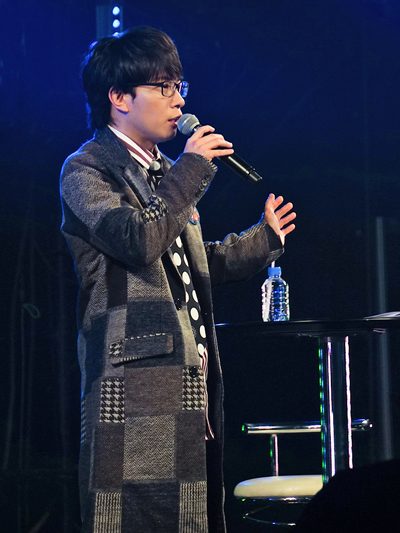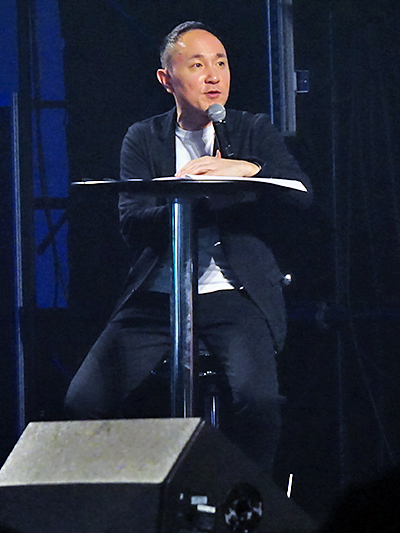 "MECHA-UDE" General Supervisor Matsuyama Hiroshi (CyberConnect2)
The anime is set in Kitakagami City, which modelled on Kitakyushu. The speakers appeared to be satisfied when they saw the scenes set in locations that resembled Kitakushu City's industrial district or Kokura Station. They could be heard saying, "that definitely suits the (Mecha-Ude) world." It was revealed that OKAMOTO told Toyonaga to make the protagonist sound "one year younger" during the recording sessions. Toyonaga said, "one year can make a big difference during adolescence, so making that change had a bit effect." Toyonaga is clearly also fan of Mecha-Ude and shared some thoughts about the project while watching the pilot episode. He told the crowd that he thought "the shots used for the action scenes were so cool" and added that he had an awesome time working with Sugita Tomokazu, who plays the role of Alma. The pilot episode has been given a limited release on YouTube. It will be out until Tuesday 31st December! Make sure you do not miss it! (>> Click
HERE
to watch it!)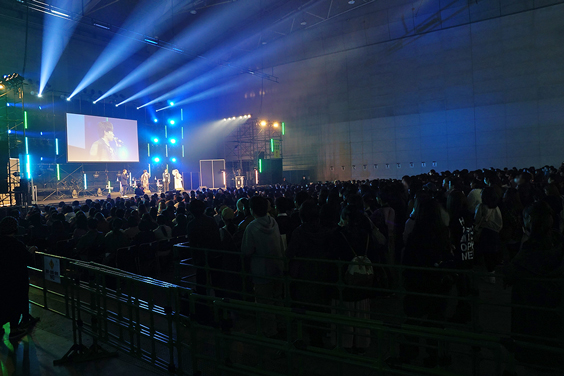 Director OKAMOTO shed some light on the production process during our one-on-one interview!
TriF Studio set-up a "MECHA-UDE" booth inside the KPF venue. There was all kinds of cool items on display! Some original merchandise was on sale for fans looking to pick-up a momento! Director OKAMOTO, who is affiliated to TriF Studio, was also at the booth to help promote the project. That is when we got a chance to interview her and find-out more about the production process.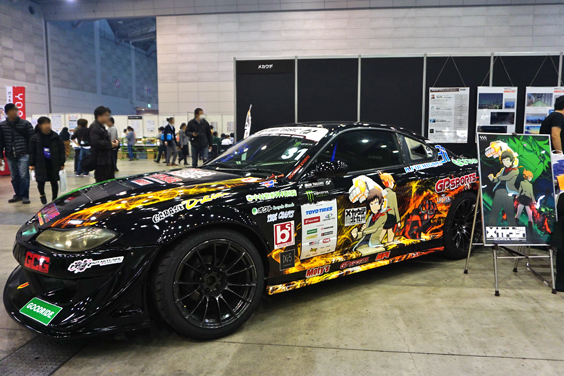 An awesome "MECHA-UDE" customized "itasha" car was parked inside the venue! The design was different to what was on display last year!
asianbeat (hereafter referred to as ab): How did you find the screening? Did any part really stand out?
I was really happy to know that Toyonaga did the recording while talking and laughing with Sugita. We wanted Hikaru and Alma to have a funny man - straight man type of relationship. It seems like there was a great atmosphere in their recording sessions. I'm sure their chemistry comes out in the anime.
ab: Some incredible voice artists, such as Toyonaga, Sugita, and Park Romi are involved in the project. The singer-songwriter Eve worked on the theme song that is played during the opening credits. Does that create any sense of pressure for you as a young 27-year-old anime developer?
I found it more exciting than anything else. It was an amazing experience to work with individuals who are at the forefront of their industry and witness the energy that they helped inject into the project. I want to continue working with such talented individuals in the future, while making sure that do not lose myself in the process.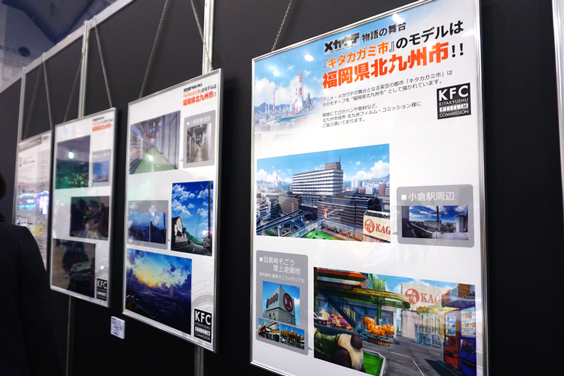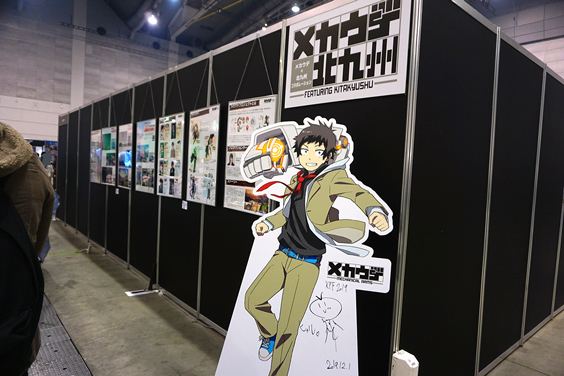 ab: What was the most exciting part of the production?
The first "pilot episode" was released in 2018 thanks to the support of crowdfunding. Before the crowdfunding started we were virtually unknown. I felt like that was the first time that we were able to give something back to all the people who supported us.
ab: How many people were involved with the production?

There was about five main members of staff. I usually work on of commercials for clients, so I had to make time to work on our self-produced anime.
ab: If you think of completing all 12 episode as climbing up a mountain, where would you say you are right now?
I was a bit lost for some time, but I feel like I an now at the foot of the mountain. I am sure we will encounter more obstacles in the future, but I can finally see the path forward. I know which route will take us to the top of the mountain and I think that is a big step forward! You've got to make sure that you create work that you believe in and think is cool, that is so important! I want people all over the world to know about "MECHA-UDE," so please check-out the pilot episode when you get a chance! (>> Watch it
HERE
!)
Related Articles