@ Princess Tea Party Restaurant in Tijuana, Mexico(1/17)

January 18th 2014 - Lolita Tea Party @ Princess Tea Party Restaurant in Tijuana, Mexico

This party was organized by Mexican Kawaii Ambassador Daniela, on her Lolita fashion website "My Lolita Style" sponsored by the Korean Lolita Fashion Brand "LIEF". Laura Mendivil, one of Daniela's best friends, also hosted this Tea Party.

Twenty-five gorgeous Lolitas attended this party. The Lolita party was held at a restaurant called "Princess Tea Party." With a beautiful interior and its kawaii decorations, this is a must visit if you ever have the chance.
Kawaii Ambassador of Mexico, Daniela Michel's PROFILE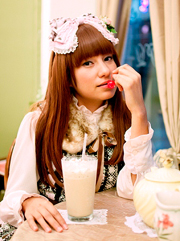 Daniela resides in Mexico and has a great liking for Lolita Fashion. She was appointed the Kawaii Ambassador of Mexico in April 2013. Daniela is very engaged in spreading the word of Lolita fashion in Mexico, as well as Latin America does so through her website, "My Lolita Style."
My Lolita Style Website:
http://www.mylolitastyle.com/
Related Articles


PRESENTS
All the info. on asianbeat's present campaign!
* "A local specialty set discovered during the trip to Tagawa Area giveaway! Apply by Mon. 11 Jan. 2021 (JST)!