The "Fukuoka Manga World" exhibition is now open!

Featuring a special talk by manga artists Tochi Ueyama and Mitsuhiro Kasuga!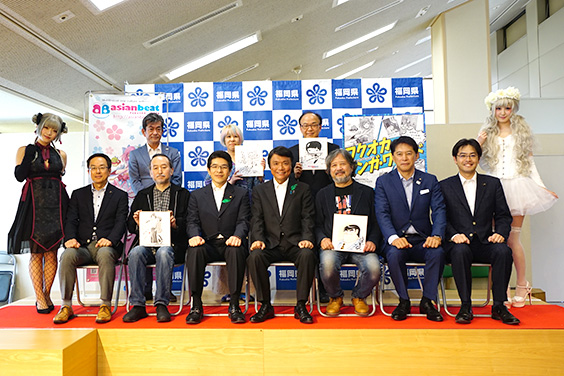 Fukuoka Prefecture Governor Hiroshi Ogawa (front row, center), Fukuoka Prefecture Assembly Chairman Akira Higuchi (front row, third from left), Fukuoka Prefecture Assembly member Satoshi Itahashi (front row, second from right), Fukuoka Prefecture Assembly member Masashi Haranaka (front row, far left), Fukuoka Prefecture Assembly member Kazuki Tanabe (front row, far right). Performers and participants also joined the line-up for the photograph.
The "Fukuoka Manga World" exhibition started on May 1st 2018! The asianbeat organised event, which is taking place inside the Fukuoka Yokamon Hiroba (11th floor of the Fukuoka Prefectural Offices), aims to shine a spotlight on manga artists and titles that have ties to the the Fukuoka area. A special gathering was organised to mark the opening of the event, which featured a talk by Fukuoka-based manga artists Tochi Ueyama (creator of "Cooking Papa") and Mitsuhiro Kasuga (creator of "Za Samurai"). The two artists shared lots of fascinating stories! They spoke about the struggles that went into creating their most famous manga and why they decided to work in Fukuoka. Their love and affection for the local area was clear for all to see!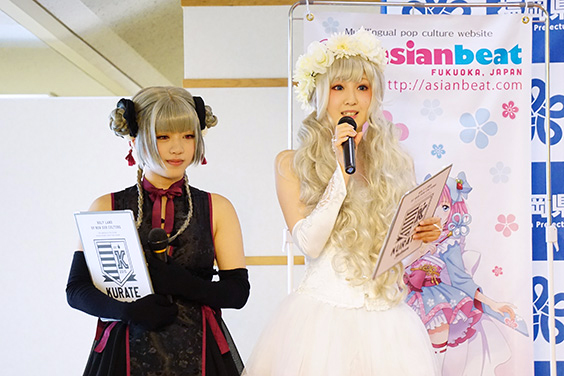 (From left) Cosplayers Nene and Nanapink emceed the event.
Fukuoka Prefectural Governor Hiroshi Ogawa addressed the crowd on behalf of the organizers. He said, "I sincerely hope that the 'Fukuoka Manga World' exhibition will share the charm and wonder of comic titles from this prefecture with many people. I also would like to see the event generate a buzz around manga culture." Fukuoka Prefectural Assembly Chairperson Akira Higuchi also spoke during the ceremony, adding "I want to see the culture surrounding manga in Fukuoka develop even further. Hopefully this will also increase the number of people interested in Fukuoka."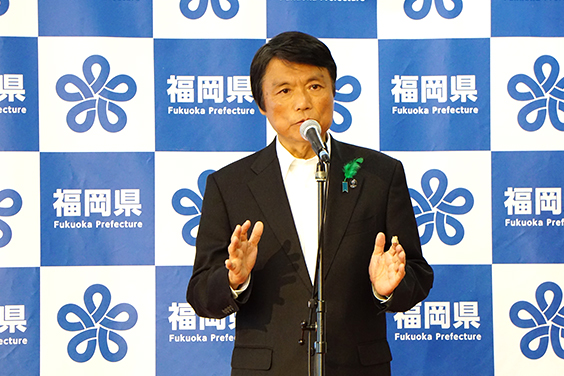 Hiroshi Ogawa (Fukuoka Prefectural Governor)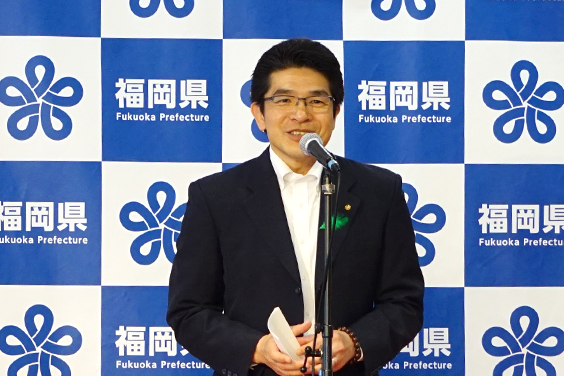 Akira Higuchi (Fukuoka Prefecture Assembly Chairman)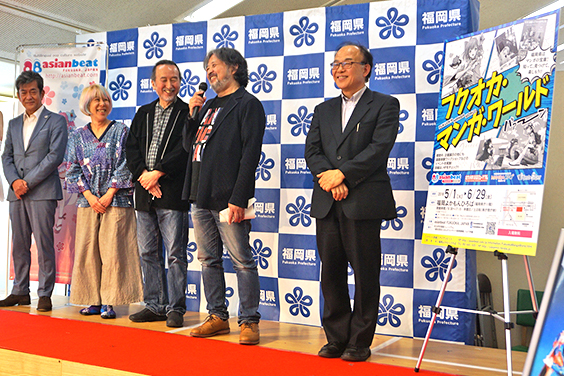 (From left) K. Shigematsu (the chairman of Kurate Gakuen), manga artists Uminekoya, M. Kasuga, T. Ueyama, T. Tanaka (Director of the Kitakyushu Manga Museum)
The Kitakyushu Manga Museum Director T. Tanaka spoke as a representative of one of the groups that helped organize the exhibition. Mr. Tanaka stated that, "as far as we know, there are around 300 manga artists who have ties to Fukuoka. I hope that people rediscover manga's charming appeal through this exhibition."
Why is Fukuoka loved by manga artists? Why is it seen as such an attractive place?
During their talk Tochi Ueyama and Mitsuhiro Kasuga explained why they decided to keep Fukuoka as a base for their work and creative activities. They spoke about the draw of Fukuoka and the positive atmosphere that surrounds the local area. Mr. Ueyama noted that "the area has a nice vibe, is good for transportation, and has great food!" Mr. Kasuga added, "it's an area that is comfortable to live in and there's also lots of beautiful women, too." "The illustrator and manga artist Uminekoya, who emceed the talk, really drew out some unique, out-of-the ordinary stories!"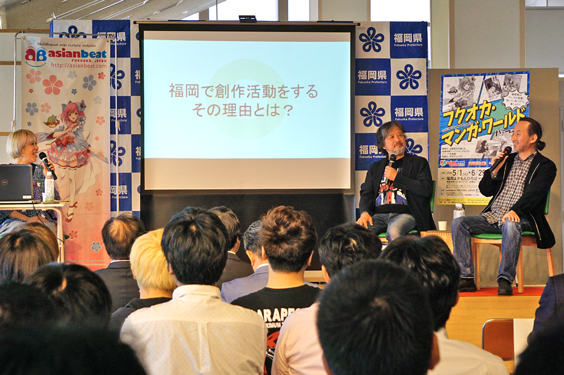 The two artists laughed as they reminisced about how inconvenient things used to be before data could be sent over the internet. Obviously, it's a very different story today, but before FAX machines had been invented you would sometimes have to think about taking a round trip on a plane. Their discussion got a big laugh from the audience inside venue!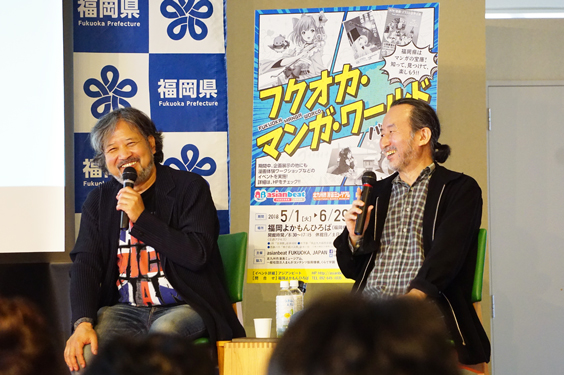 Mr. Kasuga said that he had some opportunities to teach manga in China. He told the audience that "15-year-old students can complete an 8-page manga in 10 days (when he had a class in China). The passion and interest in manga amongst people based outside of Japan is amazing! I hope that young aspiring Japanese manga artists will also continue to work hard and try their best."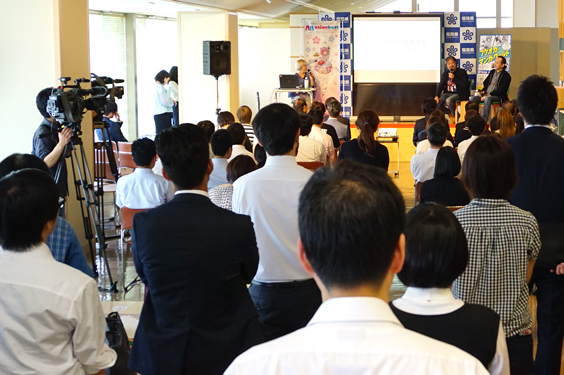 The talk concluded with a discussion about the future of manga and the industry in Fukuoka. Mr. Ueyama said, "In this age data can now be shared with people all over the world in seconds. So, from now on I want to broaden my horizons and become more active on the global stage." Mr. Kasuga stated that, "I would like to see Fukuoka become a huge manga distributor… The biggest city in Japan. In order for that to happen it would be great if it became easier to work and access information here."
Students who want to become manga artists also participated!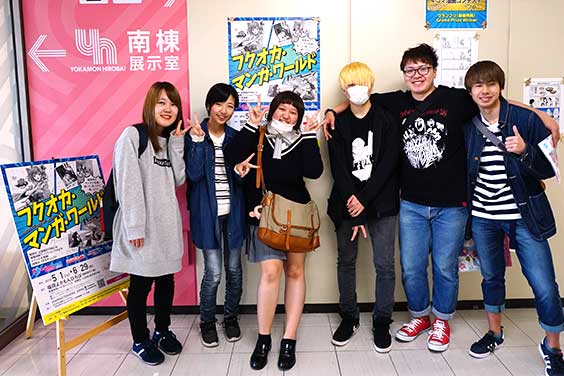 Students on the Manga Course at the Yoyogi Animation Academy Fukuoka School also visited the venue! The students shared their impressions from the events and spoke about what they learnt from the day. Some of the quotes that stood out included… "I got the chance to meet real manga artists for the first time!," "It was great to hear stories and experiences from professional manga artists! It's inspired me to really do my best!," "I really learnt a lot by listening to experts in the field speaking. It was such a valuable experience for my future," "I'm starting to think that I'd also like to create manga in Fukuoka... The home of delicious food." ... "I'm determined to work hard and make the most of how much more convenient things are today!" ... "I didn't know that there were so many manga artists in Fukuoka!" ... and "Some of the manga on display has been created by artists from other countries. Seeing those pieces has given me insight into new perspectives and how people abroad see Japan." This exhibition is a real must for anyone interested in manga and illustration! Make sure to stop-by and experience the international quality of the items on display!
The "Fukuoka Manga World" exhibition runs until Friday 29th June 2018!
Various workshops and events will be staged during the run of the exhibition. We will be posting more news soon, so make sure to stay tuned! Follow
this link
to find-out more information about the workshops and other developments!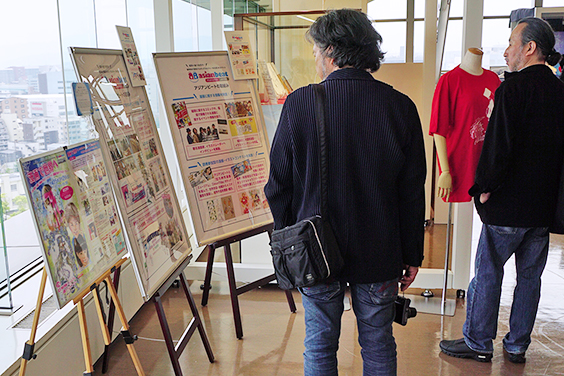 Here you can see Tochi Ueyama and Mitsuhiro Kasuga carefully examining the various displays featured in the exhibition.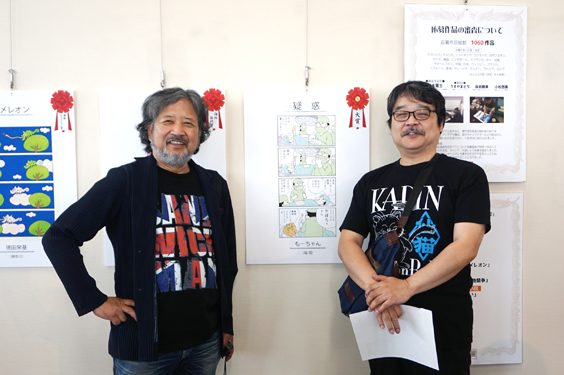 "The 2nd Kitakyushu International Manga Competition" grand prize winner, もーちゃん (Mo-chan) [right] also made an appearance at the event!
Fukuoka Manga World
■ Period: 5/1 (TUE) - 6/29 (FRI)
■ Location: Fukuoka Yokamon Hiroba (Fukuoka prefectural Government FL: 11)
■ Free Admission
■ Organized by asianbeat, Fukuoka Japan
■ Cooperation: Kitakyushu Manga Museum, MANGA Contents Promote Organization, KURATE Gakuen
Related Articles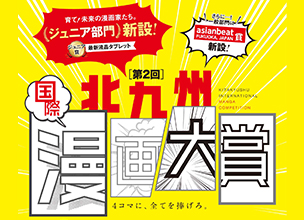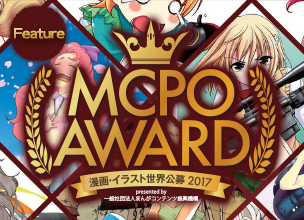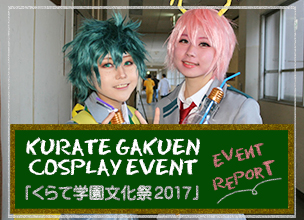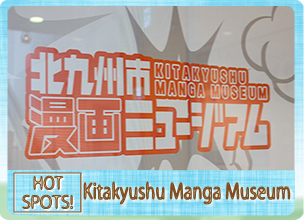 External Links