Messages from asianbeat colleagues!(12/14)

Shiitake (Dispatched Artist, Fukuoka)

asianbeat, congratulations on your 10 year anniversary!
The "Japan-Korea Manga Festival," which took place in the summer of 2008, in Busan, Korea, was the first event that I did with asianbeat. Even though I held a longing to go abroad, at that time I didn't have the courage or fighting spirit to take that leap and go for it. Then Mr. Kawagoe (who was the asianbeat Assistant Director at the time) said to me "Why don't you come to a Japan-Korea exchange event with us?" Even though that was some time ago, it remains a vivid memory even to this day.
At the event I got to display my work at a booth that was exhibiting fan art, and this gave me the chance to make new friends. And the following year one of them came to Fukuoka and also participated in a comic event. And of course she stayed at my house!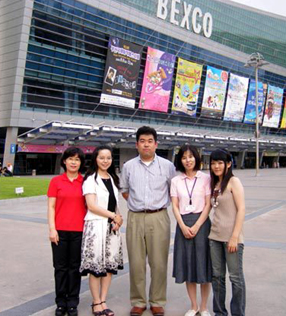 The "Japan-Korea Manga Festival," Busan, Korea, August 2008. Shiitake (second from the left) and Yuka Tao (far right).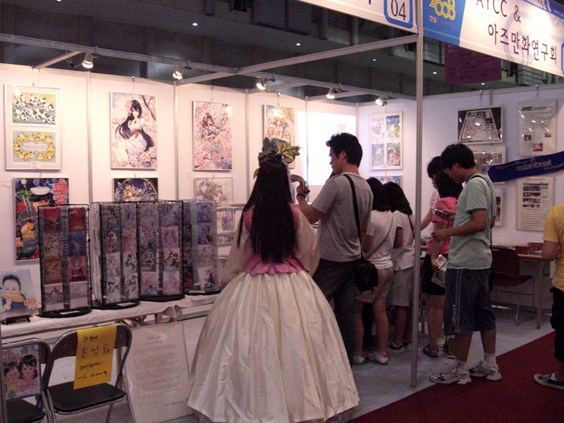 "Korea-Japan Manga Festival", AYCC booth
Two yeas later, I was invited to a Fukuoka exchange event in Hanoi, Vietnam and was overwhelmed by the enthusiasm of the locals. The event took place in a large hall on the first floor of a hotel, but it was absolutely packed with over 1,000 people, the majority of whom were students (ranging from junior high school through to university). The event was bustling as if a live gig was going on!
And naturally, when we spoke about anime, we could easily overcome any language barrier. I was so impressed that we could communicate with each other, just through anime titles and the names of characters! Since then, I have personally exhibited work at Japanese cross-cultural events in Hanoi. And as if in the blink of an eye, I am also celebrating 10 years of doing illustrations. Thank you so much for giving me the opportunity to be involved with, and carry out activities abroad. Lets continue to help make Fukuoka thrive!
Shiitake
PROFILE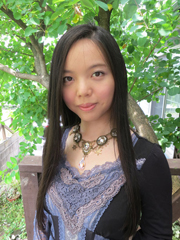 Shiitake
Illustrator living in Fukuoka Prefecture. Has produced character illustrations along the theme of "Healing Maidens," such as angels, fairies and princesses. Under the brand "Gensodo," and starting in Fukuoka Prefecture, has gone on to participate in events both inside and outside of Japan. Domestically, has illustrated event posters, CD covers, puzzles, shochu (Japanese distilled beverage)/confectionary packaging.
In 2011 she provided illustrations for a picture book called "Kaguya," which was printed by the French publisher nobinobi!. Later a few books titled "Yosei" and "Yosei2," featuring poetry and Gensodo original illustrations, were published
Gensodo Official Website:
http://gensodo.web.fc2.com/
---
In 2008, asianbeat and "AS MANGA CIRCLE" (a group that has been active in the Fukuoka area for over 40 years) collaborated on a booth together at the "Korea-Japan Manga Festival." And as core members of the society, Shiitake and Yuka Tao both participated in the "AYCC Booth Demonstrator." Currently based in Fukuoka, but active both inside and outside of Japan, she has been contributing to the promotion of international cross-cultural exchange through her illustrations.
External Links