Messages from asianbeat colleagues!(13/14)

Yuka Tao (Dispatched Artist,Fukuoka)

I came into contact with asianbeat at the "2008 Japan-Korea Manga Festival." At that time, I had just started as a professional and was aiming to focus all my energy into illustration, and also intending to broaden the scope of my work overseas.
At that time, I was asked to promote (Japanese) sub-culture in Korea, and I jumped at the chance of participating in such an exciting project. Looking back, I think this was the starting point in establishing my style as a painter.
Even to this day, I still clearly remember how moved I felt when I realized that Japanese culture, that is second nature to those of us living in the country, had the power to captivate people in foreign countries.
As a native of Fukuoka prefecture, I am embarrassed to say that it was only through asianbeat that I first came to know of the sister cities and friendship agreements that exist between Fukuoka and various other countries and regions throughout Asia.
I wish to continue creating these ties that have been established irrespective of domestic and international borders. 
Although it sounds a bit over the top, I really believe that even if it is only in a small way, if we all continue to expand our lives and grow, then Fukuoka will continue to develop and this can lead to world peace!
Whilst awaiting further activities from asianbeat, who gave me a valuable sense of motivation, on the 10 year anniversary of your founding, I want to say congratulations from the bottom of my heart!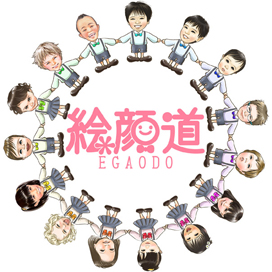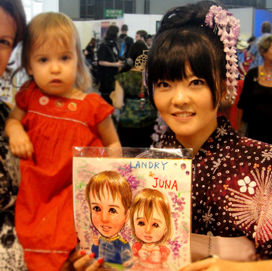 PROFILE
Yuka Tao

Professional illustrator. After spending 2 year teaching fine art, she became a portrait artist. She has displayed work from her brand "Egaodo" in 9 countries around the work and it has also appeared at major international events in America. She continues to produce illustrations that pursue a sense of "Japanese-ness," which fuse the "kawaii" with the real.

---
In 2008, asianbeat and "AS MANGA CIRCLE" (a group that has been active in the Fukuoka area for over 40 years) collaborated on a booth together at the "Korea-Japan Manga Festival." And as core members of the society, Shiitake and Yuka Tao both participated in the "AYCC Booth Demonstrator." Currently based in Fukuoka, but active both inside and outside of Japan, she has been contributing to the promotion of international cross-cultural exchange through her illustrations.


Related Links & Recommended Links
External Links