From Kitakyushu to another galaxy - The launch pad for Leiji Matsumoto -(1/15)
Why do so many manga artists come out of Kitakyushu?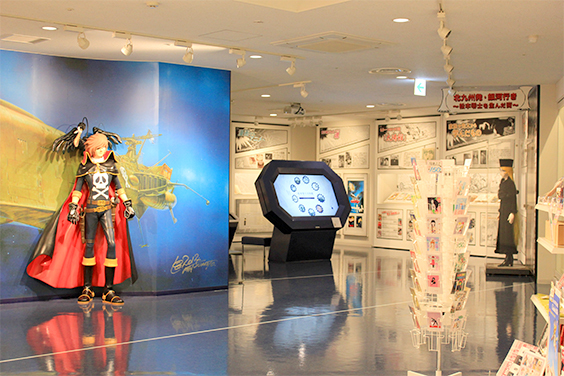 Giving visitors the chance to take a special commemorative photo, the permanent exhibition (located on the 6th floor) features life-size models of the hugely popular characters Maetel and Captain Harlock. It also has a section that introduces manga artists based in Kitakyushu, starting with Leiji Matsumoto, the creator of "Galaxy Express 999 (銀河鉄道999)."
Inside the exhibition, there's so much to discover about Leiji Matsumoto's life. You can see photographs from the time Matsumoto released his debut work, find-out about his journey to Tokyo at 20 years old and also read about the things that happened at the "Taiyo Kan," a lodging that cultivated many manga artists during that generation. While tracing Leiji Matsumoto's career and personal history, you can also discover exactly why so many manga artists have come out of Kitakyushu.
>> NEXT PAGE
>> [HOT SPOTS] Kitakyushu Manga Museum - TOP