Manga Time Tunnel(1/6)
A look back at some classic titles! Trace changes in society through the developments manga!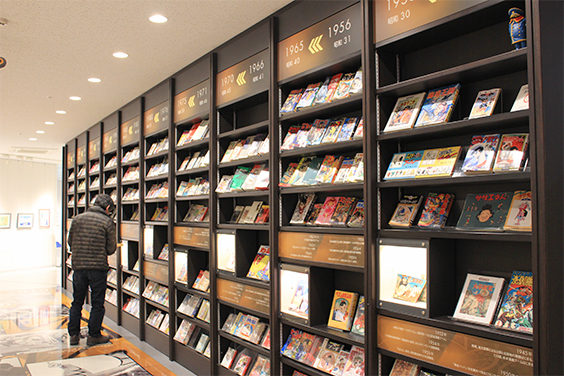 Manga is a source of amusement and enjoyment that is close to the heart of many people. It is a form of art that reflects society and the times. The "Manga Time Tunnel" is a section of the museum that provides great insight into the changes that have taken place society. Looking at manga from the end of the war and following how trends have developed right through to the present day, gives visitors the chance to also clearly trace the changes that have occurred in the real world.
After learning about the various kinds of technique in
"The Seven Wonders of Manga,"
you are sure to get a lot out of discovering how these different skills and styles evolved with the times. Be sure to keep an eye out for how themes and topics started to shift in order to respond to what was going on in the wider world! Once you have finished strolling through this part of the museum you can head over to the Yomu (Reading) Zone and have a look through any titles that particularly caught your eye!
>> NEXT PAGE
>> [HOT SPOT] "Kitakyushu Manga Museum - TOP