Ninjas in Fukuoka!? - Research Results & Nakama Neko-jo Ninja Matsuri (festival) Report

Undercover ninjas in Fukuoka! ?? Two respected professors have utilized historical sources to develop research projects on this fascinating topic!
Find out more information about the study projects conducted by Professor Yamada Yuji of Mie University and Professor Kiyokawa Shigeto of Aomori University HERE!
Details about the research produced by Professor Yamada Yuji and Professor Kiyokawa Shigeto were released on the FUKUOKA NINJA ASSOCIATION YouTube channel in December 2021! The two academics worked on ninja-themed study projects in Fukuoka across a long period of time.
Professor Kiyokawa is advancing ninja-related research at Aomori University. He is currently studying the "Hayamichi no Mono" ninja unit who served the Hirosaki Domain (present day western Aomori Prefecture) during the Edo period. Professor Kiyokawa's university is located far away from Fukuoka; however, his research has a strong connection to the area. He is currently exploring the theory that some members of the Hayamichi no Mono ninja unit came from Fukuoka. Historical documents have confirmed that some of the Munakata clan that was based in Fukuoka moved to the Tohoku region and were charged with monitoring the borders of the domain. They were then taught
ninjutsu
(strategy and tactics employed by ninjas) by Nakagawa Kohayato, who ruled as the head of the Hayamichi no Mono for many years.
Professor Yamada Yuji
works at Mie University and studies ninja practises. His university, which is home to the International Ninja Research Center, is located in Iga City, Mie Prefecture. The facility is in a region that was once the stomping ground of the Iga-ryu (Iga School), one of the most well-known ninja traditions in Japan. Professor Yamada read a lot literature on his area of interest during visits to Fukuoka and found valuable sources that described the existence of ninjas. Documenting the behavior of ninjas has proven historically difficult due to the secretive nature of their world, so this information proved incredibly useful. A number of ninjas played significant roles during the Shimabara Rebellion in the Edo period. Shibaoka Kurobe of the Akizuki domain and Yamada Emosaku of the Fukuoka domain (both realms were based within the region that would later became Fukuoka Prefecture) are two individuals that fit this profile. The official history of the Kuroda clan, which is titled "
Kuroda Zoku Kafu
," describes a skilled shinobi (a term often used interchangeably with ninja). The individual discussed in this passage is a member of the Kuroda clan called Niino Jyusuke, who is said to have once secretly entered a castle in Shimabara before returning with food supplies and shoji screens. This kind of tale appears to confirm the existence of ninjas in Fukuoka.
Research into the presence of ninjas in Fukuoka is still a fairly new area of inquiry but hopefully the research carried out by leading academic figures will help open the door to future study projects in this field. Learning that there were ninjas based in Fukuoka has certainly got us wondering how many there might have been! Perhaps there was a time when there were a lot of ninjas operating in the region! We can't wait to see what kind of information will be discovered next!
Nakama Neko-jo Ninja Matsuri (festival)@Nakama City, Fukuoka Prefecture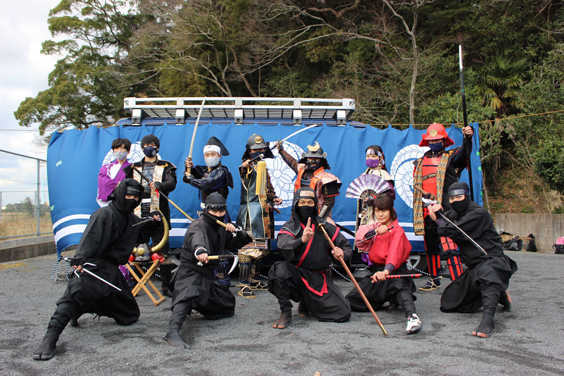 The Fukuoka Omotenashi Bushotai and Nakama Neko-jo Ninjatai groups made an appearance!
Research carried out by Professor Kiyokawa of Aomori University has revealed that members of the Munakata clan used to protect Neko-jo castle in Nakama City, Fukuoka Prefecture during the Sengoku (Warring States) period. The "Nakama Neko-jo Ninja Matsuri (festival)" was held on Sunday 19th December 19, 2021 and Sunday 23rd January 2022 in response to the publication of this information. The interactive event took place at the Tsukise Hachimangu shrine, which is located in the ruins of Neko-jo castle. The FUKUOKA NINJA ASSOCIATION organized various ninja-themed workshops and activities for visitors. It proved a wonderful opportunity for the public to find out more about ninja culture!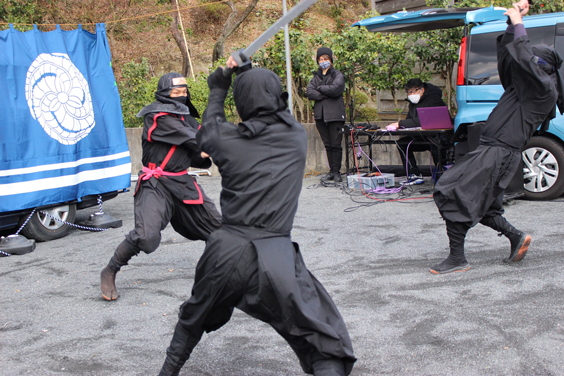 Visitors were treated to displays of
kenjutsu
(Japanese swordfighting), shuriken (concealed daggers sometimes known as throwing stars), and other skills ninjas were known to have employed in battle.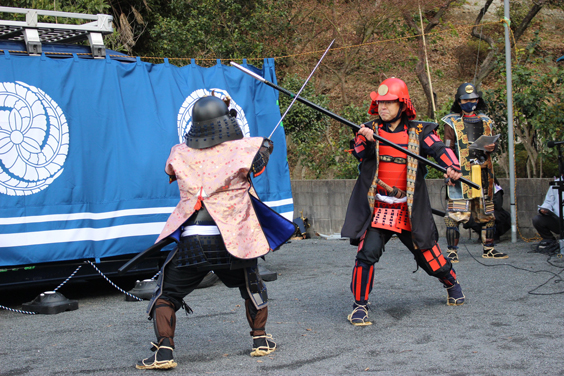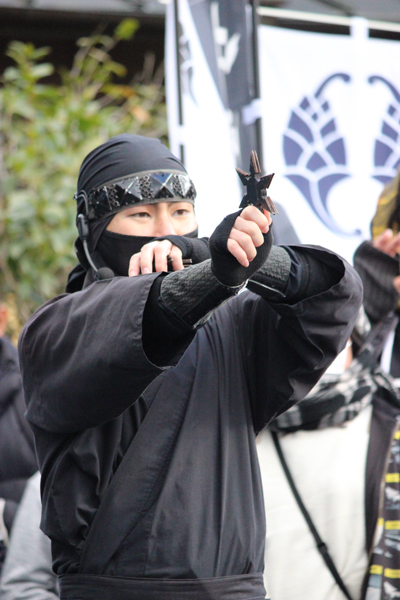 The shuriken display was a wonderful spectacle!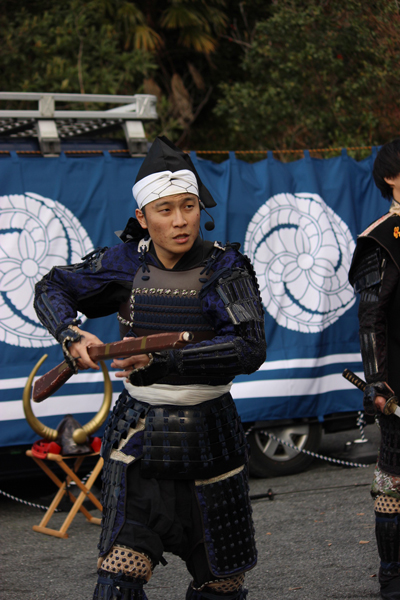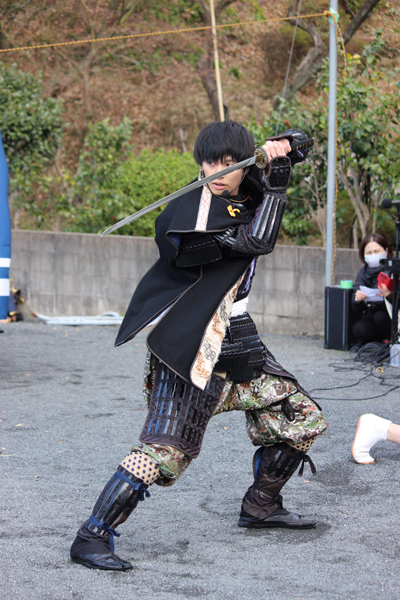 *All photos provided by: FUKUOKA NINJA ASSOCIATION
Related Articles