Ramen Unari Kiyokawa-Branch (ラーメン海鳴 清川店)

A sigh of satisfaction without even realizing!
"Ramen Unari" has established a reputation as being one of the few places in the world of Hakata ramen that serves "Seafood Tonkotsu." One of their big draws and major selling points is the soup, which has many layers and a real depth of flavor. Once you take a sip you are struck by an elegant, refined scent of seafood, which soon gives way to the flavor of tonkotsu as the soup runs down your throat. This complex taste sensation will ensure that you'll notice something new with every mouthful. You're sure to let out a sigh of satisfaction without even realizing! Make the most of this chance to sample a unique mix of homemade noodles and seafood tonkotsu soup.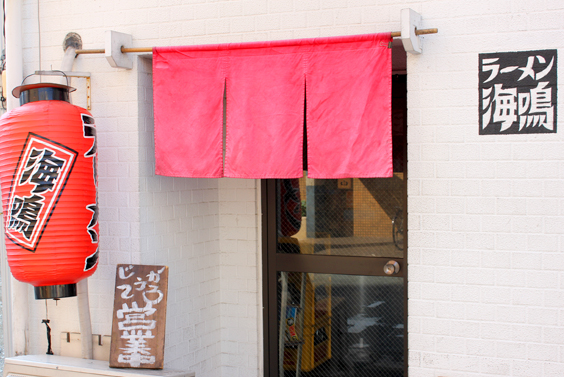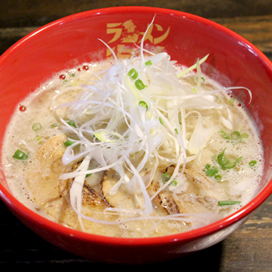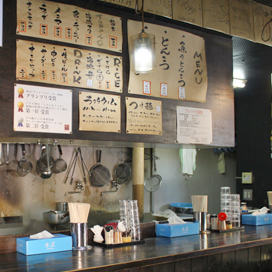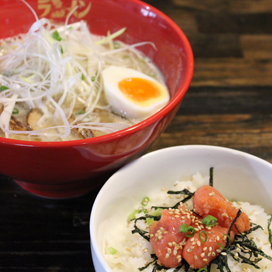 A great deal of care goes into making this much loved soup, even local people who are not familiar with seafood-based ramen enjoy it. The pork bones are boiled in rich stock on 3 separate occasions in order to remove their strong smell. Small sardines are added one-by-one, which helps remove the bitterness and creates a more mild soup. Seafood is the first flavor to hit your senses when you try the soup, but then the thick quality of the tonkotsu starts to develop. The change is really quite startling! Order a set meal and you can also enjoy rice served with "Fukuya" mentaiko!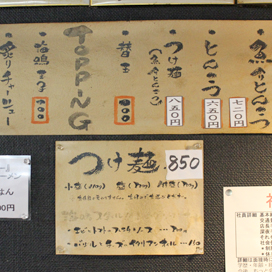 [MENU]
Gyokai (Seafood) Tonkotsu… 720 yen
Tonkotsu Ramen… 650 yen
Tsukemen (Gyokai Tonkotsu)… 850 yen
Kaedama (refill/second helping of noodles)… 100 yen
Additional Toppings: Unari Tamago (egg)... 100 yen, Aburi Char siu (grilled pork)… 150 yen, Menma (bamboo condiment) / Negi (spring onion) / Kizami Tamanegi (chopped onion)… 100 yen (each)
[Set menu] Seafood Tonkotsu ramen, soft-boiled egg, rice topped with Hakata Mentaiko … 1,000 yen
etc,.
Ramen Unari Kiyokawa-Branch (ラーメン海鳴 清川店)
Address: 1st Floor, 1-2-8 Kiyokawa Chuo-ku, Fukuoka-ken
* 2 minute walk from "Yanagibashi" Nishitetsu Bus Stop. 6 minute walk from "Watanabe-Dori Station," Fukuoka City Subway Nanakuma Line.
Telephone number: 092-524-0744
Number of seats (capacity): 10
Opening hours: 11:30-15:00/18:30-03:00 (next day)
Closed: Wednesday
* All information listed correct as of May 2016.
Related Articles