Fukuoka Ramen Map - What is Tsukemen?
What is Tsukemen?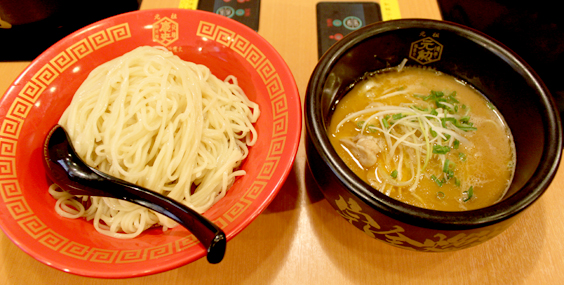 "Tsukemen" is a noodle-based dish in which the noodles and the thick broth for it will come in separate dishes. The traditional way to eat this food is by taking a few strands of the noodles, dipping them into the broth and then eating them.

In Fukuoka, ramen noodles are primarily thin and straight; whereas, "tsukemen" noodles are known for their thickness. What can also be noted is that customers cannot generally choose the firmness of their noodles.

Compared to your typical ramen, the broth/soup for "tsukemen" is a bit thicker. Since there is no worry of your noodles becoming soggy, in place of the ramen "kaedama" (second servings) they have the "oomori" (large serving) option. Though, each store has their own unique way of serving.
How to eat "tsukemen"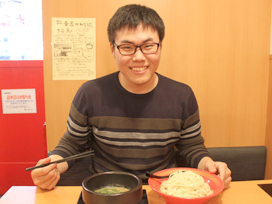 The noodles and broth are brought in separate dishes.
Even if one of the dishes comes first, don't try to finish eating one without the other!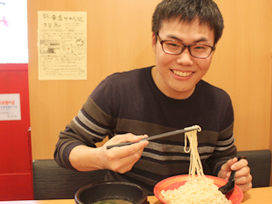 Try the noodles without the broth first.
We recommend picking up only bite-size portion with your chopsticks.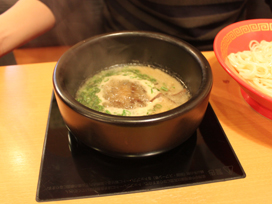 Next try just a bit of the broth.
Since the broth for "tsukemen" is purposely made thicker than for most other foods, we suggest only taking a small sip!
Be prepared with some water!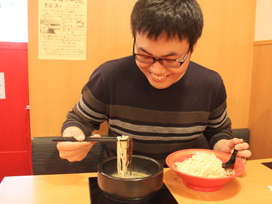 Now feel free to eat your noodles with however much broth you want!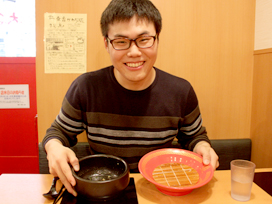 When finished eating your noodles. While each shop does this differently, you can ask to have "soba-yu" (water that was used to boil soba in) added to your remaining broth to make it into a drinkable soup. For some more fun you can even request "zosui" (hodgepodge) at an extra cost.

※In this installment the above photographs were taken at the Hakata Ikkosha - Daimyo Branch. Here, they have an IH heater at every seat, with corresponding bowls so that you can have hot soup or broth whenever you like!
Hakata Ikkosha - Daimyo Branch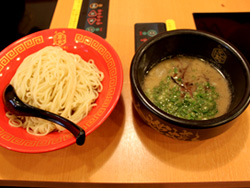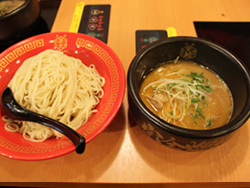 (Left) Tonkotsu Tsukemen・・・650 Yen (Right)Niwatori Tsukemen・・・750 Yen
>> Click
HERE for the information of this restaurant "Hakata Ikkosha"
where you can eat tsukemen.