The world's first robot hotel has finally arrived in Fukuoka! Experience exciting state-of-the-art technology at "Henn na Hotel!"

Experience the excitement of a theme park! Guests can check-in super fast with the assistance of dinosaur-shaped robots!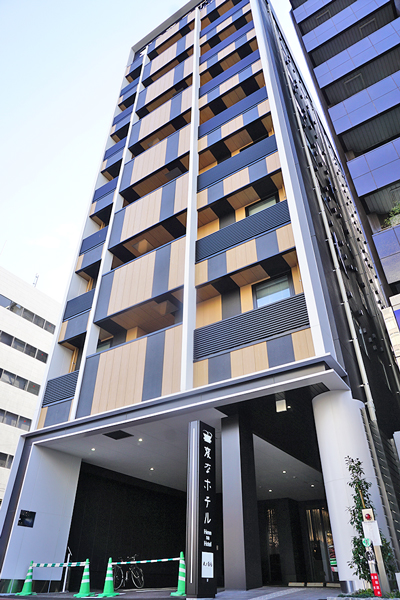 The "Henn na Hotel Fukuoka Hakata" opened on Thursday 17th January 2019. The new accommodation facility is just a three-minute walk from Nakasu Kawabata Subway Station. And that's just one stop away from Tenjin, which is located in center of Fukuoka City! According to Guinness, this is the first hotel chain to make use of a robot workforce! It is so exciting that this unique hotel company has finally established a branch in Fukuoka! We managed to stop-by for a sneak peek! Here is what we found...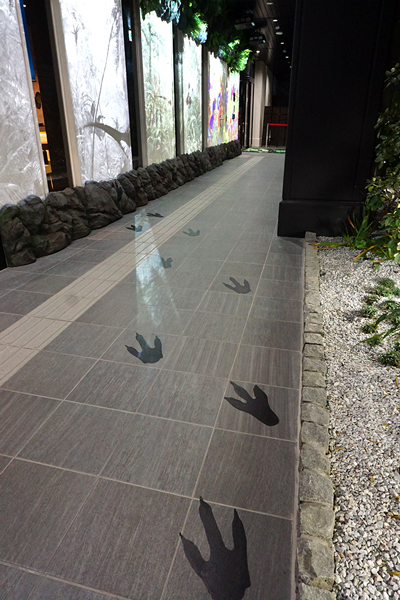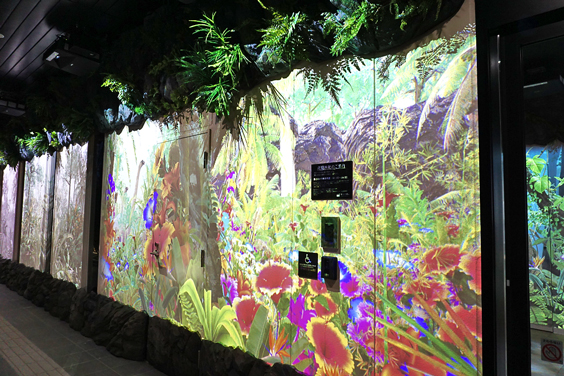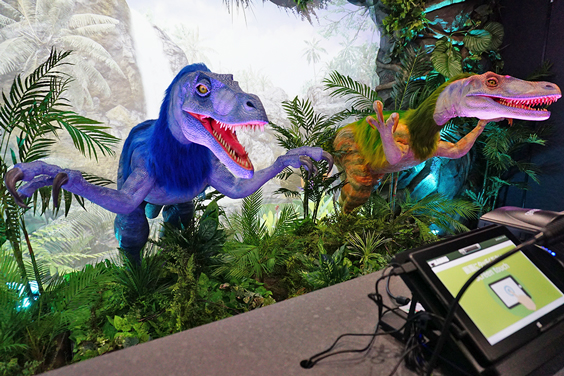 The front desk looks just like a jungle! You can even hear the sound of birds singing as you approach! Guests will be greeted by two robotic velociraptors! The dinosaurs realistic movements are sure to capture your attention! Checking-in is super easy. All you have to do is follow the instructions, enter your information into their system using one of the tablets, and then pick-up your room key from the appropriate machine. It is worth visiting the hotel just to experience the state-of-the-art technology that the hotel uses for their innovative check-in system!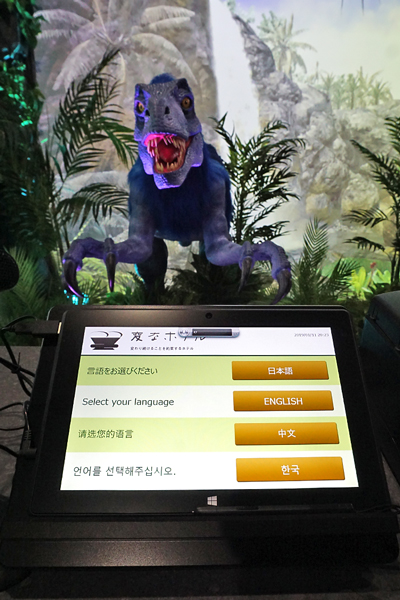 The robotic dinosaur can respond to Japanese, English, Chinese, and Korean.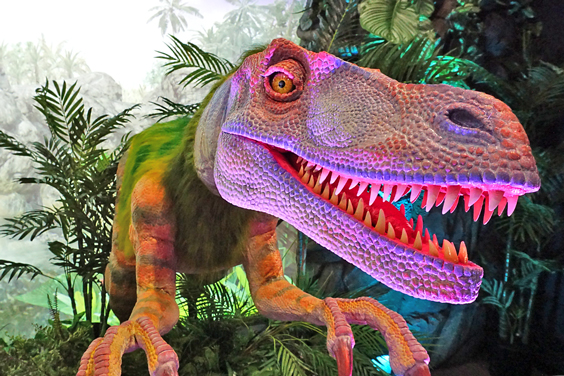 ◎Guest Room - All the rooms are decorated with miniature versions of the happi coats that are worn by members of the "Nakasu Nagare" during the Hakata Gion Yamakasa festival!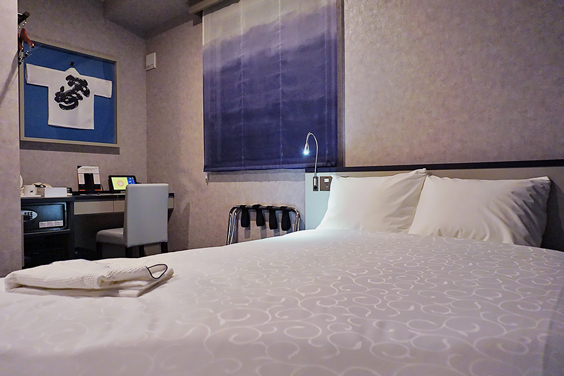 Semi-double room
Inside the bedrooms you will find mattresses developed by H.I.S Hotels and a French bed company. The beds help improve posture, which makes it easier to wake-up. The companies' commitment to comfortable sleeping and health is clear to see! Guests can also adjust the atmosphere to suit their mood thanks to the "Philips Hue White & Color Ambiance" light fittings, which have the capacity to create 16 million shades of color. The rooms are also equipped with "tabii" devices and "Handy" smartphones. The tablets can be used to control the air conditioning, lighting, and TV. They might also come in handy if you want to find-out about any travel news or check if the first floor restaurant has a free table. Guests can use the phones as much as they like during their stay! Some rooms even have "LG styler" clothing care systems installed! These top quality devices use steam to get rid of any wrinkles and bad smells! You're clothes will be good as new by the time you leave!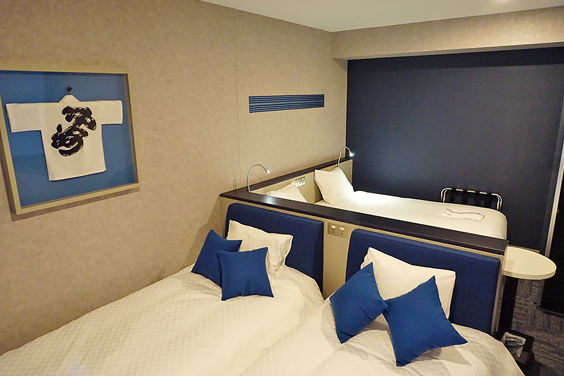 Fourth Room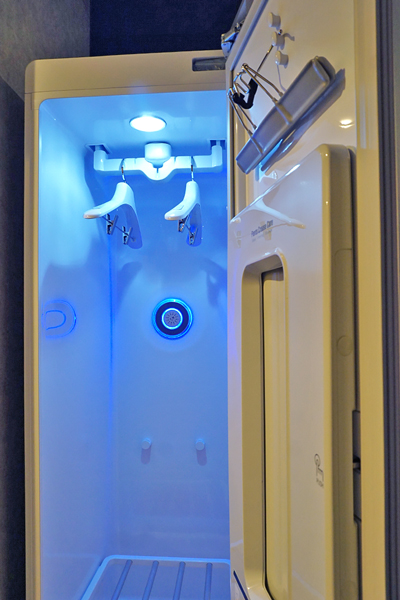 LG styler *Some of the rooms are fitted with LG Styler clothing care systems!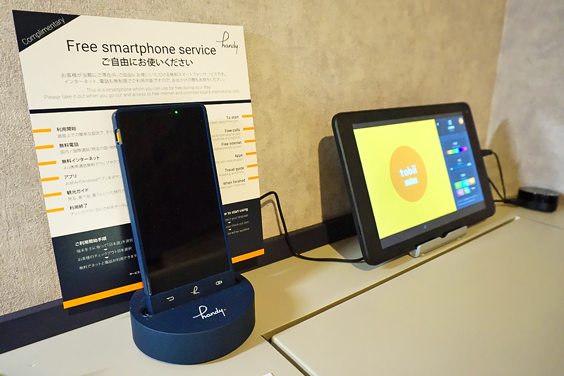 (From left) The hotel's free "handy" smartphone service and their "tabii" tablets.
◎1F | Restaurant: 米と葡萄 by SHINGEN (Kome to Budo by SHINGEN)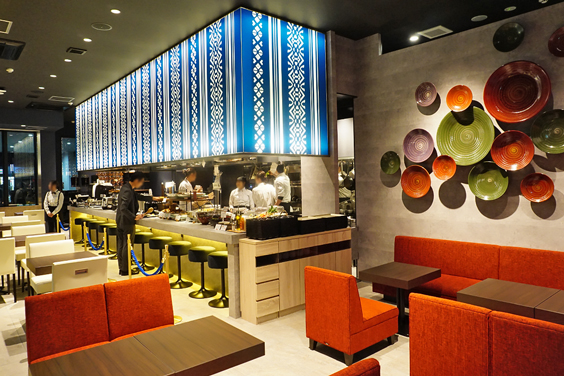 Traditional Fukuoka crafts such as "Hakata-ori" and "Koishiwara-yaki" have been used as inspiration for the interior of the "Kome to Budo by SHINGEN" restaurant.The establishment makes use of locally sourced food and is located on the first floor of the premises. Kome to Budo serves a delicious breakfast buffet that is made with fresh fish and vegetables. The lunch and dinner menu features creative dishes that fuse together Japanese and Western cuisine. The restaurant is open to the public, which means that you do not have to be a guest at the hotel to sample their food! The "Henn na Hotel Fukuoka Hakata" is packed full of fun experiences and culinary delights! It also offers visitors the chance to learn more about Hakata's history and culture! (Editorial Dept.: Gon)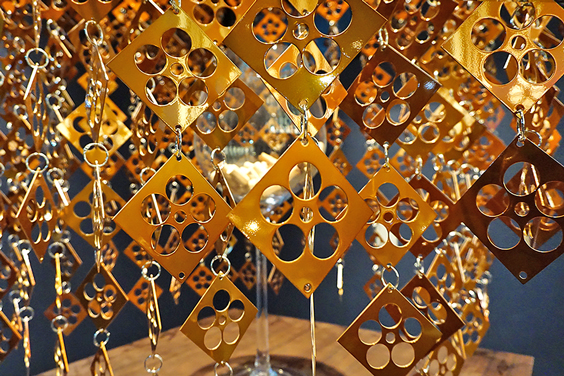 Check-out these charming hanging ornaments! The design features a "Ume" (plum), which is the flower of Fukuoka Prefecture.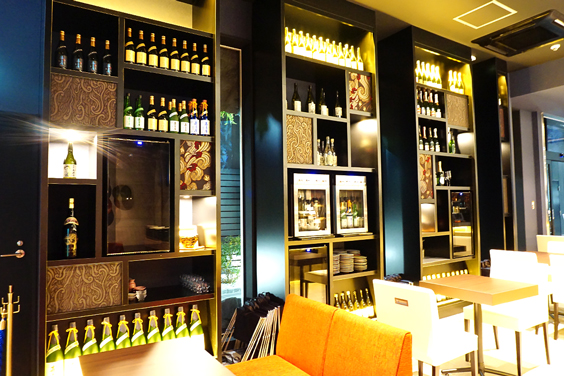 The restaurant stocks a selection of exquisite alcoholic beverages. Well-known brands from Yame City, such as "Kitaya" and "Shigemasu" are well-worth sampling! Self service wine machines have also been installed inside the premises!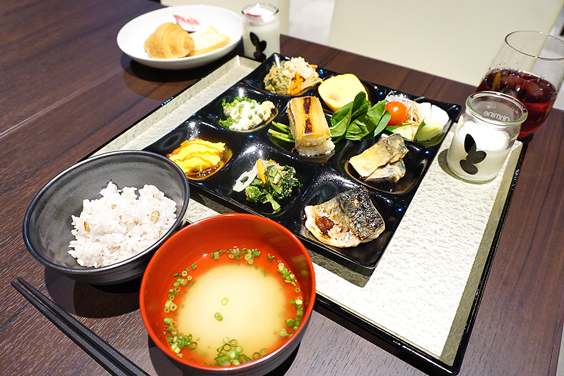 The breakfast buffet serves an impressive selection of tasty food. Guests can choose from Japanese-style dishes, like fish and vegetables. Western classics, such as eggs and sausages are also on the menu! The healthy drinks made from apple and black vinegar are also delicious!
Henn na Hotel Fukuoka Hakata (変なホテル福岡 博多)
■Address: 5-4-19 Nakasu, Hakata-ku, Fukuoka-shi, Fukuoka-ken (*About a three-minute walk from Fukuoka City Subway Nakasu-Kawabata Station)
■Capacity:102 rooms
■Customer Center:050-5576-8380 - Everyday: 10:00 - 18:00 (*Closed on Sundays. Exlcuding December 30th to January 1st)
■Check-in time:15:00 / Check-out time:11:00
■Language available: Hotel Staff - Jananese / Robots - Japanese, English, Korean, and Chinese.
■Official Website:
https://www.hennnahotel.com/hakata/
■Facebook:
@hennnahotel
■Instagram:
@hennnahotel
---
Restaurant "米と葡萄 by SHINGEN (Kome to Budo by SHINGEN)"
■Opening Hours: Breakfast 6:00 - 10:00 (Last Order 9:30)
Lunch 11:30 - 15:00 (Last Order 14:30)
Dinner 17:00 - 25:00 (Last Order 24:30)
■Official Website:
https://www.kometobudo.com/
*All information correct as of January 2019.
- DISCOVER! Fukuoka Tour Guide -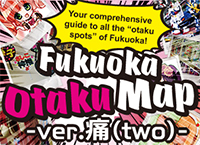 Fukuoka Otaku Map
In this feature we'll be introducing you to Fukuoka's anime and cosplay scene, but the term "otaku" doesn't just apply to a single subculture, it's used to refer to "enthusiasts" of various genres.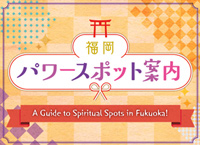 A Guide to Spiritual Spots in Fukuoka!
Did you know that Fukuoka is home to lots of shrines and temples? This series aims to introduce some of them and provide information about hidden spiritual spots in the local area!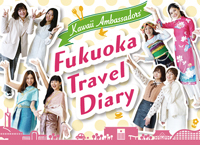 Kawaii Ambassadors' Fukuoka Travel Diary
The eight Chinese, Thai, Vietnamese, and Taiwanese Kawaii Ambassadors, selected in the "2019 asianbeat・FACo Kawaii Ambassador Contest", visited Fukuoka City, Itoshima City, and Fukutsu City. They report on seasonal information regarding Fukuoka, such as popular photospots, cafes, and traditional handicraft experiences!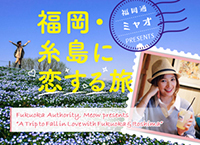 [Feature] Fukuoka Authority, Meow Presents "A Trip to Fall in Love with Fukuoka and Itoshima"
Fukuoka Authority Meow toured trendy spots around Itoshima! So, let's go with Meow on a journey to "fall in love" with Fukuoka♪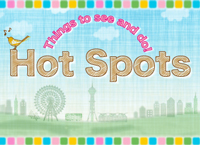 Hot Spots - Things to see and do!
We're going to introduce in and around Fukuoka's sight seeing, gourmet and fun spots in this section!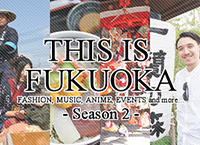 [This is Fukuoka]
We'll be bringing you all the latest event info and reporting on various hot-spots in and around Fukuoka.
- Discover Fukuoka local delicacies! -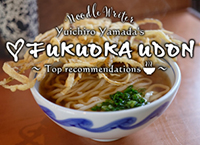 ♥ FUKUOKA UDON - Noodle writer Yuichiro Yamada's top recommendations!
This series sees a Fukuoka-native noodle writer Yuichiro Yamada talk about the exciting world of udon! Read-on to discover more about Fukuoka's famous udon culture!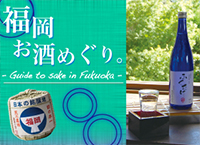 "Fukuoka Osake Meguri " - Guide to sake in Fukuoka -
Discover all 70 sake breweries that Fukuoka Prefecture has to offer! Here we bring to you all the latest information about where to enjoy sake produced in Fukuoka Prefecture!
Related Articles