A 52-year-old building becomes a fashionable inn in the modern Japanese style! Introducing "Yadoya Hitotoki," where one floor is rented at a time!

Outstandingly convenient. Stylish and spacious base for your trip!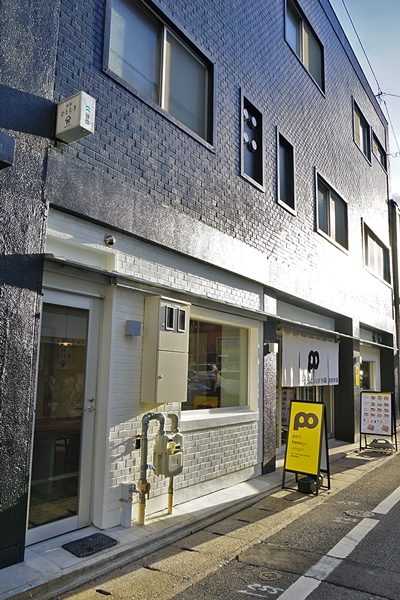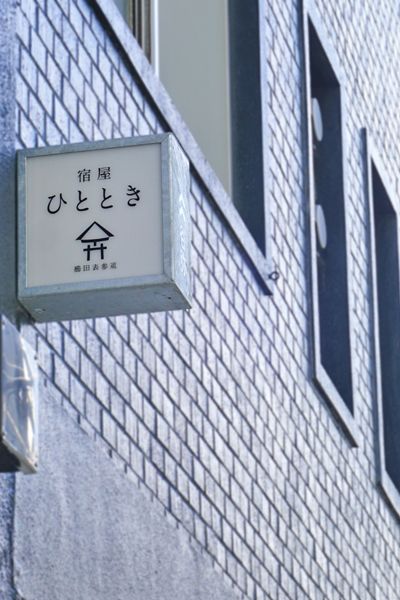 Approximately 10-minute walk from Hakata Station, located along the approach to Kushida Shine, "Yadoya Hitotoki" opened in December 2018. With the concept of "a timeless moment on the streets of old Hakata", a 52-year-old building was renovated in its entirety. The building and the interior were composed and supervised by a team of female creators, whom are based in Fukuoka. This inn operates on the model of renting out floor by floor, and so the second floor and the third floor are each one room in and of themselves, totalling two rooms, the spaciousness of which is the charm of this inn.

In the guests' rooms, not to mention the fastidious amenities, items that would enliven a girls' trip, such as a professional hairdryer, with massaging and beautifying functions, have been fully prepared. Your group trip tends to split up into individual rooms? Yadoya Hitotoki is perfect for situations where you want to spend the night talking with your family and friends! The old renovated building combines with an incredibly stylish interior to create a unique atmosphere that you are sure to love. Spending time in this delightful inn will help you forget about any challenges you might have encountered during your travels!
2F: "多 - KAZU -"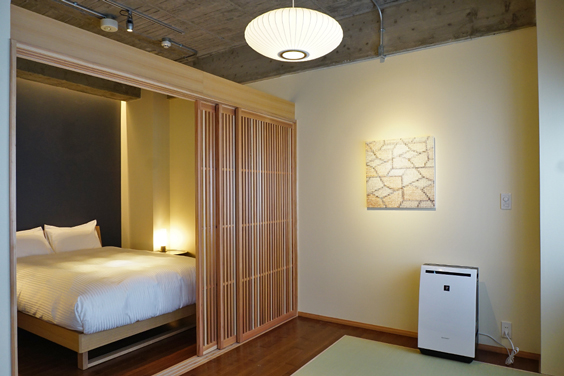 The second floor guest room, "多 - KAZU -" can take up to five people. The ceiling of unfaced concrete, and the significant presence that the iron poles emit in the living area, accent the room. For those times when you are hungry, a convenient microwave, fridge, and pot, have been prepared.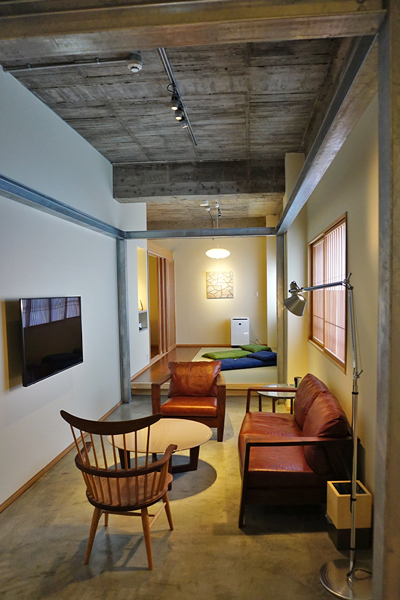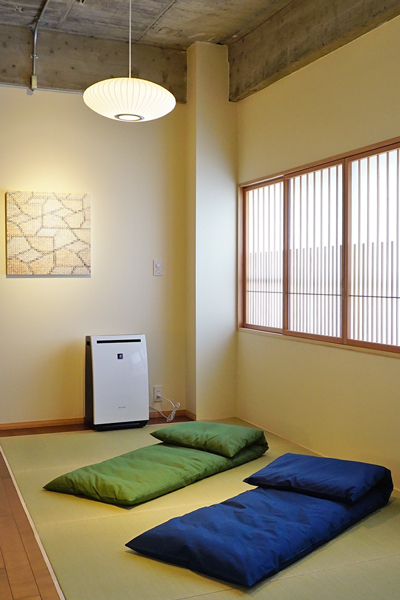 The wall is decorated with the work of the Fukuoka native artist, Katsuki Mina
3F: "博 - BAKU -"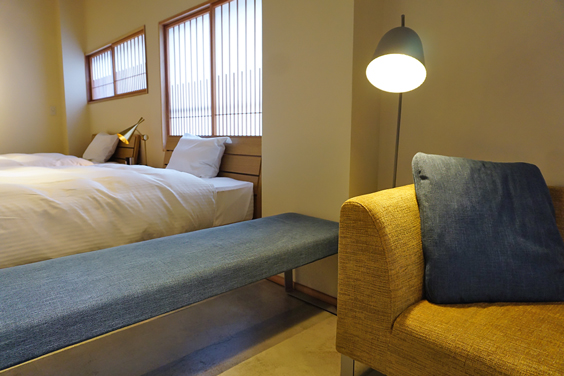 The guest room on the third floor, "博 - BAKU -" can take up to 6 people. It's special characteristic is the Hinoki / Japanese cypress wood bathtub, which seems easily big enough for two adults! After having been healed by the aroma of the Japanese cypress, one can relax on the outstandingly comfortable sofa. Enjoy a luxurious time in this wide, quiet space!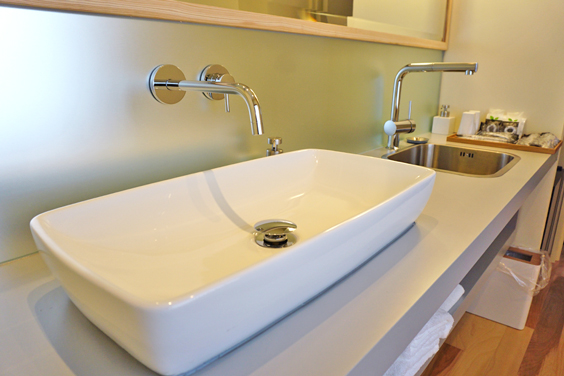 Delighted at the spacious washstand!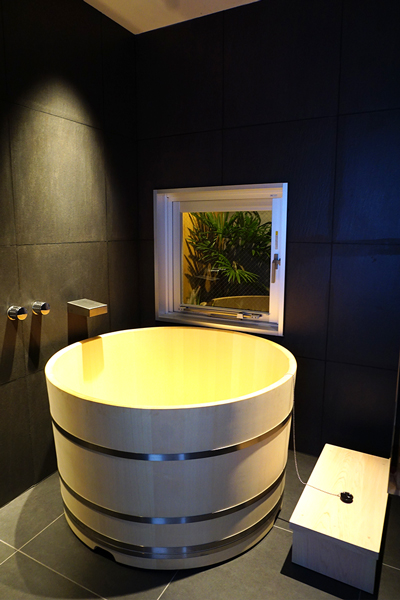 The Japanese wood cypress bathtub that heals with its aroma that eases the heart
1F: Pork tamago onigiri main branch, Kushida Shrine Omotesando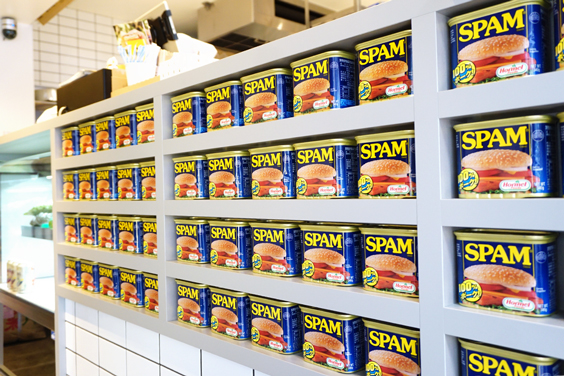 Those staying at Yadoya Hitotoki can order "pork tamago onigiri - standard - (pork and egg riceball)," with smooth eggs and salty spam. You can order it to bring back to your room, or you can use the eating space inside the store! When you going somewhere nearby, do check it out.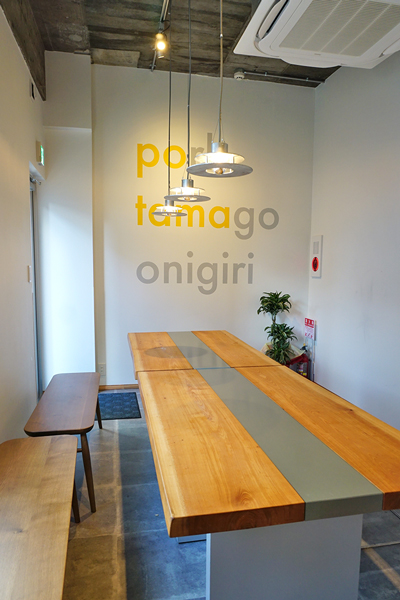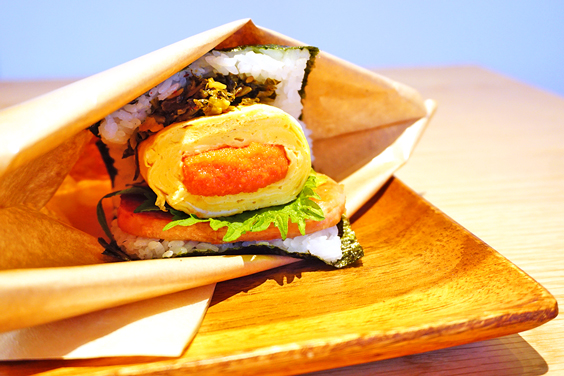 This is "Hakata Limited - Hakata men-tama (Mentaiko and egg)", in which Fukuoka's famous food, mentaiko, has been added in plentiful amounts. The substantial pork-tama (pork and egg) can be a nice souvenir, as well!
Yadoya Hitotoki (宿屋ひととき)
- Address: Reisenmachi 3-15, Hakata-ku, Fukuoka-shi, Fukuoka-ken (* Approx. 1 minute walk from the torii gate on the front approach to Kushida Jinja Shrine)
- Capacity: 2 rooms
- How to reserve: Reserve on "Rakuten Travel" (>>
here
!)
- TEL:092-263-8339
- Check-in: 17:00 - 21:00/Check-out: 11:00
* All information correct as of December 2018.
- DISCOVER! Fukuoka Tour Guide -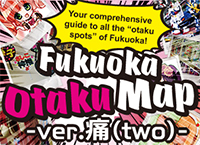 Fukuoka Otaku Map
In this feature we'll be introducing you to Fukuoka's anime and cosplay scene, but the term "otaku" doesn't just apply to a single subculture, it's used to refer to "enthusiasts" of various genres.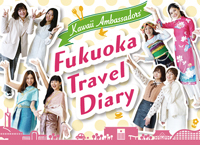 Kawaii Ambassadors' Fukuoka Travel Diary
The eight Chinese, Thai, Vietnamese, and Taiwanese Kawaii Ambassadors, selected in the "2019 asianbeat・FACo Kawaii Ambassador Contest", visited Fukuoka City, Itoshima City, and Fukutsu City. They report on seasonal information regarding Fukuoka, such as popular photospots, cafes, and traditional handicraft experiences!
- Discover Fukuoka local delicacies! -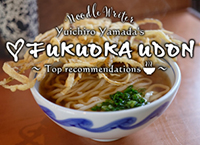 ♥ FUKUOKA UDON - Noodle writer Yuichiro Yamada's top recommendations!
This series sees a Fukuoka-native noodle writer Yuichiro Yamada talk about the exciting world of udon! Read-on to discover more about Fukuoka's famous udon culture!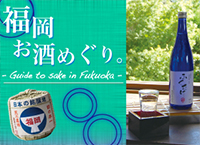 "Fukuoka Osake Meguri " - Guide to sake in Fukuoka -
Discover all 70 sake breweries that Fukuoka Prefecture has to offer! Here we bring to you all the latest information about where to enjoy sake produced in Fukuoka Prefecture!