Sunset Live 2011 - Chilled cucumbers, a typhoon and the music festival that was!(1/14)
What began as a small concert held by five performers in the parking lot of a Fukuoka beach café in September 1993 has over the years evolved into what is now a three day festival of music, the great outdoors and an homage to the last vestiges of summer - Sunset Live!
Sunset Live 2011 Day 1 (Festival Opening Day - Sept. 2)
The event this year ran from September 2-4 and just happened to perfectly coincide with an incoming typhoon! Although we were granted a few hours of sun and blue skies, once the typhoonal winds set in said vestiges of summer were swept away before our eyes. But a mere thing like the forces of nature wasn't going to put an end to this party. If anything, the fierce winds and occasional flurry of rain made for some epic backdrops to a day of amazing live acts and a showcase of some of Fukuoka's, and Japan's, most talented artists.

With the asianbeat camera crew in tow I set out for Keya beach at Itoshima, which is about an hours drive from the Fukuoka CBD. This was my first time attending Sunset Live and while I knew full well that it was an outdoor event I wasn't quite expecting so little amount of shade. In fact, you could almost say there was none.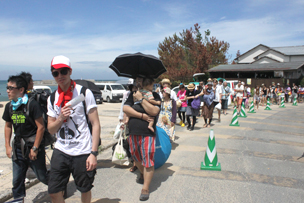 The food, drink and merchandise stalls are all shaded of course, but that's only for the purposes of the staff working there. There were a couple of small covered bars and a few small undercover eating areas but apart from that expect to be exposed to the elements for the majority of the day! You're not allowed to take any of your own food or drinks into the venue but at least make sure you're well equipped to do battle with the very much still intense September sun!

The Sunset Live venue is massive but the layout is quite simple: bands perform over three stages – each one picturesque in its own right! The main acts are on the Palm Stage set at the foot of a lush, foresty mountain; the Beach Stage (literally on the beach!) hosts acts which, although may not be headliners, are still big enough to draw a decent crowd; and the Sunset Stage, the smallest of the three stages, is set in a clearing inside a grotto of dense forestry and seemed to draw a much more "free-spirited" crowd, hosting an array of acoustic acts and DJs.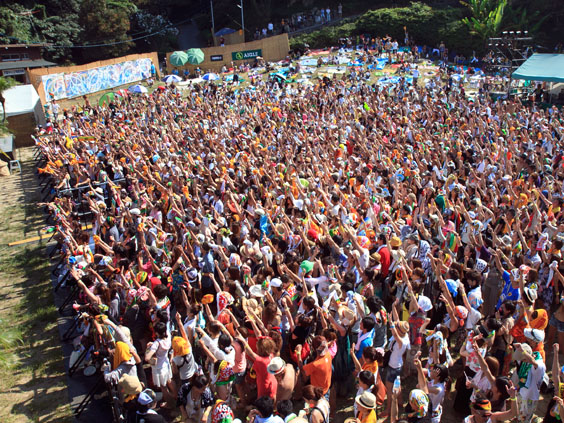 ● The crowd in front of the main (Palm) stage.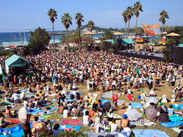 ● Palm Stage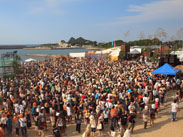 ● Beach Stage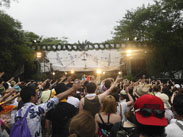 ● Sunset Stage
The vibe at this festival is truly something special and if you're a resident of Fukuoka, or Kyushu (that's the southern-most island of Japan for those of you playing at home), or even Japan, I would recommend this event to you in a heartbeat! True, the acts aren't the likes of Fuji Rock or Summer Sonic, and you probably wouldn't even consider them to be "major," but that's what's so great about this festival! I went along to Sunset Live without any expectations, not knowing any of the acts playing and I was blown away! (and I don't mean because of the foreboding typhoon threatening to unleash fury on us at any moment! :P)