Kazari yamakasa (飾り山笠 )(1/20)

The luxurious and gorgeous kazariyamakasa return, adding flavor and excitement to the Hakata summer!
Hakata Gion Yamakasa is said to be one of the 3 great festivals celebrated in Fukuoka! Starting from 1st July, for the 15 day period that Yamakasa runs (for 2016 things got underway from 24th June) you will be able to find a total of 14 kazariyamakasa floats dotted around, adorning the streets of the Hakata area. For this article we managed to take a closer look at the 5 kazariyamakasa in the vicinity of the Kawabata Shotengai!
First of all we went to Kushida Shrine from the south side of Kawabata Shotengai, which is really close to one of the entrances to Canal City Hakata. Kushida Shrine is one of the most popular tourist attractions in Fukuoka, and is well known as the location where Hakata Gion Yamakasa starts. There are numerous theories about the origin of Hakata Gion Yamakasa, but the most prominent and widely recognized is that during epidemic in ancient times, a Buddhist priest named Shoichikokushi climbed on top of a platform known as a "segakidana" while making offerings at an altar and proceeded to sprinkle around water in order to purify the town. The kazariyamakasa that is on display inside Kushida Shrine can be viewed all year round. As well as being a famous shrine, this is somewhere that has significance in terms of traditional Japanese culture and is also highly important from a historical perspective. That's why it's one of the main places I wanted to visit after arriving in Fukuoka.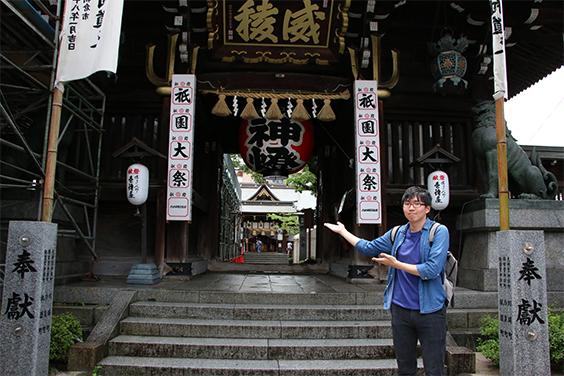 Moving from Kushida Shrine to the Kawabata Shotengai, I also found kazariyamakasa located in and around Kamikawabata-dori, Kawabata Chuo-gai, Kawabata Zenzai Hiroba, as well as Hakata Riverain, meaning that I got to see 5 in total. Each one is decorated differently. Featuring all kinds of different decorations, including key historical figures, as well as bits and pieces inspired by everything from folktales, to today's most popular anime, they really are so impressive to behold. They also have description written out for people to read, so it's a great opportunity to learn a bit more about Japanese folk stories and history.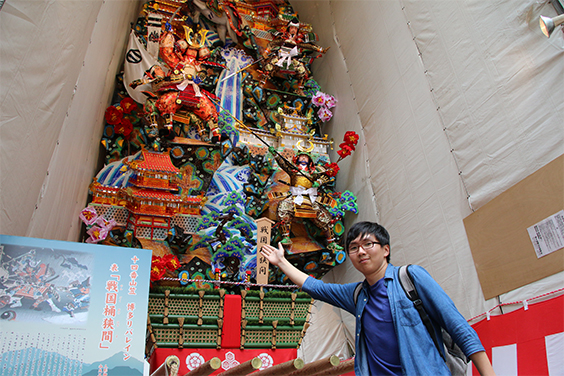 Kushida Shrine is only a short walk Canal City Hakata, from there you can find another 3 kazariyama as you walk along the Kawabata Shotengai, and 1 more just in front of Hakata Riverain. Within the space of just a short 10 minute walk you can take in exquisite kazariyamasa, almost breathing in all of the traditional Japanese culture that fills the air. If you're in Fukuoka at this time, make sure not to miss-out on this experience! And of course, even if it's not Yamakasa season, you can always take a stroll around Kushida Shrine, and enjoy the Kazariyamakasa that is on display in Kawabata Zenzai Hiroba all year round!
Related Articles
External Links