Festival ENNICHISAI at Jakarta Little Tokyo
Have you ever been to Jakarta, the capital city of the Indonesian archipelago? It is one of the most densely populated cities in Asia. With a population of nearly 10 million people, Jakarta has become a beacon for other cities in Indonesia, and is home to a young generation who have become increasingly influenced by foreign cultures. For example, the influence of Japanese pop culture, such anime, manga and cosplay, has become widespread. Is there an Indonesian person who hasn't heard of the group "JKT48?" The first AKB48 sister group based outside of Japan, they are now the biggest idol group in Southeast Asia with a fan-base of over 2.5 million fans. Ask anyone you know who "Doraemon" is and they will tell you that he is a funny robotic cat that has a magic bag. Or ask any boys you meet whether they know "NARUTO?" Now with a huge following in Indonesia, they will surely have heard of the unique starring character from the Masashi Kishimoto manga series, which has been adapted into an anime show.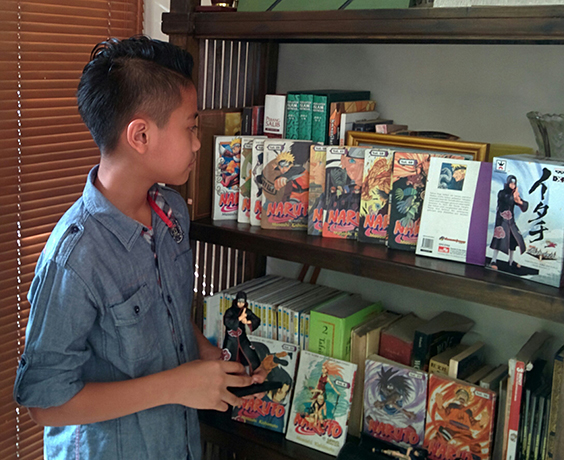 My son, Daffa and his Japanese manga collection
The increasing influence of Japanese pop culture is due to, among others factors, the staging of annual events that aim to improve understanding about the culture of Japan. For example, Jakarta Japan Matsuri (JJM) has been held since 2008 and was pioneered by Japanese citizens who love Indonesia. There is also the Ennichisai Festival, which has been held since 2010 and was initiated by restaurant owners in the area of 'Little Tokyo' Blok M, South Jakarta.

The presence of both these festival has meant that the people of Jakarta and the surrounding areas have had the chance to experience all kinds of Japanese culture, from culinary treats, such as ramen, okonomiyaki, kakigori, and takoyaki, to booths that sell Japanese-style clothes (yukata, hapi, etc.), as well as the latest fashion garments that young people are currently wearing. In addition, you'll find omochitsuki (process of making mochi), groups staging musical theater, bon-odori, hanabi, taiko, etc.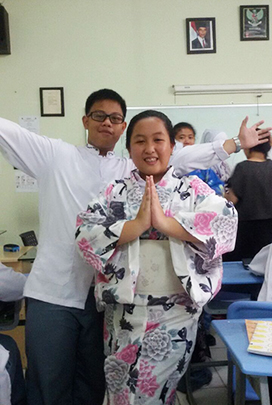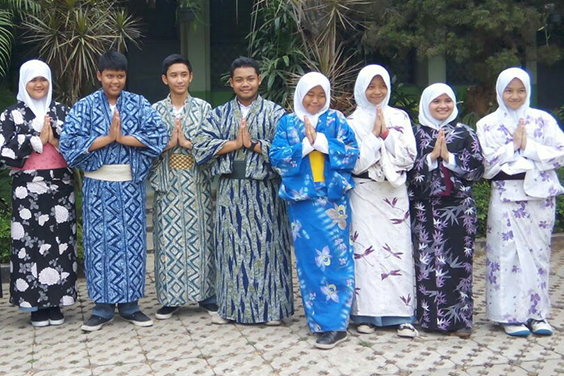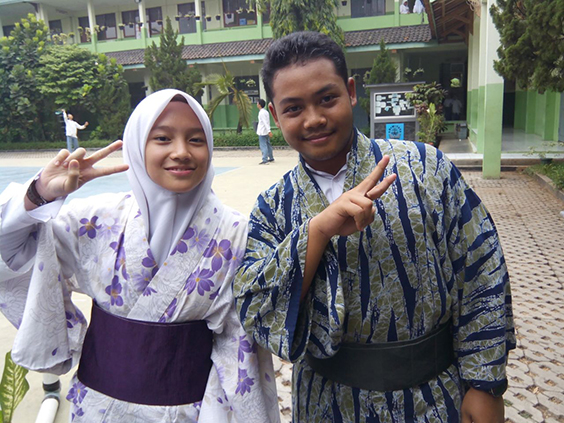 Indonesian High school students on "Yukata Day"
At the 6th Festival Ennichisai held last May, the entire area was decorated with Japanese lanterns (Choochin) and 150 booths selling food and goods were set up. Visitor attendance reached 200,000 people and with the theme "Always Smile!" the festival managed to bring joy to the visitors. Besides being able to taste a variety of Japanese food, and enjoy all the music, guests could also participant in all kinds of competitions where they could win lots of exciting prizes.
The theme of the festival is decided by committee. Since the first event, the following titles have been chosen, "Twin City Jakarta-Tokyo" (2010), "Pray For Japan" (2011), "Arigato Kokoronotomo" (2012), "Forward Together" (2013), and "Hiyaku - It's time to Jump!" (2014). Attending these events has inspired many visitors to learn more about Japanese culture, and at the same time encouraged them to also learn more about Indonesia and their own culture. Through introducing people to Japanese culture, this festival aims to strengthen friendships between the Indonesian and Japanese people. Chief Executive of Ennichisai, Mr. Takeya Daisei remarked, "This is an incredible event where all kinds of people come together, irrespective of their age or nationality. I hope that this event can continue and that through cultural exchange the strong friendly relations that exist between Indonesia and Japan can keep on growing."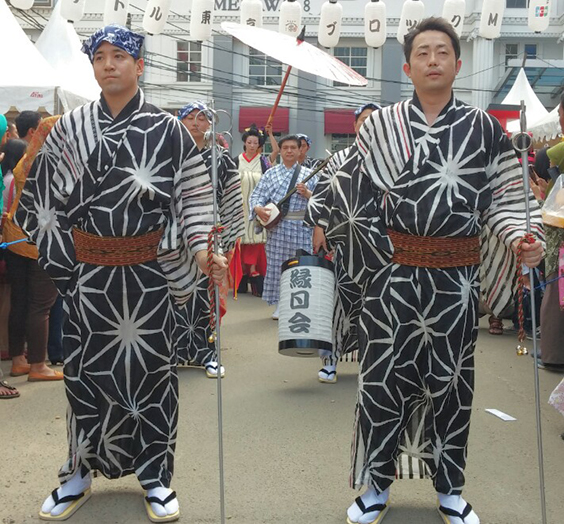 Photos Provided by: Naulitta Panggabean
For young people, the most eagerly anticipated aspect of the event is the presence of cosplayers, as well as the cosplay contests that are held! You will find lots of visitors wanting to get their photograph taken with the cosplayers, who are dressed in imaginative full body costumes. The number of cosplayers in Indonesia's big cities has been rapidly increasing. In fact, since 2012 cosplayers from Indonesia have been participating in lots of different contests and at the World Cosplay Summit 2014 Indonesian cosplayers won 3rd place in the 'JOYSOUND' category.
Since the establishment of the Jakarta-based Festival Ennichisai and Jakarta Japan Matsuri, similar festivals in other cities have followed suit, such as the "Sakuri Matsuri" in Cikarang-Bekasi, "Japan Festival Unsoed" in Purwokerto, "Kaizen no Matsuri" in the Solo, Central Java, "Misaki Matsuri Japanese School Festival" in the city of Malang, as well as other events in schools and universities throughout Indonesia.
So, if one day you are in one of these Indonesian cities when of these kinds of festivals is on, please join us! You will definitely feel the warmth and enthusiasm of all the participants!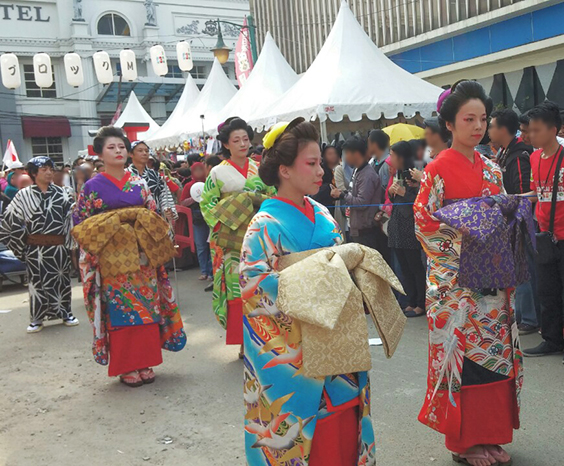 Photos Provided by: Naulitta Panggabean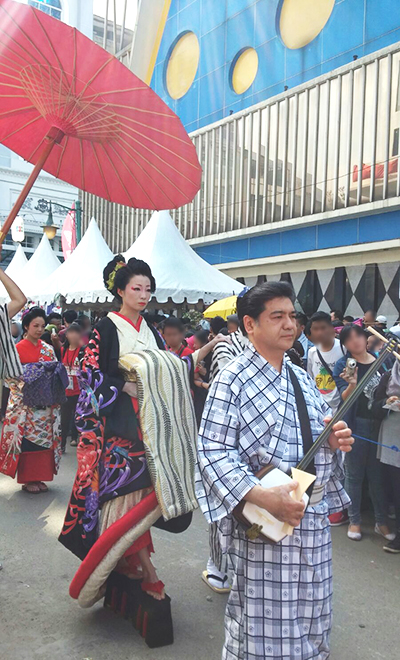 Photos Provided by: Naulitta Panggabean
Overseas correspondent Betty PROFILE

Living in Bogor, Indonesia with her husband and 3 children, currently in charge of an company magazine at a Japanese company. Developed a keen interest in traditional Japanese culture through studying in the Japanese Literature Department at the University of Indonesia. Gained first-hand experience of interacting with Japanese people through spending approximately 7 years at an airline working as an in-flight interpreter for Japan-bound flights. A sociable coffee lover who is a big fan of Japanese food, particularly soba, nori (seaweed) and takoyaki.