[Report from Kimito in Shanghai] The growth of cafés in Shanghai - XIN CAFE
A café that offers all kinds of new and exciting things!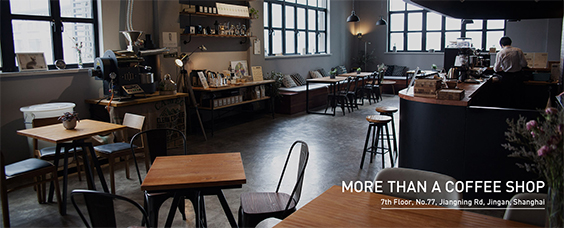 You step inside the elevator inside a multi-tenant building and take it to the 7th floor. One of the first things you'll notice as you step out and enter this café is the undressed concrete that stretches up to the ceiling.
The interior, which is marked by the use of shinning matte black metals and interesting, attractive timber, is illuminated by a gentle glow, and has an array of furniture on display. Even though there is a somewhat industrial kind of vibe, it's a really unique café where you can relax and unwind.
And the name of this place?... "XIN CAFE."
"MORE THAN A COFFEE SHOP" is concept that many people have become highly receptive to in Shanghai. And with this slogan in mind, the "XIN CAFE" has become a place that hosts all kinds of events and constantly has things going on inside. It's a space for communication where exchange and dialogue can take place, plays host to press conferences for brands, oyster parties, DJ parties and live modern art performances.
But don't fret, they also maintain a firm commitment to coffee. The black coffee and latte they serve is absolutely delicious.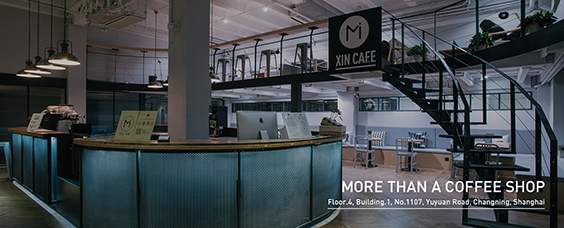 Since the first store opened on Jiangning Road, a second and then third branch have been set up. They're growing at a real pace. Starting with Starbucks, global chains, such as Pacific Coffee and Costa Coffee have been expanding in Shanghai, but at the same time, independently run cafés, such as Wagas and Seesaw Coffee that have individual, unique selling points are also taking off. As cafés are now starting to open up with clothes stores, it seems as though we are entering a period of intense competition for the café industry.
The XIN CAFE is very much an independent-type café and has an owner, Bai-san, who is extremely friendly, enthusiastic, and full of hopes and dreams. When I arrived in Shanghai 8 years ago, mainstream cafés looked a bit like family restaurants and tended to serve sweet coffee. My impression was that, other than Starbucks, there weren't so many cool, stylish cafés to choose from. It's incredible how much things have changed since then.
And it seems that cafés in Shanghai are only going to continue to get more and more interesting!
Overseas correspondent Kimito PROFILE

As a means of connecting China to Japanese fashion and cultural trends, has set-up showrooms, online stores and select shops in Shanghai. Has also strived to promote and increase awareness of Japanese brands in China. Hosts numerous DJ events throughout the year with friends in Shanghai. Has gained popularity and won fans in the process. Conducted numerous interviews and reports across a range of media, including Chinese TV, magazines and websites. Based in Shanghai since 2008.
Instagram :
@kimito
Twitter :
@kimito
Related Articles