[ICON] Ohno Toshiya - Producer with a Modern Day Edge in the Pursuit of Realism(1/3)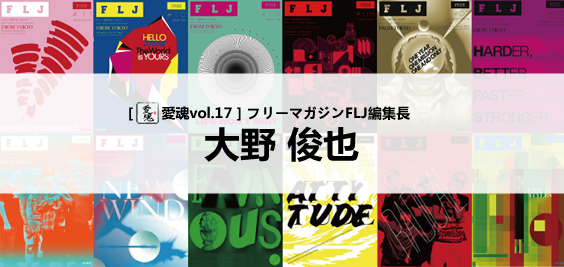 A Japanese street culture attracts attention from the various angles on Asia-centered now. Punk,hip hop skateboarding like the culture as "street" generally recognized in Jaapan already is from overseas at first. And it's late 1980s to have begun to show the upsurge in Japan. Up to the present time as medium
person who has edit policy of the stance in which put himself in the scene and He has handled with the magazine and the event which always grasped a part of an edge in the time. This is Toshiya Ohno.
Through editor of "Fine" "Warp" to independence. He belongs to product the fes of PUNKSPRING & event and start a free magazine 「FLJ」. His activity is supplied to a variety, and always keep attracting the youth attention and still keep leading the scene in the time .


We approached the one which becomes his creative a nucleus about present street scene Mr.Ohno think and how to be the state of the future magazine media.
I think the magazine became popular by writing about a real thing actually happen.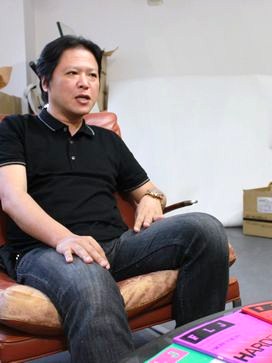 asianbeat(以下ab):asianbeat : To begin with, What was your opportunity to get this magazine media job?

Ohno : When I was doing a band on my school days, I had never dreamed that has became my job.
I wanted my parents to be glad to make me school at great pains glad. And I had a plan to get a job
after college for the time being. But I didn't want to put on a suit and I wanted to find the job I don't have to get up in the morning early. if it becomes so the mass media after all.
And I had an interview of a magazine publishing company, I passed Hinode publication and entered a fine editorial staff.
I liked a magazine very much from the first and I was reading "FINE".

ab:ab : I heard that you were in charge of the surfing page at first.

A surfer boom was over in those days, Also it was the time when sales of "FINE" were bad and DC boom
became loosing momentum. Then I took charge of surfin and I met Kaoru Ohno when I went the rounds of surfshops.
There was the surfshop of him (Mr. Ohno) called PINEAPPLEBETTY'S. Ootaki from T19 and Sukeshin and others
crowed at that time. Then I got to know Suicidal Tendencies,skateboard of dogtown, and he made me watch LA punk movie "Decline".I liked punk but I didn't know well what LA punk is. So it was very shocking surprise! There was a world that my favorite surfin world and punk world was mixed up and I noticed "This is just me!" Then I went bonkers over this world.

ab : It is the moment the street culture started in Mr.Ohno.

The number of young people were dressed American casual around Shibuya had just increased in those days.
there were many people who wore jodhpurs with fitness studio "BIO" on top and put socks in jodhpurs.
So I put the snaps of them in the magazine, there was good response from readers. Then I started to deal with culture of hip hop or skating, in any case, what was happening in Shibuya in the magazine.
It was the information did not appear in other magazine. And The magazine "FINE" sold so fast as I kept writing an article on it.
Ohno : In around 1989,It is all beginning. I met Kan Takagi and Hiroshi Fujiwara at this time.
ab : How did you get the information of overseas?

Ohno : After I knew the scene of Shibuya, I thought I had to to see the scene of America, so I asked my boss to take me LA. That was my first time to go to Venice beach. And fortunately, I had a chance to see
skater Christian Hosoi and Eric Dressen or Jim Muir of brother of Mike from SUICIDAL TENDENCIES! All were coincidence.
Then I went back to Japan after in a little while, Beastie boys and Run DMC of Hip Hop artists visited Japan and Punk band like SUICIDAL TENDENCIES infiltrated at once!
In punk world, Skater style increased at once not what is called spiky hair style and lether jacket.
It was just a turning point of the world. It was around 1987. I think that was really the beginning time.
I asked YOPPY (Yoshifumi Egawa) to do a model in magazine and I met Kan Takagi and Hiroshi Fujiwara at this time. The relationship of people and culture what I got there expanded without stopping.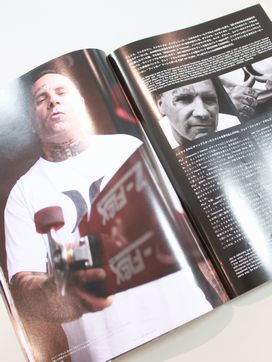 In around 1990s, with Stussy at the head of the list, X-large,Fact,freshjive like these street fashion
began to come in market. I think the fashion changed from around that time.