[ICON] Sebastian Masuda – On a mission to bring Harajuku Kawaii Culture to the world(2/4)
With the boom in SNS we have been able to get a good look at the personal side of our young fans throughout the world.

●6%DOKIDOKI's Harajuku store shop girl and a fan who came all the way from Paris(「Harajuku"kawaii"Experience2010」in Harajuku)
――What was the timing for Harajuku's popularity spreading throughout Japan?
Masuda: 6%DOKIDOKI's customers were part of the demographic of those who loved free fashion and would flock to Hokoten. The magazine FRUiTS was the first to start taking snapshots of them. The scenes of colorful fashion overflowing in the streets were short-lived, only for 2-3 years before the street mall was closed in 98 – and the place for people to express their reality disappeared. I thought it was the end of this culture. But the editor of FRUiTS Aoki san and I thought that we could reestablish Hokoten through the magazine, and we tried, but the times moved on to simple booms and the colorful fashion diminished and the brand creators that we worked with faded away.The desolate cultural desert arrived in the beginning of 2000. But my shop, which was my identity, kept on, if just for pride's sake. We later expanded business to Nagoya, Osaka and Fukuoka, but it seemed that even if something was cool in Harajuku, if it didn't meet the needs of the regional areas it wouldn't sell and we didn't do well. This led us to decide to give up expansion and concentrate on just the Harajuku shop and we closed the regional ones. Then in 2005 we moved. By the way, the "Kakumei Badge" that Kyary wears was one of the items that we designed but one of the regional store owners said wouldn't sell (lol). Ten years later it is in fashion!
――What was the sequence of events that spread the popularity worldwide?
Masuda: Back in 2005, just when I was thinking that this Harajuku culture would disappear, Myspace started to take off throughout the world. Going back a bit to 2002 the FRUiTS magazine made a book of snapshots taken from the magazine and it went on sale overseas, and apparently there were loads of people who read it. I set up a 6%DOKIDOKI account on Myspace and every day I would get email and requests from people to friend them. Emails read "I love Harajuku and I love your shop. Please come to my country". I knew that secretly there was a following overseas, but on their websites there were photos of fashion copying 6%DOKIDOKI's. Social media allowed me to see the personal side of fans throughout the world.
In my work I think I was the first to join HARAJUKU and KAWAII.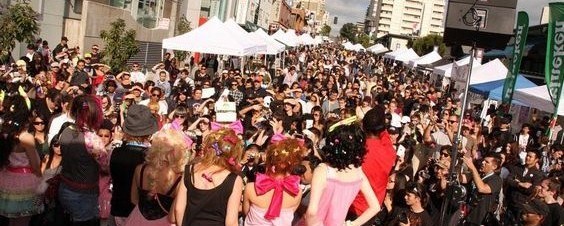 ●40,000 fans gathered for the J-POP SUMMIT 6%DOKIDOKI Stage – a record crowd for that year. (The Harajuku"Kawaii"Experience2010 in San Francisco)
――Which countries had the biggest reaction?
Masuda: America and Paris had the biggest reaction. During my exchanges with those people they kept asking me to come over saying that they would buy any items I brought over and that would cover transportation. I made up my mind and went on a tour of Paris, London and Germany. That was back in 2009. They lined me up with university dormitories and churches to stay at and the venues were shops that the fans frequented (lol). At the same time an offer came from San Francisco where a building which specializes in Japanese culture was to open and I took up an offer to help with the opening. We set up a shop for the limited period of 1 month. MTV set up a stage and I produced an event titled the Harajuku "Kawaii" Experience. We auditioned local people for the event, did our own makeup and they got to experience a 6%DOKIDOKI Harajuku fashion show.
There were other events such as bands from Japan, but our stage attracted an audience of 30,000 and the building was a roaring success. Back then titles of Japanese movies such as Shimozuma Monogatari was translated for western audiences as "Kamikaze Girl" , but I was the first to join HARAJUKU and KAWAII together. Anime and manga had been quite well known in America, and there were many who wanted to copy the lifestyle and view of the world they saw in this culture, and fashion was one way of doing this. The number of non-manga reading fashion fans increased and the reach of Japanese culture broadened that year.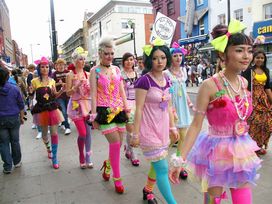 ●Scenes from fashion show at Camden Markets(「Harajuku"kawaii"Experience2010」in London)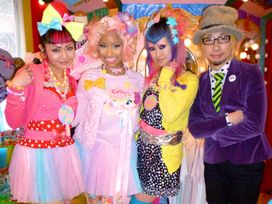 ●6%DOKIDOKI fan Nicki Minaj visits the shop.