[ICON] Sebastian Masuda – On a mission to bring Harajuku Kawaii Culture to the world(4/4)
We should protest and fight the power by wearing colorful fashion.
●Collaborative project with Yonehara Yasumasa for the charity project ONE SNAP FOR LOVE which was part of the MIGHTY HARAJUKU PROJECT
――Has your perspective of Harajuku changed since you started travelling overseas?
Masuda: Yes it has. I have started to think objectively about how everyone dreams of Harajuku. I think it is close to the Flower Power movement in San Francisco in 1968. The Vietnam war saw the military industry bring wealth to the country, but the youth felt that there was something wrong with that, and aspired for a more spiritual wealth, leading to the Flower Power movement. Today, war and terrorism still casts a shadow over us, and here in Japan we are always seeing leaders apologizing on TV for their transgressions. Becoming an adult means becoming a liar, and we can tell when they are not truthful. I think we should protest and fight the power by wearing colorful fashion.For example, the London Times and other overseas media always describe 6%DOKIDOKI fashion style in strong terms such as "Happy anarchy/Happy hippy punk/Sugar coated anarchy". Sharp and colorful conjures up the image of KAWAII. The insanity of Kyary's music video of PONPONPON typifies KAWAII Tokyo color and projects a powerful image. This is why HARAJUKU and KAWAII culture has become so celebrated.
――What is Harajuku like today?
Masuda: I think it better than before. Kyary's arrival on the scene has helped the increase of people wearing colorful KAWAII outfits. It was a bit of a worry at first when H&M and other fast fashion retailers set up shop in Harajuku, but now we are coexisting in harmony. Harajuku was also at a crossroads after the earthquake and tsunami, but learning from New York's 911 we have been able to make Harajuku one of the first places to get back to normal. There were rumors overseas that even Harajuku had been washed away. But it remained intact and in order to spread the word that Harajuku was unaffected we launched the MIGHTY HARAJUKU PROJECT using blogs in both English and Japanese updated daily.We dug into our own pockets and made badges and handed them round to Harajuku shop staff and people on the street, and sent snapshots of people wearing the badges to overseas websites. The message that Harajuku is alive and kicking and will continue to do so was conveyed and it caused a movement around the world with demonstrations holding the placard "MIGHTY HARAJUKU". With the added thrust of Kyary's popularity overseas visitors returned and Harajuku was one of the earliest places to get back to its vibrant self. You should note that the badge design was based on John Lennon's WAR IS OVER.
――What about your activities in Asia?
Masuda: We have fans in Asia, but I think it is easier to approach Asia via America and Europe. It is easier for them to accept Japanese that way. I want Japanese to realize that this culture is popular throughout the world and I want Japan to be proud of it. I have received offers from Singapore and Shanghai and I am waiting for the timing to be right to launch there.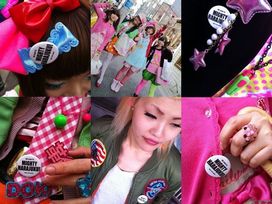 ●Young girls wearing the MIGHTY HARAJUKU badges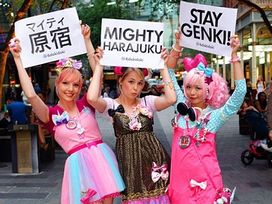 ●Streets throughout the world saw fans on their own initiative joining demonstrations with the placard MIGHTY HARAJUKU.
If KAWAII culture can take root throughout the world it will make it a more livable, peaceful place.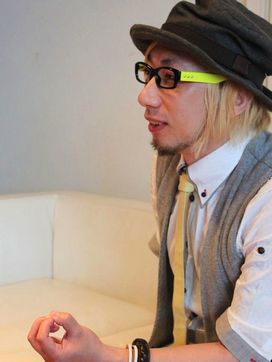 ――What message do you want to convey through your activities?

Masuda: That the future is bright. You don't have to go to a topline university, if you just take that first step forward the future is what you make it. This is the message I want to convey through my activities. If I can succeed in this, Japanese culture will take root in the lifestyles of youth throughout the world – via KAWAII culture. The Japanese tendency to avoid saying NO in consideration of the other's feelings, our politeness and ingenuity are all condensed into Japan's KAWAII culture, and if it takes root internationally it will make the world a more livable, peaceful place. I think colorful fashion symbolizes this.

――What do you have in store for your future activities?
Masuda: Just before the earthquake and tsunami I had become independent from 6%DOKIDOKI and the first job I worked on was artistic director for the video of PONPONPON. After working mainly at the shop for so long I got back to my roots and concerted my efforts into the stage and artistic expression. Since about 2 years ago I have put one of the long time staff members in charge of design and I maintain a supervisory role. My other activities include TV commercials and TV artistic direction, and numerous other activities based on expanding the gospel of Harajuku and its culture. Currently I am in charge of art direction, wardrobe, vision and visual art in the Miyamoto Amon production of the musical "The Wiz – The Wonderful Wizard of Oz" which opens in October.
Miyamoto Amon contacted me directly with an offer asking me to help with his latest play saying "We need a colorful world in order to save Japan" (lol). I used to adore Terayama Shuji when I was young, and finally I have made it to the world of the stage. It is like the "Great Harajuku Dream" (lol). Next year I would like to hold a 100% Sebastian art exhibition. Hold it in New York and I would like to bring it to Japan also.
――What is your motto?

Masuda: "The spirit lives on-location". I think seeing the real thing is believing. I don't want to become an intellectual or commentator who sees things from afar; I want to be a player on the spot, on location. I need the vibe to be able to create what girls in their teens and twenties want to wear. I reckon I have only 10 years left, both physically and mentally, but meeting girls like Kyary and others in Harajuku, they increase my longevity.

――Do you have anything to say to the youth of Asia who read our site?

Masuda: Don't stay in your country, try and travel overseas. You can see things in a different light with a global perspective. You can only see so much in your own country. I believe that having a global perspective is really important.
[INFO]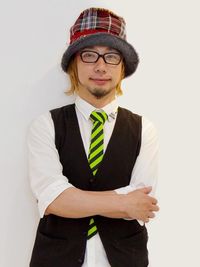 Sebastian Masuda
Art director
Born 1970. After working in theater and modern art, in 1995 opened the Sensational Kawaii concept shop 6%DOKIDOKI in Harajuku.
From 2009 commenced the Harajuku "Kawaii" Experience Harajuku Culture world tour.
Leading writer and lecturer on Harajuku Kawaii culture
Since Kyary Pamyu Pamyu debuted in 2011 worked on promotional videos, as a TV program artistic director and director.
Artistic director for TOWA TEI's promotional video WORDY, Art Director for NHK's Kawaii International, directed the Naito Rune Exhibition as well as a number of other cultural art events.
Currently working as artistic director for the Miyamoto Amon production of "The Wiz – The Wonderful Wizard of Oz".
■Web Site
Sebastian Masuda
http://m-sebas.com
6%DOKIDOKI
http://www.dokidoki6.com
"The Wiz – The Wonderful Wizard of Oz"
http://www.parco-play.com/web/play/wiz/