[ICON] Sebastian Masuda – On a mission to bring Harajuku Kawaii Culture to the world(1/4)

Sebastian Masuda is the producer of the Harajuku-born fashion brand 6%DOKIDOKI and has worked on Kyary Pamyu Pamyu's promotional videos as well as working as an art director of live art. He created the unique colorful fashion boom that raged in the 90s, and is currently one of the behind-the-scenes driving forces behind the spread of the ever-changing HARAJUKU KAWAII culture that can be seen in the Kyary Pamyu Pamyu PONPONPON music video which took the world by storm.
How has this Harajuku culture spread throughout the world so quickly? What is his methodology in expressing this culture? We talk to Masuda about the creation of his own brand 6%DOKIDOKI and how in recent years his activities have taken him to the world stage.
6%DOKIDOKI started off like a long-running exhibition.
――Please share with us how your brand 6%DOKIDOKI got off the ground?

Sebastian Masuda (Masuda): I feel deep inside that I am not making fashion, but if anything I have been able to start my career by getting those in the fashion industry involved with me. When I was 18 in high school in my home town of Matsudo, Chiba Prefecture, I used to run around with a rowdy group – and it looked like my future would be playing pachinko or ripping off consumers (lol). I then moved to Osaka. But I had no money and no friends and things were not so good. But one day in the library I came across the book "Sho wo suteyo, Machi he deyo" (Throw away your books and go to town) by Terayama Shuji.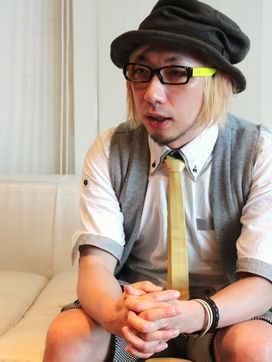 I didn't fully understand it at the time, but I realized that I had to change things, so I bit the bullet and moved to Tokyo. After reading this book I began to think that I could overcome whatever hardship lay ahead, and thanks to Terayama Shuji's influence I became interested in art and theater.

――That's how you got into the "industry"

Masuda: At the time I thought that the concept and message behind art were important, and I learned that just shape or cuteness was not enough to create art. In the early 90s the monotone black and white colors that flowed from Comme des Garçons as well as metallic and digital was considered cool. Of course it had its good points, but for me, to express my feeling of reality I released works with a more colorful view of the world. And I was harshly criticized by many galleries and theater magazines (lol). Nevertheless, I still believed in my own worldly expression, but being only 22-23 years old, I didn't have the experience or words to refute these critics' opinions.
When I was thinking about ways to get them to give me a more realistic evaluation, I thought that one of the easiest ways to find out whether people like it or not would be to open a shop – and see whether customers would buy or not. 6%DOKIDOKI started out like a long-running exhibition. So many people told me that it wasn't art and it wasn't a creation. When I was thinking of a place where I can fit in perfectly, Harajuku was the only alternative. Of course I was skint at the time so all I could afford to rent was a single room apartment in the backstreets of Harajuku – and that became my shop. It went on to become known as "Ura-Hara" – or the "Backstreet of Harajuku".
Sophia Coppola's praise brought so many customers that we had to limit admission.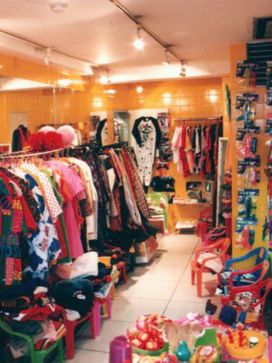 ●Scenes of 6%DOKIDOKI when it first opened
――What is the origin of the name 6%DOKIDOKI?

Masuda: DOKIDOKI means "excitement" so the goods we sell give you that small volume – 6% of excitement. The name has lots of cute circles when written and it had a nice ring to it. That's how it came about. I didn't think a western name that many boutiques use would suit it, and DOKIDOKI is a word unique to Japan. At first we sold sundry items and accessories, but before long people were wrapping our "noren" cloth around their heads and using our toys as rings, and from them we became involved in fashion.

――Why do you think these like-minded people got together?
Masuda: Back in the day there was no Internet of SNS, so people needed a place to get together. One of these places was the "Hokoten" (car-free pedestrian mall) which was opened every Sunday, and people could enjoy all kinds of fashion.

In this environment, many people who wanted to be different would use 6%DOKIDOKI items as fashion. We used to have a lot of male customers. In the past promotional video directors who we have worked with and even Tanaka Yasutaka used to be regulars at 6%DOKIDOKI.

――I heard that Sophia Coppola visited your shop?

Masuda: When we opened in 95 we had no money to buy stock. We sold 24 Hour TV T shirts from different years and colors, doing all sorts of strange things. Then magazines started to do stories on us and one day an editor brought Sophia Coppola. She heaped praise saying that our store was "crazy" and was a one-of-a-kind that "just is Tokyo". That was the catalyst for us becoming more widely known. It was only a small store, but there were so many people coming that we had to restrict entry numbers. That was about 96-97.

――That was your first turning point.

Masuda: Yes. Until that point many people would wear what we sold, but from that time on people would begin to suggest things that they would like to wear. We tried making our own original T shirts and we would stock interesting indies brands from the Hokoten market, and before long we had turned into a sort of indies select shop. For example we had CHAR AZNABLE'S CUSTOM T-shirts and it became cool to wear them to techno-dance clubs.