[ICON] Sono Sion - Cinema genius charms all with his unique view of the world(1/2)

Sono Sion is a cinema genius and has charmed moviegoers with his sensational works such as Suicide Circle, Love Exposure and Cold Fish. His movie Himizu, based on the original manga by Furuya Minoru, gained acclaim with the two lead actors winning the Marcello Mastroianni Award for Best New Young Actor and Actress for their work in the film. We talk to Sono about the creative roots and attraction of his most recent work, which was greatly affected by the March 11 Great East Japan Earthquake and Tsunami, and how this changed the script so much.
asianbeat(ab):Can you tell us how the movie Himizu came to be?

Sono: At first I though about making the movie as per the original manga. I am often asked why I chose Himizu, but I can only reply that "Himizu was the best partner"
ab:It was your first movie based on an original manga, how did you go about making it?

Sono: I really wanted to be true to the original. However, when choosing the actors I didn't select them based on how they resembled the characters. The most important factor was how they could portray the spirit of the original.

ab:What was your aim in rewriting the script after the earthquake and tsunami?

Sono: I didn't intend to fiddle with it much, but after the March 11 disaster I just couldn't ignore it. The result of thinking about being true to the real events in that year, I created the 2011 version of Himizu. Back in 2001, the theme was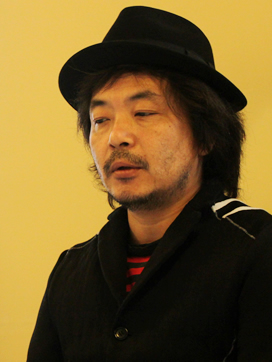 escaping the drudgery of everyday life, but in post-disaster today, the extraordinary has become the ordinary, and if anything I thought that people want to go back to their everyday, ordinary lives. It was here that I saw the need to rewrite it.

ab:Do you purposely reflect current social issues in your movies?

Sono: Especially in Himizu. I made a conscious effect to insert such issues.