#1 Interview with world loved singer and voice actress, Minori Chihara.
Here it is, my new publication, "Sakurai Takamasa's JAPAN!JAPAN!JAPAN!" In this column I'll be looking at how Japan is connected to the rest of the world and what we can do to strengthen the international ties that we have.
For this first installment I'll be focusing on my interview with Minori Chihara, a singer and voice actress who boasts not only an impressive Japanese fan base but a strong following overseas as well.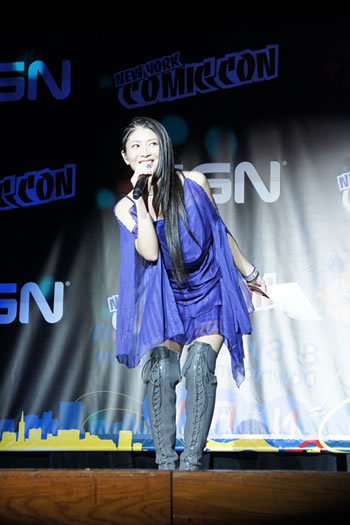 The New York Concert / Candid in NY
The first time I saw Minori perform overseas was in Ocotober 2010, at the Javits Center in Manhattan, New York, where the "New York Anime Festival" was being held. Around 100,000 people attended the event and the frenzied reaction of the crowd at Minori Chihara's live performance is something that I wish all Japanese could witness. I watched on as all those New Yorkers got swept up in Minori's songs sung entirely in Japanese and I realized it was just like me when I was growing up and listening to American music entirely in English. Music has no borders but this concert made me see that words can be free of borders too.
.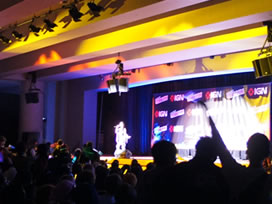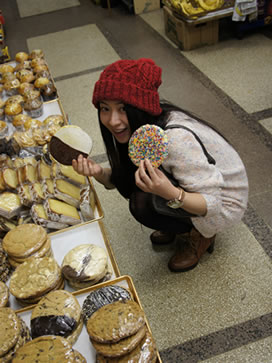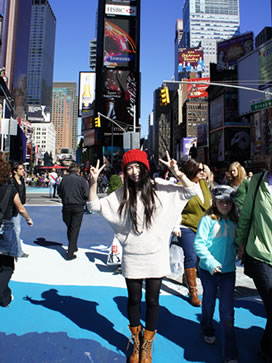 The language barrier is something that the entire Japanese entertainment industry has long thought to be an insurmountable obstacle. That's not true though. Just as we don't understand the words in western music but came to accept it and like it, young people all over the world listen to Japanese music as it is, in Japanese.
So then what's the real obstacle? The main issue is the fact that we don't put ourselves out there enough. I'm not just talking about the music industry either; this applies to Japan as a whole.

"If I hadn't gotten into voice acting I probably never would have gotten the chance to perform overseas. It was always my dream to be a singer but it was because of my work as a voice actress that I was able to make that dream a reality. The world I knew before voice acting was tiny by comparison. Anime gave me the break I needed but it wasn't until I performed live overseas that I came to know just how great the power of anime really is."

Minori Chihara's big break as a voice actress, leading to her success as an artist and a string of hit songs on the music charts, came with her landing of the role of character, Yuki Nagato, on the hit anime, "The Melancholy of Haruhi Suzumiya."

"Haruhi Suzumiya" is that popular the world over, whenever I hold a talk overseas I'm able to ask the audience things like, "Are you a Haruhi, Yuki or Mikuru fan?" and they'll all know what I'm talking about.

After attending the 2007 Lon Angeles "Anime Expo" with the other voice actors from the Haruhi series, Minori Chihara then went on to perform her first overseas concert in Taiwan.

The Taipei Concert / Candid in Taiwan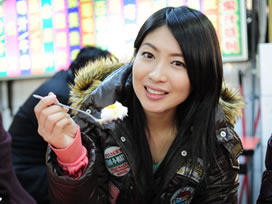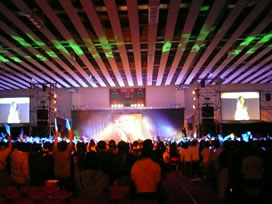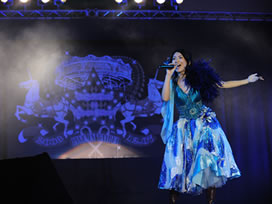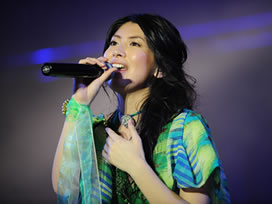 "I sang my own songs but everyone there sang along with me in Japanese. I was really moved that here I was in this place far outside of Japan and all these people knew my songs and they accepted me. It was the same feeling I had when I put out my first CD and I saw someone purchase it at a CD store. It made me want to put even more effort into my music."

Following a performance in Malaysia, Minori's next time to take to the international stage was at the convention in New York.
Kuala Lumpur Concert / Candid in Malaysia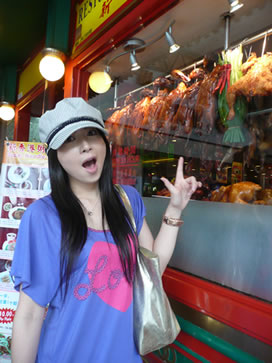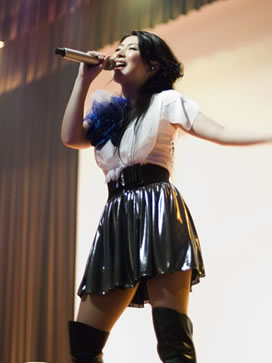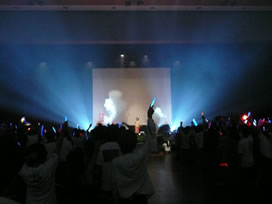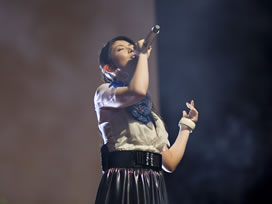 "For me, New York was a world that only existed in movies so it was a strange feeling just being there. The fans that attend my concerts overseas are slightly different to fans in Japan; they all seem to enjoy the show in their own way. It's fun for me too because I get to experience and sing in a completely different atmosphere."

So what does performing live mean to Minori Chihara?

"It's living! Every time I feel like I'm in a bind, like I'm tightrope walking. You're not nice and cozy in the safety of your home; you're being backed into a corner. It's not very often you're faced with these situations where you have to give absolutely everything you've got."

There are numerous things you need to worry about when holding a concert overseas, both on the artist's and the agent's side. But the most important thing for Japan right now is to follow Minori's lead and just get out there and sing. There are more young fans of Japanese music throughout the world than we Japanese could possibly imagine.
Sure the number of fans isn't as great as those of popular American artists, but they certainly make up for it with their love and their passion. The ones that are moved by what they see at concerts of Japanese artists then spread their feelings through various networks, such as Facebook and Twitter, reaching more and more people. It's the artists who answer the calls of their fans and make the effort to put on concerts overseas who I feel deserve our support the most.
A new article every Wednesday!
Next week: The kawaii university teacher I met in Nanjing and the anime that changed her life.

Columnist: Sakurai Takamasa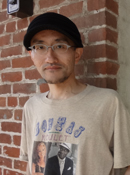 Contents Media Producer, author, journalist, managing director of Contents Street Inc. Chief Editor of iPhone magazine "Tokyo Kawaii Magazine" (ASCII Media Works), World Cosplay Summit Executive Advisor, Chief Researcher at Kodansha/Kodansha BC China Management Laboratory.
Cultural diplomat producing events in 97 cities in 23 countries. Books include "Galapagos-ka no susume"(Kodansha), "'Suteru' de shigoto wa umakuiku"(Diamond-sha), "Nihon wa anime de saiko suru
"(ASCII Shinsho), "Sekai no kawaii kakumei " (PHP Shinsho), and "Anime bunka gaiko "(Chikuma Shinsho). Writes regular columns in the weekly magazine "ASCII" and Yomiuri Shimbun.

●twitter http://twitter.com/sakuraitakamasa/