#12 What is it about Otaku Girls that has Everyone's Attention? An Exclusive with Haruna Luna.
I've been traveling around the world promoting Japanese pop culture for more than four and a half years now, but lately, whenever I return to Japan, I find that the people I see most are young friends of mine who are probably best described as 'otaku joshi' (otaku girls).
The female otaku movement is quite obviously advancing in Japan and is quickly becoming a focal point for cultural diplomacy and the Japanese economy.
Until now there has been a strong association with otaku being boys/men, so just how have these otaku girls spread so rapidly through Japanese society? It was just as I was pondering such thoughts that I happened to meet popular singer and model, Haruna Luna. Haruna rose to fame after releasing the song, "Sora wa Takaku Kaze wa Utau," which was used as the end theme song to the hit anime, "Fate/Zero," but even before her debut as an artist, she was already gaining attention as a model for popular street fashion magazine, "KERA."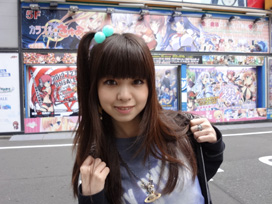 ▲"I'm happy being an otaku."
I'm sure most people have a strong image of Haruna Luna as a model, but I've never met another otaku who's quite as hardcore as she is.
"I first began wearing goth-loli (gothic lolita) fashion when I was in junior high school. I was obsessed with this one character from the anime "D.Gray-man" named Lord Camelot, and I just really wanted to be a part of that world, so I took to wearing goth-loli fashion just like that character does."
Her beginnings as a model and progression to Harajuku fashion all started with anime and cosplay.
"Back then a lot of the Lolita girls would hate it when people categorized them with maid fashion, but I wasn't like that."
Speaking with Haruna was just like speaking with the types of girls I've met overseas who are passionate about Japanese fashion. The roots of her values stem from anime and the existence of anime in her life is something she deems as essential. She says that everything she is lies in anime. So what about movies and TV dramas and things acted by real people?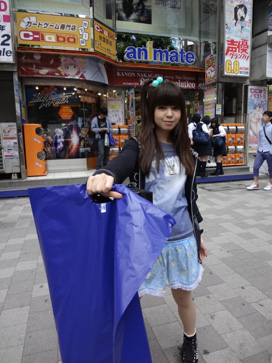 Even on the day of the interview she was out buying anime goods.
"In TV dramas, for example, there'll be someone who dies. The actor will do their best to try and portray someone who dies. But in anime, when a character dies, they actually die. I perceive anime to be real. When I watch anime, I'm inside the anime watching on. I'll be watching an anime and I'll just burst into tears at the most unexpected of times. Like when I saw the "Inazuma Eleven" movie, all the episodes and stories from the series that I had seen up until that point just kind of flashed before me and I was already in tears right from the very opening."

Haruna says she only feels an attraction to the 2nd dimension. Ever since she was a child the only feelings of attraction she's had towards others have been towards anime characters. She says there was a time when she was worried about herself, but before she knew it a number of girls around her also felt the same way and she realized she wasn't so abnormal after all.
"We're now in an age where that's a natural thing."
We happened to be in one of Haruna's favorite spots, Akihabara, when she told me this. When she was in junior high she used to visit Akihabara four to five times a week. She said the thought of even the slightest change to the showcases in the shops was enough to lure her there.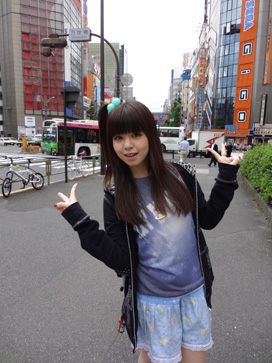 At home in Akihabara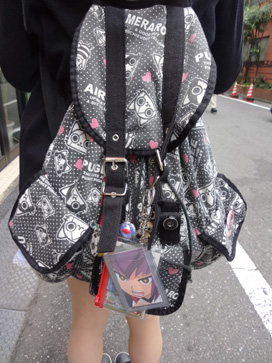 Haruna's backpack complete with "Inazuma Eleven" adornments.
Haruna wanted to become an anison (anime song) artist and the chance came when she received a ticket to audition for the Animax Anison Grand Prix.
"I was quite upset at that time, though. I was working as a model then and I received a lot of criticism from people saying things like, "She probably hasn't even seen an anime before.""
Speaking with Haruna I began to understand what it is about otaku girls that I find so fascinating.
"Being an otaku is about having a favorite genre and devoting yourself entirely to it."
There really is no difference between girls that gaze through the shop windows in Akihabara and the girls who look longingly through all the brand name shop windows in Omotesando and Ginza. What's important is girls like Haruna are going to Akihabara four to five times a week – that's how much love they have for the place.
"Of course I go to places like Ikebukuro and Nakano as well. Any town that supports anime, I support too." Haruna Luna's way of thinking and her way of life, whether she's aware of it herself or not, have become central elements in how the rest of the world views Japan. With the expression of song now firmly in her grasps, I can't wait to see just how far this 2nd and 3rd dimension intermediary can further spread Japanese culture throughout the world.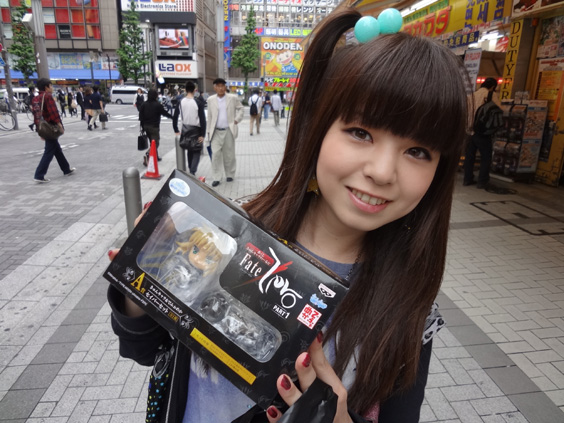 Picking up a "Fate/Zero" figurine in Akihabara.
A new article every Wednesday!
Next time: Russia just can't get enough of voice actress, Uesaka Sumire!

Columnist: Sakurai Takamasa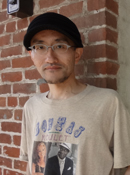 Contents Media Producer, author, journalist, managing director of Contents Street Inc. Chief Editor of iPhone magazine "Tokyo Kawaii Magazine" (ASCII Media Works), World Cosplay Summit Executive Advisor, Chief Researcher at Kodansha/Kodansha BC China Management Laboratory.
Cultural diplomat producing events in 102 cities in 24 countries. Books include "Galapagos-ka no susume"(Kodansha), "'Suteru' de shigoto wa umakuiku"(Diamond-sha), "Nihon wa anime de saiko suru
"(ASCII Shinsho), "Sekai no kawaii kakumei " (PHP Shinsho), and "Anime bunka gaiko "(Chikuma Shinsho). Writes regular columns in the weekly magazine "ASCII" and Yomiuri Shimbun.

●twitter http://twitter.com/sakuraitakamasa/