#13 Interview with Voice Actor, Uesaka Sumire - Her Love of Russia and Aspirations for the Future
Of all the places I've visited in my line of work Moscow is somewhat special.
One thing that my work in cultural diplomacy has taught me is that some things you just have to go and experience for yourself. I had no idea just how well known Japanese anime was in Saudi Arabia until I visited in March 2008, and I certainly wasn't expecting the overjoyed reception I received from anime fans in Myanmar (Burma) during my visit in September 2008.

After collaborating with the Japanese consulate in Moscow and various related parties it was decided we would hold a Japanese pop culture event in Moscow focusing on elements of anime and fashion. What developed was the Japan Pop Culture Festival (aka J FEST), the first event being held in November 2009. On the day of the event temperatures outside were below freezing but that didn't stop the eager J pop culture fans who lined up outside the convention center for more than five hours.

Backstage after the Harajuku Fashion Show, the girls who were chosen at the auditions to appear on stage for the show thanked me in unison, saying "arigato" (thank you) in Japanese. And at the close of the final performance people called out from the audience, "Come back again," "We'll be waiting for you next year."
There were numerous times when I was emceeing on that stage when I felt ready to shed a few tears.
I had no idea just how much young people in Moscow adored Japan but it was far greater than what I expected and I was over the moon.
I made a solid commitment to return again to see everyone the following year.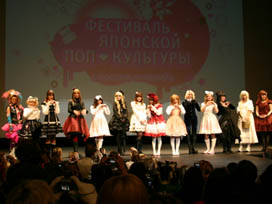 Japan Pop Culture Festival (2009)
The atmosphere at the 2010 Japan Pop Culture Festival was not to be outdone by the hype and excitement of the previous year and I couldn't wait to get back to Japan to tell everyone about it. So after returning to Japan I wrote an article about the festival for the Yomiuri Shimbun and in response to that article I received one extremely positive message on my twitter account from a Japanese girl. And this was how I came to meet voice actress, Uesaka Sumire.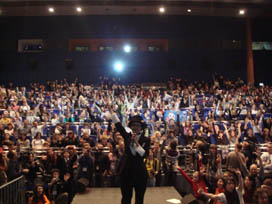 Japan Pop Culture Festival (2010)
She told me how much she loved Russia and how important this event was for Japan Russia relations. I was impressed that someone could relay their feelings so adeptly in a limit of 140 characters. To someone who makes a living out of writing such as me, I could tell just how passionate she felt.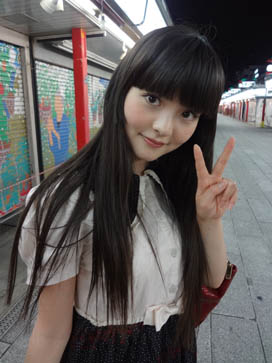 She may be born in the Heisei era but Uesaka Sumire has a strong regard for all things Showa and Meiji as well.
Looking at her twitter page, it's not only Russia that she has an interest in, but anime and Lolita fashion as well. On her profile she had written, "Agitator for everyone who loves the Soviet Union and Russia more than anything else." I liked her use of words and then I realized we even had the same birthday.

So it was through twitter that my communications with Uesaka Sumire began and I can't believe a year and a half has already passed since then. She was 18 at the time and now she's in her third year at Sophia University, studying and majoring in Russian language. Becoming a voice actor was a dream of hers from an early age and her career really began when she landed the role of one of the heroines in the anime "Papa no Iu koto wo Kikinasai!" (Listen to Me Girls. I Am Your Father!).

As I've written about in a previous article, Uesaka also works with me as a personality on the FM radio program "Tokyo No.1 Kawaii Radio" (or "Kawaraji" for short) which is broadcast on the JFN network to 27 stations around Japan. Connections are mysterious things and things which should be valued dearly.

Balancing study and work is no easy task, not when it comes to studying Russian and working as a voice actor anyway. But Uesaka manages to juggle both and she's constantly emitting a sense of limitless love for Russia and anime.

"With anime I feel like there are no boundaries between Japan and the rest of the world. Anime fans are the same no matter where you go."

Uesaka's love for Russia and anime runs deep within her and since our meeting we've had numerous discussions together about Japan and overseas. So what does she think about Japan's relations with the rest of the world?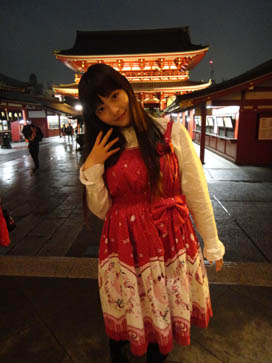 Momoi Haruko was her reason for wanting to become a voice actor.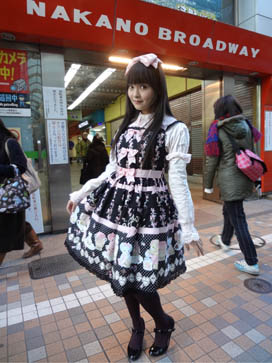 When she has time she likes to visit Nakano Broadway.
"Up until 200 years ago, Japan was closed off to the world for a long time but even today I think there's still a strong sense that the "world" is just some distant place. But the reality is, there are a lot of people out there who have a great interest and a deep love for Japan. I found this out for myself when I went to Moscow with a group from my university. I think the only people who aren't aware of this are Japanese people themselves.
If I get the chance I would like to get involved with cultural diplomacy myself. I want to talk with local people in their countries and see how my initial impression of these countries changes. I also want to challenge myself to work out how we can improve people's view of Japan too."

Russia is the country that brought the two of us together, but if you're only following what's said about Russia in the news then of course you're going to have a much different impression of the country than what we do. But the things that are reported in the media and reality are two very different things. I've said this before in previous articles and during talks I've given on numerous occasions.
Quite a while back now, but I still remember it clearly, Uesaka replied to one of my tweets saying "Relationships between countries can't only be about the potential gains to be made through said relationship." It's exactly as she says too.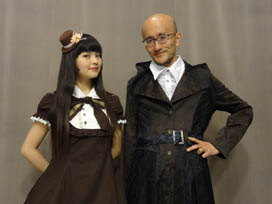 Various guests with an interest in Japan's international relations are invited to appear on Kawaraji as well.
"Don't just judge Russia by what you see of it at a glance. I really want to inform people about Russian culture and the fact that there are all these people in Russia who adore Japan. I think Russian people, like Japanese people, have a certain darkness about them – not in a bad way though. Maybe that's also why there are so many Japanese people who like Russian literature. It's that aspiration to see the beauty in misery. There's no reason why Russia and Japan can't get along. Information about Russia is too sparse in Japan. I think there's a real need for people who are well versed on international relations to alter the way information is dispersed."
It was after hearing the Soviet Union national anthem when she was in her first year of high school that she began to develop an interest in Russia. She began studying about Russian society and history on her own and says that she couldn't comprehend studying anything other than Russian language when she got to university.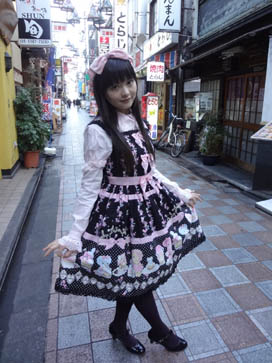 Lolita fashion has been a part of Uesaka's life since she was little.
It was after hearing the Soviet Union national anthem when she was in her first year of high school that she began to develop an interest in Russia. She began studying about Russian society and history on her own and says that she couldn't comprehend studying anything other than Russian language when she got to university.

So what aspects of Japan does Uesaka want to tell to her beloved Russia?

"The Japanese mentality and skill of taking regular household items and making them more compact or making them more kawaii, and the intricate ability of being able to take the slightest of emotions and express them through 'moe' (in anime, etc.)."

Just like in her profession as a voice actor, it's attention to the tiniest of details that animators too give life to their characters.
"I always wanted to become a voice actor. When I became a voice actor, my understanding of the anime industry changed completely. The amount of information behind each of the lines, the feeling of distance from the screen, every day I was learning something new."

Today we're in a situation where Japan has to adopt a more assertive role on the world stage and I think that what Japan needs is more people with a mentality like hers.
Japan hasn't been making anime with the intent of appealing to a foreign audience. But as it turned out, anime became a huge success overseas anyway. So now the anime industry is faced with the key issue of how to create works that will continue their success in the international market.
I've interviewed directors and spoken to a lot of representatives of anime production companies over the years and this is what most tend to say.

"I would like to have mastered Russian in the next two to three years and after that I would like to try learning Chinese. I'm quite interested in Chinese as well."

Uesaka Sumire is certainly one to watch for the future.

A new article every Wednesday!
Next time: Report on Shanghai's animation and game festival CCG!

Columnist: Sakurai Takamasa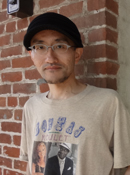 Contents Media Producer, author, journalist, managing director of Contents Street Inc. Chief Editor of iPhone magazine "Tokyo Kawaii Magazine" (ASCII Media Works), World Cosplay Summit Executive Advisor, Chief Researcher at Kodansha/Kodansha BC China Management Laboratory.
Cultural diplomat producing events in 102 cities in 24 countries. Books include "Galapagos-ka no susume"(Kodansha), "'Suteru' de shigoto wa umakuiku"(Diamond-sha), "Nihon wa anime de saiko suru
"(ASCII Shinsho), "Sekai no kawaii kakumei " (PHP Shinsho), and "Anime bunka gaiko "(Chikuma Shinsho). Writes regular columns in the weekly magazine "ASCII" and Yomiuri Shimbun.

●twitter http://twitter.com/sakuraitakamasa/