#14 Shanghai turned Akihabara – The China International Comics and Games Expo
From July 12-16, 2012, I took part in the 8th annual China International Comics and Games Expo (CCG), which was held at the site of the former 2010 Shanghai World Expo. CCG, co-host by the Chinese Ministry of Culture and the Shanghai local government, proved to be a big success with around 300 groups and organizations taking part and crowds of young people flocking to the event.
Outside the entrance was a Gundam statue! Everyone stopped here to take photos. I too couldn't help myself, stopping for a quick snap.
The convention center inside was awash with popular Japanese anime. It was just like something you would see in Akihabara.
The main purpose of my visit this time around was the "Vocaloid China" project and to see for myself this "Luo Tianyi" who was set to appear in the Chinese version of Vocaloid 3.
An unveiling ceremony was held on the main stage and loud cheers from the crowd erupted when the cosplayers for Luo Tianyi and the other Vocaloid characters made their appearance. What left the biggest impression on me, though, was just how great all the Chinese songs created with "Luo Tianyi" and played throughout the convention center were.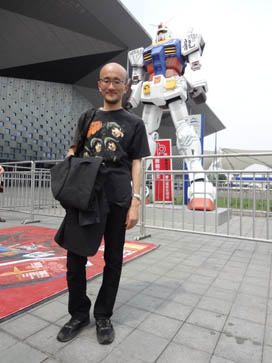 With Gundam.
C Pop may not be as popular as what K Pop is in Japan, but I think the melodies of a lot of the songs would definitely appeal to a Japanese audience. Luo Tianyi is surely bound for bigger things, perhaps even becoming an all important cultural bridge between China and Japan.
If I get the opportunity I would like to write more about the "Vocaloid China" project at some point in the future.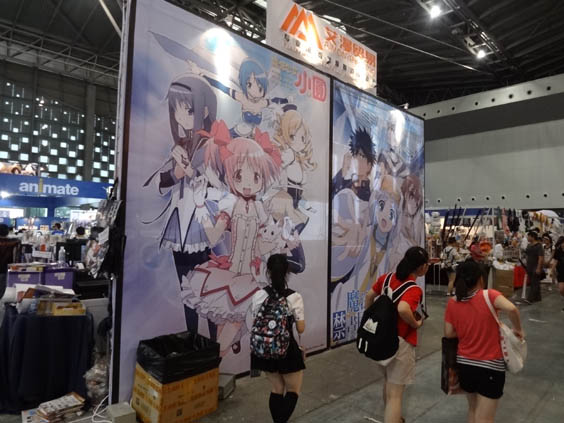 Walking through the convention center was just like walking through Akihabara.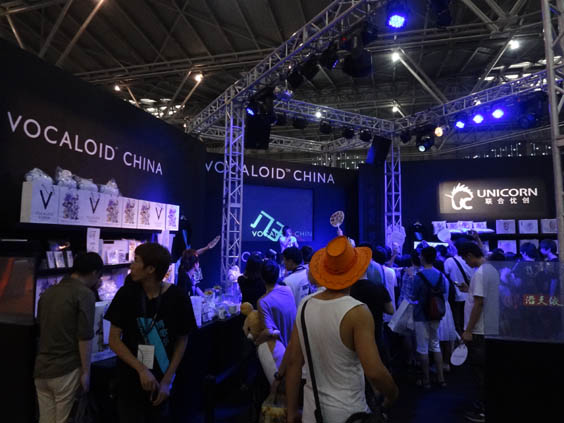 The "Vocaloid China" booth. Japanese guest and DJ, Hachioji P, really got the crowd going.
A particular booth for one of the Japanese anime shops, which is well known even in China, maintained long queues of people throughout the entire day. It's obvious just how much these young Chinese were looking forward to such a shop were they could purchase official anime goods.
At CCG I ran into a number of friends/acquaintances, both Chinese and Japanese. It was just like what happened at the Paris Japan Expo which I visited only recently. The scenery before me was exactly the same; the only thing different was that French people had been replaced with Chinese people. I couldn't help but be reminded once more of the power and potential of Japanese anime.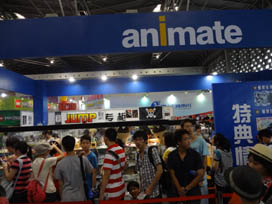 Long queues outside the popular anime shop booth.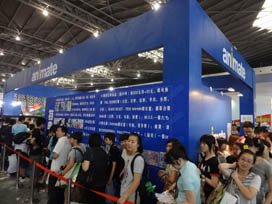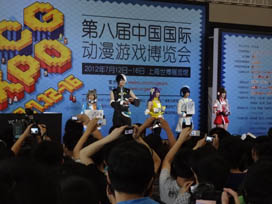 The unveiling of "Vocaloid China" on the main stage.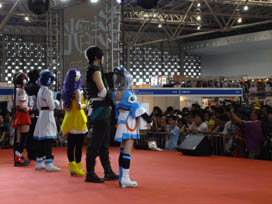 The crowd cheered at the cosplayers entrance.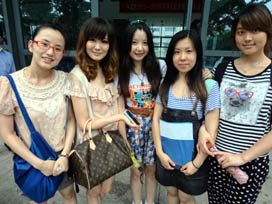 Reunion with teachers (the two on the left) and students of Nanjing University of Information Science and Technology.
The next day I paid a visit to the Nanjing University of Information Science and Technology which I visited earlier this year and have written about in a previous article. Regardless of the summer vacation, the teachers and students got together to meet with me. Their love of Japanese anime runs deep. There are various ways of carrying out anime focused cultural diplomacy but I think the fundamental way is to simply meet with Japanese anime fans in their respective countries and ask them about their love of anime.
To all the anime lovers in Japan, China is right next door. The flight time to Shanghai or Beijing is really not that much more than a domestic flight within Japan. I want Japanese people to make the most of these opportunities like CCG Expo and go and meet and speak with the local youth in these cities. What you learn and feel from these experiences will have significant impact on how you view the world and will no doubt prove to be an invaluable asset in the strengthening of bonds between Japan and China in the years to come as well.
A new article every Wednesday!
Next time: My first visit to Africa. Encounters with anime fans in the Republic of South Africa.

Columnist: Sakurai Takamasa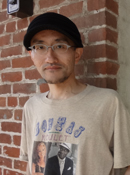 Contents Media Producer, author, journalist, managing director of Contents Street Inc. Chief Editor of iPhone magazine "Tokyo Kawaii Magazine" (ASCII Media Works), World Cosplay Summit Executive Advisor, Chief Researcher at Kodansha/Kodansha BC China Management Laboratory.
Cultural diplomat producing events in 103 cities in 24 countries. Books include "Galapagos-ka no susume"(Kodansha), "'Suteru' de shigoto wa umakuiku"(Diamond-sha), "Nihon wa anime de saiko suru
"(ASCII Shinsho), "Sekai no kawaii kakumei " (PHP Shinsho), and "Anime bunka gaiko "(Chikuma Shinsho). Writes regular columns in the weekly magazine "ASCII" and Yomiuri Shimbun.

●twitter http://twitter.com/sakuraitakamasa/