#15 My First Visit to the Republic of South Africa
Generally speaking, I can probably divide the cultural diplomacy work that I do into two categories: re-visiting countries that I have visited in the past, and visiting a country for the first time. For "re-visits" I give lectures, put on fashion shows or hold anime screenings, and quite often these types of visits involve touring around with other Japanese models or artists. And for "first time visits," I'm primarily there to assess how and what aspects of Japanese culture circulate in the society of that particular country. Both types are meaningful in their own way but it's the latter type that really gives me a sense of "travel," especially so when I'm waiting in transit at a stopover city on route to my destination.
Leaving Japan I'm surrounded by Japanese but once in stopover the presence of other Japanese fades out almost completely. I often listen to some Jpop as I'm walking to the next boarding gate to get myself fired up and wonder just what encounters await me at my next destination. But it's that anticipation mixed with a sense of the unknown that I really love.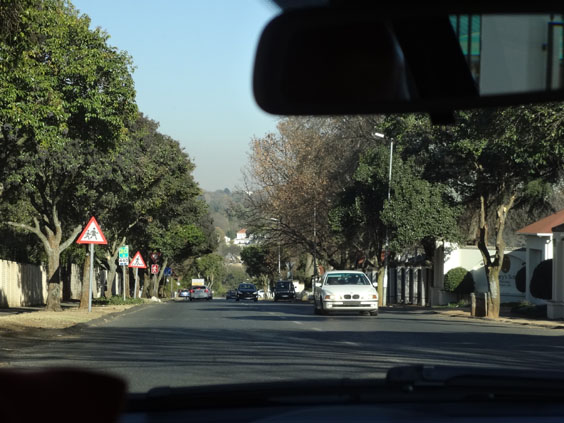 Johannesburg is abundant with greenery.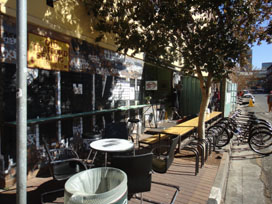 Downtown café and hangout spot for local artists.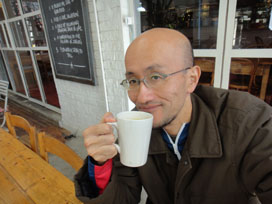 Relaxing at a café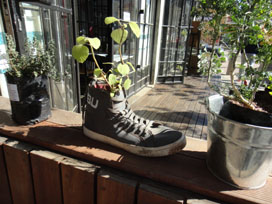 At the end of July 2012 my chance to visit the African continent finally came. It was certainly a long journey, involving a 2 hour stopover in Singapore in the middle of the night before arriving in South Africa's wealthiest province, Johannesburg.
The purpose of my visit this time around was to give a lecture at the University of Pretoria's Gordon Institute of Business Science. I was invited here by the school's head of Japanese Research Center and Hitotsubashi University professor, Yonekura Seiichiro, to present a series of lectures together with Kawaguchi Noritaka, a representative from anime production and distribution company, Comix Wave Films. The lectures we gave were specifically tailored for three different target groups: businessmen, Japanese living in South Africa, and youth. Professor Yonekura, Mr Kawaguchi and I met up at Johannesburg Airport, all of us arriving on different flights.
Like me, I'm sure that most Japanese people wouldn't be able to envision just what kind of city this metropolitan known as Johannesburg is. In the car on the way to the hotel from the airport, the first thing I noticed was just how green the city was. But it wasn't originally like this; most apparently being planted by migrants upon moving there. The city certainly seemed to have an interesting history.
It was mid-winter during my stay and I was lucky enough to experience good weather, with clear skies during the day and only slightly chilly temperatures at night. A number of locals told me about how great the Johannesburg climate is while I was there.

The Gordon Institute of Business Science is surrounded by nature and located in a plush business district. It wasn't your regular type of business district with high-rise building though; it had more of a resort feel about it. It was here that I spent most of my time, also staying at the school's on-campus hotel. The grounds were covered in grass and seemed to be a popular spot for students to gather and hangout. Learning environments surely don't come much better than this.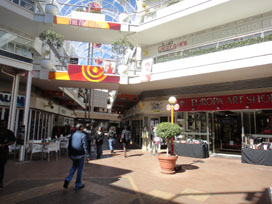 A shopping center in Johannesburg. Japanese brands were virtually non-existent.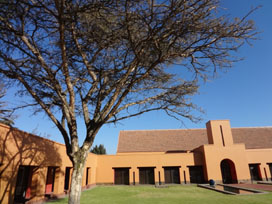 University of Pretoria's Gordon Institute of Business Science.
South Africa ranks in as the 24th country I've now visited and compared to the countries I've visited previously, the number of Japanese pop culture fans were significantly fewer. Anime titles like "Naruto," "One Piece" and "Dragon Ball" were all relatively well known though.
Speaking at the college, one of the young audience members and die-hard Japanese anime fan commented on domestic anime events and said that, "Events held in South Africa are extremely small."
Everything has to start somewhere though. Many of the anime events held in cities all over the world that attract 10s and 100s of thousands of visitors each year all started out small. So a few years from now, the Johannesburg anime events too may grow into something far greater than what they are today and bring the two countries even closer ever before. Most of the anime events overseas have since grown into events that are produced by locals for locals, and the only thing that has changed in this transition (from being run by Japanese to being run by locals) is that now Japanese people are beginning to realize just how many fans of Japanese anime, manga, fashion and music there are throughout the world.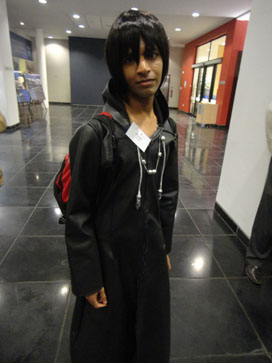 A Joburg cosplayer.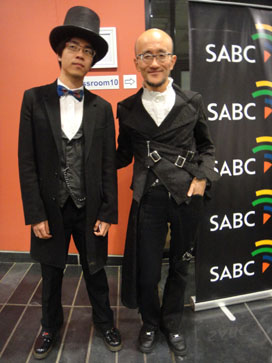 Cosplayer in top-hat. When asked "Who are you supposed to be?" he replied, "I'm cosplaying Sakurai-san."
Those who attended my lecture in Johannesburg were also privy to a special video letter entrusted to me by leader of ani-son group JAM Project, Kageyama Hironobu, and voice actress/Morning Musume member, Uesaka Sumire. I've seen the effect of such messages before and just how they can bring two countries closer together in an instant, but being able to show this video to the people in South Africa made me once again realize how grateful I am to these Japanese artists.
Local youth in South Africa can only rely on the internet for their information. So to receive such a direct message like this, it really gives these young people the courage to continue to pursue their love of Japanese pop culture. Looking at the faces of the people in the audience as they eagerly watched the message, recordings of live performances and music clips, I felt that there's great potential for the relationship between Japan and South Africa to grow stronger in the future.

I wondered what I could do in South Africa next, or on the African continent in general. I wondered who I would be walking along side in transit the next time I visit. Filling in the blanks, for me, is one of the most important parts of cultural diplomacy.
There still remains quite a gap between Africa and Japan, but there must be a way to bring us closer together. In fact, there are probably several ways, but one way, as we've just done, was to go and visit Johannesburg ourselves.
If reading this peaked your interest in Africa or made you want to find out more about the people, the country or the culture, then that, as a writer, is the greatest joy.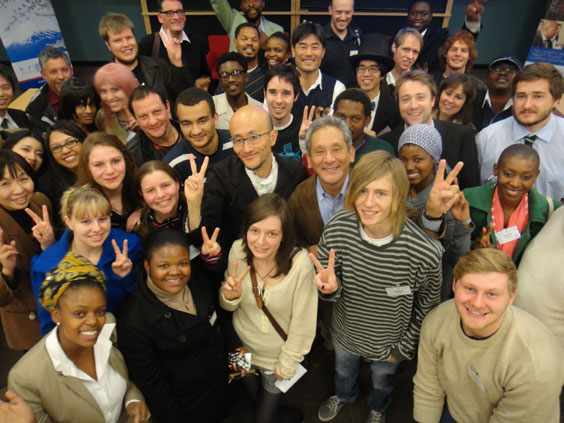 After my lecture in South Africa.
A new article every Wednesday!
Next time: Band meets Idol. The Shimokitazawa / Harajuku collaboration event.

Columnist: Sakurai Takamasa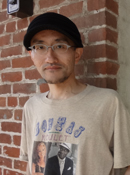 Contents Media Producer, author, journalist, managing director of Contents Street Inc. Chief Editor of iPhone magazine "Tokyo Kawaii Magazine" (ASCII Media Works), World Cosplay Summit Executive Advisor, Chief Researcher at Kodansha/Kodansha BC China Management Laboratory.
Cultural diplomat producing events in 103 cities in 24 countries. Books include "Galapagos-ka no susume"(Kodansha), "'Suteru' de shigoto wa umakuiku"(Diamond-sha), "Nihon wa anime de saiko suru
"(ASCII Shinsho), "Sekai no kawaii kakumei " (PHP Shinsho), and "Anime bunka gaiko "(Chikuma Shinsho). Writes regular columns in the weekly magazine "ASCII" and Yomiuri Shimbun.

●twitter http://twitter.com/sakuraitakamasa/
PRESENTS
All the info. on asianbeat's present campaign!