#20 International Students' Views on Japan and the Japanese People
I've met countless young people in my line of work who dream of one day living in Japan. As a Japanese, it's something that makes me extremely grateful to hear. There are people from all over the world living in Japan, whether it be for study or for work.

For this installment, I've taken the opportunity to speak with four international students studying fashion design business in Tokyo. The school that these students, who hail from China and Taiwan, study at is Tokyo Mode Gakuen in Shinjuku.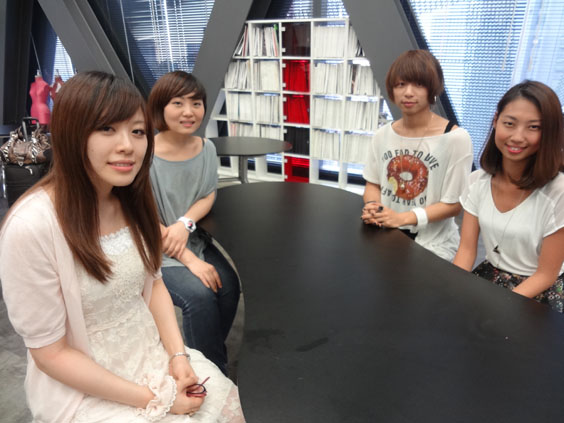 Classroom at Tokyo Mode Gakuen.
What is it about Japanese fashion that you find unique?

Mr. Chang (28yo male from Beijing, China) "In Japan you can find all the different fashion styles from all over the world. But Japan has some styles that you can only see in Japan, so I guess that's the unique aspect of Japanese fashion."
Ms. Ge (26yo female from Taipei, Taiwan) "It has imagination, subtlety, and everything is planned out right down to the finest details."
Ms. Yu (25yo female from Kaohsiung, Taiwan) "Another unique aspect is that it's extremely versatile in the various combinations you can achieve with other styles and clothing."
Ms. Hu (25yo female from Shanghai, China) "I love Lolita fashion. It's a little to wear such fashions in Shanghai but in Tokyo it's not a problem. There's this feeling in Japan that it's okay to wear just about anything."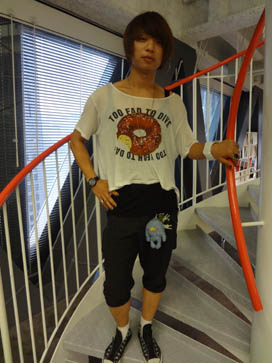 Chang – "Once I've made my mark on the world of apparel I would then like to run a zoo."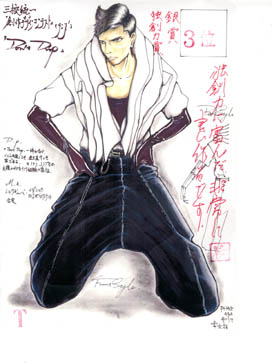 Chang's work.
Whenever I speak with young girls from China and Taiwan, I often hear about how cute and fashionable Japanese girls are and how good they are at makeup, so I decided to ask these students for their impression of girls in Japan.
Hu
"Their voices and their way of speaking is cute. And they always give out compliments. They love to tell you something is "kawaii." I really like that."
Ge
"They really are good with makeup. After arriving in Japan I went to do some shopping nearby just in my regular at-home clothes, but after seeing how all the girls here were dressed I couldn't go out like that anymore. Girls in Taiwan don't use much makeup, but now I can never leave the house without it (lol)."
It reminded me of the girls I met in Shenyang, China, who tried wearing makeup for the first time when they took part in one of my fashion shows.
#6 The Kawaii Girls of Shenyang and their Long Awaited Catwalk Debut!
The way of life for girls in Japan spreads kawaii culture throughout the world.
Is there anything that has changed in your way of life since coming to Japan?
Ge
"Before coming to Japan I really didn't try at anything I did, but after seeing my Japanese class mates giving it their all it really gave me a whole new outlook on life."
Hu
"I've learnt to be humble. In the past, I used to think that you could achieve anything if you just tried, but now I've learnt that sometimes there are some things you just can't achieve."
Yu
"I've learnt to be on time! Being late in Japan can have various repercussions."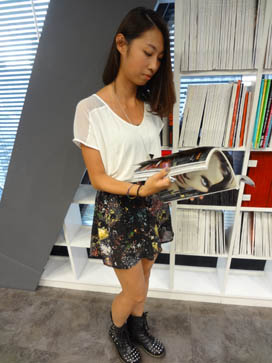 Ge - "I'd like to visit Kyoto."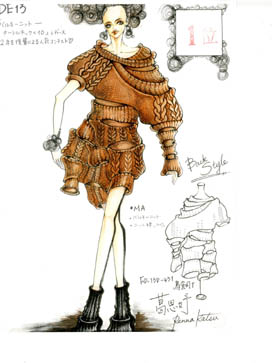 Ge's work.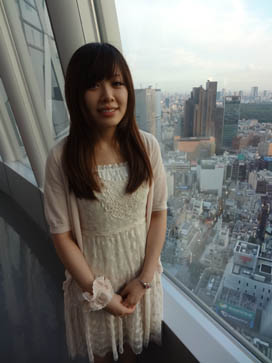 Yu – "I love sushi. Especially scallops!"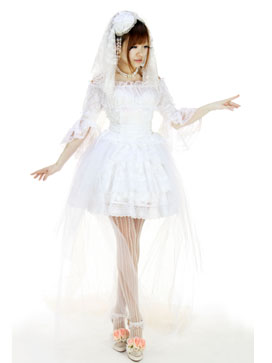 Yu's work.
They love Japan but just what is it about Japan that these four like?

Chang "I like Japanese girls – both in looks and what's on the inside. I find it really cute the way that they spend so much time deciding what to wear when you go out with them out on a date."
Yu "I'm amazed by the teamwork that goes into the creation of things here. I was really impressed watching the seniors put together one of their fashion shows."
Hu "It's such a safe place. And Japanese people are far nicer to others than we could have imagined. That's what I love about Japan."

Japan is loved by the world. The Japanese people, however, are unaware. This is perhaps relating to a sense of economic stagnation, but what piece of advice would you like offer Japan?

Chang "There are too many rules and people are perhaps a little narrow-minded. It's an extremely difficult process for a non-Japanese person just to rent an apartment in Japan. We get turned away just for being foreign."
Ge "Japanese people are maybe too reserved. They think too hard about things and don't express their honest feelings. I've made friends here but it's a little sad that they don't say what they truly feel."
Yu "I think Japanese people should enjoy themselves more at work!"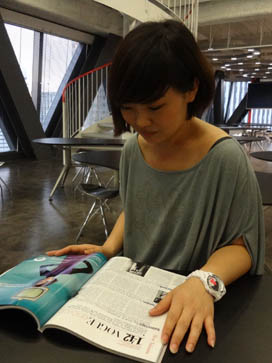 Hu – "The Shiga Highlands was really impressive!"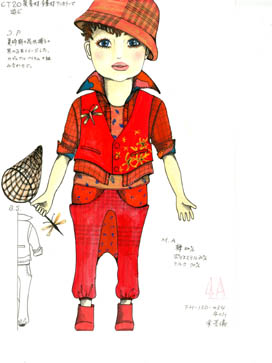 Hu's work.
So what are their favorite Japanese things?

Hu "I love Takurazaka! The outfits, the songs – it's all amazing. I saw a documentary about it on TV and straight away I thought, 'I want to be a part of it too!'"
Chang "Beef (lol). I like the shop Tokyu Hands – whenever I go I'm in there for about half a day. And Shinjuku. You can find everything in Shinjuku!"
Hu "I also like the rural parts of Japan. Whenever I go to the highlands or go hiking in the mountains, I'm always impressed how everyone greets each other and says 'konnichiwa' in passing by."
Ge "I love Japanese enka! My favorite is "Amagigoe" by Ishikawa Sayuri."
Hu "I scored 97 points when I sang "Amagigoe" at karaoke (lol)."

These four really seemed happy as they kept bringing up their favorite things in Japan one after the other. It put a smile on my face too.

I asked them what their dreams are for the future.

Yu "I want to open my store back home – a café/boutique."
Ge "Of course I want to become a fashion designer but I also want to one day open my own select shop in either Japan or Taiwan."
Chang "I'd like to take everything I've learned and use it to set up my own apparel business company."
Hu "I'd like to establish my own Lolita fashion brand."

Speaking with people from overseas you get to learn about others' countries and they get to learn about yours.
We get a lot of our information on other countries from the media. But what we see in the media is but one side of a multi-sided truth. I spend a great deal of days in the year overseas and that's what I've come to learn.
More often than not, what's portrayed in the media is not the regular, everyday stuff. It's our extensions with each other – with real people – that makes up the everyday.
The question is how do we embrace the feelings of all these young people all over the world who love Japan?

A new article every Wednesday!
Next time: A three-month reunion. Reuniting with Japan fans in Qatar and Doha.

Columnist: Sakurai Takamasa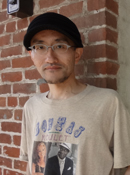 Contents Media Producer, author, journalist, managing director of Contents Street Inc. Chief Editor of iPhone magazine "Tokyo Kawaii Magazine" (ASCII Media Works), World Cosplay Summit Executive Advisor, Chief Researcher at Kodansha/Kodansha BC China Management Laboratory.
Cultural diplomat producing events in 103 cities in 24 countries. Books include "Galapagos-ka no susume"(Kodansha), "'Suteru' de shigoto wa umakuiku"(Diamond-sha), "Nihon wa anime de saiko suru
"(ASCII Shinsho), "Sekai no kawaii kakumei " (PHP Shinsho), and "Anime bunka gaiko "(Chikuma Shinsho). Writes regular columns in the weekly magazine "ASCII" and Yomiuri Shimbun.

●twitter http://twitter.com/sakuraitakamasa/