#21 Reunions in Doha. Talking Idols and Lolita Fashion in the Middle East!
How did I get to be the one standing in this place? I could be on my way home from dinner, standing on some random street corner somewhere in the world and this thought will occur to me. The faces of numerous people come to mind when I think about the people who helped guide my life down this particular path. It's my countless encounters with others that have formed the foundations of my brand of cultural diplomacy and I feel it's something I've never been alone in creating.
My first visit to Qatar came in March 2012. It was all thanks to the Ambassador of Japan to Qatar and the former head of the Public Diplomacy Department for the Ministry of Foreign Affairs, H.E. Kenjiro Monji, who appointed three Japanese models with the role of Kawaii Ambassadors to Japan in winter 2009.
I heard many stories about Qatar from Mr. Monji when he returned home to Japan on a temporary visit. Things like how unique a city Doha was, how historically new Qatar was compared to other countries in the Middle East, and how important culture was to raising the morale of the nation's people.
I decided to see this country Qatar for myself and that opportunity came in March this year.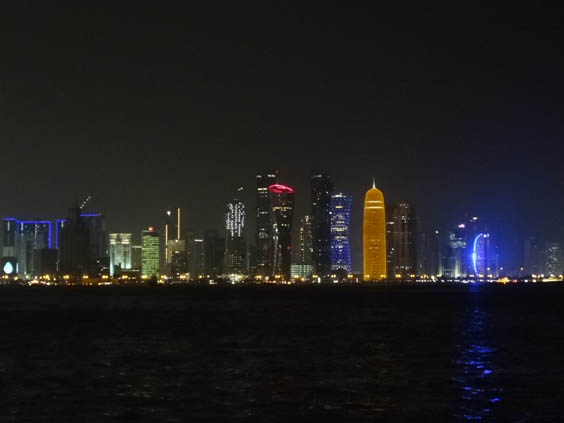 The international city of Doha at night.
I'm constantly traveling to various cities all over the world in my line of work, and in many cases, I go to these countries to give talks and give lectures at universities. I talk about Japan, explain the global situation of Japanese pop culture to young Japan supporters, and inform people that there are likeminded people all over the world – anime and Japanese fashion lovers just like them. There are various objectives to what I do but just as important as these objectives are the various encounters that lie in wait.
At the presentation I gave in Doha in March, in the reception room of the Japanese embassy, I had the chance to meet with some of the local youth and it's encounters like these that go on to form the strong bonds I now have between Qatar and myself.
#56 "Everything began with 'Nausicaä of the Valley of the Wind.'" Speaking with Japan fans in Qatar!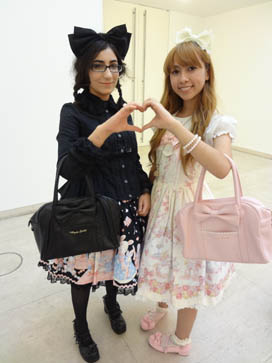 Japanese fashion fans living in Doha. The girl on the right is wearing brand "BABY" which she bought online.
"I'm going to set up a "Kawaii Qatar" community on facebook!" The girl who told me this back then went on to do exactly that – she made the group and continues to send me updates via email and facebook, and she even took the initiative and went to visit Japan herself. I met her in Japan and had tea with her and her mother in Akihabara, and as I listened to her speaking so radiantly about her time in Japan, it occurred to me that until March this year, Qatar was just another far away land to me, but thanks to connections like this Qatar is now a lot closer to home.
Then, six months since my first visit, I went back again. In December each year Doha holds its International Book Fair, and this year, to celebrate 40 years of diplomatic relations with Japan, a special Japanese exhibition will be held with yours truly being chosen as one of the members to help organize the various events to be held at the Japan booth during the Fair. So the purpose of my visit this time around was to take part in a meeting for this event.
Everyone at the embassy lent me their support and I was also able to hold a talk at Doha's Museum of Islamic Art. Qatar certainly lived up to its reputation of being an international city with a number of employees of Japanese organizations and young foreign nationals living in Doha also turning up to take part.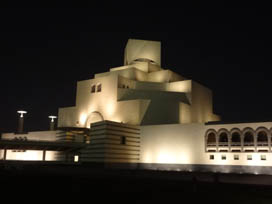 The Museum of Islamic Art
No matter where I go in the world, whenever I show a group of people photos of cosplayers, more often than not they'll all scream out the names of the characters or the anime being cosplayed. Seeing the shock on the faces of any Japanese people who happen to witness this is also just as common a sight. It makes me so happy to see the smiling faces of the young people in my talks who scream out anime titles and enjoy answering questions about pop culture related topics. It's clear that these people are just overjoyed that they're able to take part in conversations about Japanese anime or idols or Japanese fashion – things that they quite obviously love.

Of course, events that draw people in the thousands and tens of thousands are important, but these events are not simple things that you can set up and achieve just anywhere in the world. All things have a process.
Perhaps with these initial first steps it will give someone the courage to go and creat a Paris Japan Expo of their own in five or ten years' time. At least, it's something that I hope for in this line of work anyway. There is only so much one man can do on his own after all.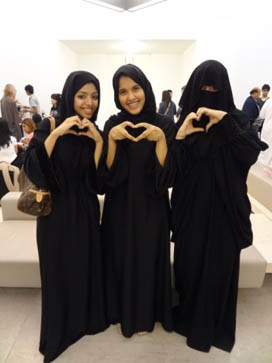 Kawaii culture lovers heart posing. I was moved that the girl on the right, a high school student, came all the way from Saudi Arabia to attend my talk. The girl on the left was the one who visited Japan and she's also a fan of Yamapi.
The Qatari university student who had tea with me in Akihabara came to see me in Doha after her classes.
"So what did you enjoy most in Japan?"
"Yamapi's (Yamashita Tomohisa) concert and the maid café!"
I'll never forget the look on her face as she and her mother were about to enter the maid café, "Maidreamin," after our meeting in Akihabara, and it was every bit as fun as she expected apparently. She told me how she thought Japanese maids were incredibly kawaii and she also mentioned that her sister was planning a trip to Japan so she could see idol group "C-ute" perform their fall concert.
During my talk it was revealed that former Kawaii Ambassador, Misako Aoki, would be attending the International Book Fair in December to take part in a fashion show as part of the event. One of the girls in the audience, an Australian, also attended my talk in March – wearing Lolita fashion then too – and says she is a big fan of Misako Aoki's. Seeing her on the verge of tears at this news was rather moving.
At the talk she was wearing popular Lolita fashion brand, "Baby, The Stars Shine Bright," which she says she purchased directly online.

In the lead up to December I will be busy working on event plans for the Japan booth at the book fair in Doha. But I rest easy knowing that I, and all those involved, know that we have strong allies in the young Japan lovers in Qatar.
I'm excited by the thought of what we could achieve for Japanese culture with their support. Watch this space.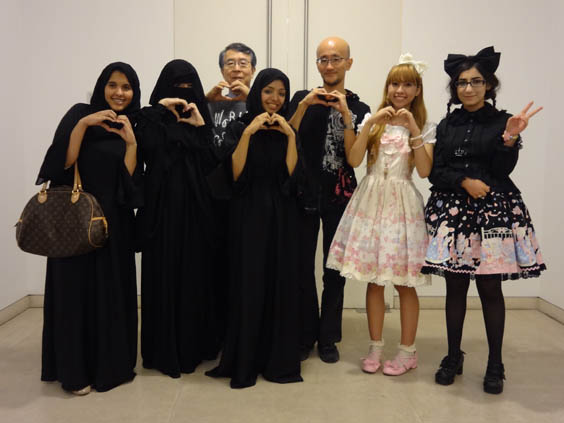 A group photo with Ambassador Monji.
A new article every Wednesday!
Next time: Local kawaii girls guide me through the otaku situation in Hong Kong.

Columnist: Sakurai Takamasa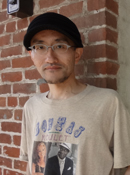 Contents Media Producer, author, journalist, managing director of Contents Street Inc. Chief Editor of iPhone magazine "Tokyo Kawaii Magazine" (ASCII Media Works), World Cosplay Summit Executive Advisor, Chief Researcher at Kodansha/Kodansha BC China Management Laboratory.
Cultural diplomat producing events in 103 cities in 24 countries. Books include "Galapagos-ka no susume"(Kodansha), "'Suteru' de shigoto wa umakuiku"(Diamond-sha), "Nihon wa anime de saiko suru
"(ASCII Shinsho), "Sekai no kawaii kakumei " (PHP Shinsho), and "Anime bunka gaiko "(Chikuma Shinsho). Writes regular columns in the weekly magazine "ASCII" and Yomiuri Shimbun.

●twitter http://twitter.com/sakuraitakamasa/