#36 Lolita Fashion Starlet, Aoki Misako – a big hit in Qatar!
I first met Aoki Misako in February 2009. At the time I was on a panel of advisers to the Ministry of Foreign Affairs, searching for candidates for the "Kawaii Ambassador" project and Aoki Misako just happened to be one such candidate who seemed perfect for the role. You could even say it was because we had Misako on board that the project was able to get off the ground.
In 2009, we toured together to 11 cities in 6 different countries. One of those countries was Brazil and it was there that we spent 14 days and 11 nights, touring 4 cities in the middle of summer.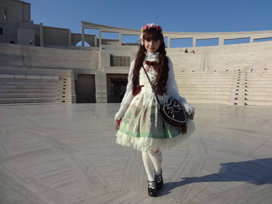 Outdoor arena in Recife, Brazil.
As brutal as the schedule was though, we had 20,000 people gather for us at an outdoors event in the city of Recife, and the trip turned out to be an unforgettable experience for the both of us.
Since then we've worked on a number of fashion shows together, including one in Nanjing in March 2011 and Shenyang in June 2012. Misako came with me to Shenyang to help do the makeup for the middle/high school girls who were to appear in the fashion show, and then some fans of Misako's caught planes and trains from various other cities around China to come meet us and help her out with the makeup and styling as well.
#6 The Kawaii Girls of Shenyang and Their Long Awaited Catwalk Debut!
After spending this much time traveling the world together, we've reached that point when everything we do is in sync.
Unlike events held in Japan, at events overseas you won't find any Japanese staff working there and unexpected things tend to happen. But there's no point in getting upset at every little thing. The key to success in these situations is your ability to adapt and I believe it's because of Aoki Misako's tactfulness and quick wit that we've been as fortunate in our travels as we have. No matter what problems we encounter prior, when it comes time to appear on stage she knows how to bring everyone together to put on the best show we possibly can. In this regard, I think it's her other self – the Misako that works as a nurse (her other profession) – that plays a vital role. She doesn't waste any time or resources in anything she does. When it comes to show time, for me, Aoki Misako's presence is invaluable.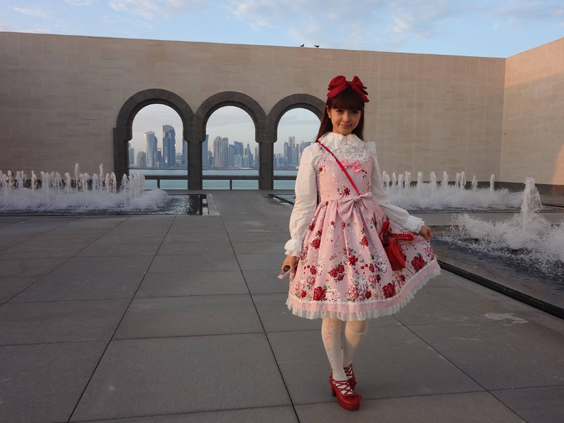 The Museum of Islamic Art. The high-rise city of Doha in the background.
Last year, Japan was invited as the Guest of Honor to attend the Doha International Book Fair, held from December 11-22, 2012, and I was the one put in charge of coordinating the content at the Japan booth.
The kawaii fashion show was held over two days: the 21st and 22nd. It was a great success but I'll talk more about that in my next article.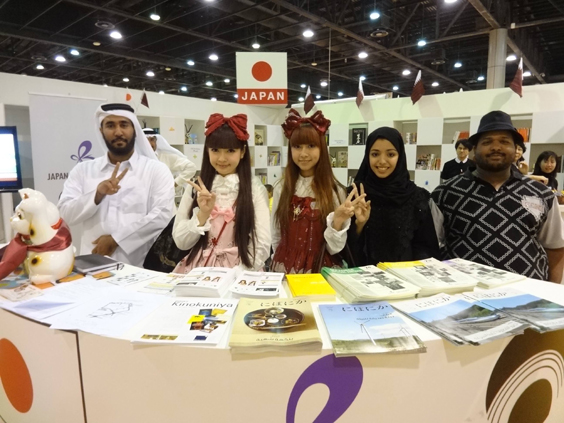 At the Japan booth with some locals.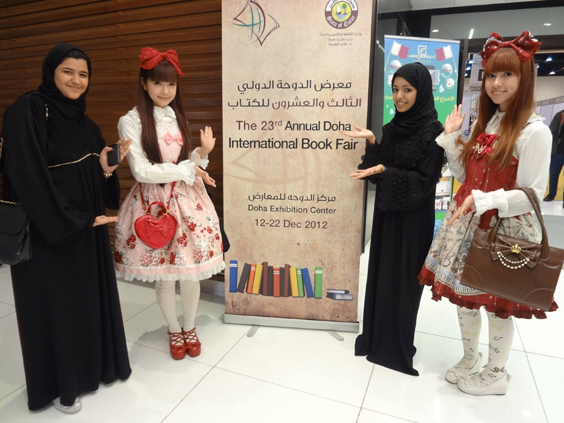 With two Qatari girls and Qatar resident/Lolita fashion lover (far right). A big fan of Aoki Misako.
We displayed outfits by all the participating Japanese brands during the event, but the most popular by far was the Lolita fashions. In the presence of family or groups of all women Qatari girls can wear what they like, but in any other situation they must dress in traditional Islamic attire known as 'abaya.'
There's still a high demand for clothes to wear underneath the abaya though, and from the event's beginning to end, staff at the Japan booth received continuous requests from event goers sell them the Lolita clothes that were on display. We were using the items for the display so we couldn't sell them unfortunately, but what it did reveal was that there is in fact a market for Lolita fashion in the Middle East.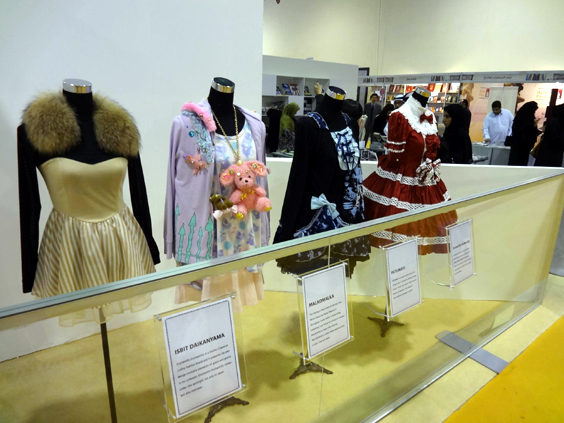 The mannequin torso display by brands taking part in the fashion show. From left: ISBIT△DAIKANYAMA, MALKOMALKA, PUTUMAYO, Enchantlic Enchantilly.
Then it came time for charismatic model of the Lolita fashion world, Aoki Misako, to take to the stage for the Book Fair finale. The same thing seems to happen no matter where we go but, whether it's at the event or walking through the city, everywhere Misako goes people want to stop her and ask for photos. If you don't factor in time for this in the schedule, things can turn to disarray quite quickly. The situation in Doha was no different.
After this trip I really felt that the pursuit of kawaii is the same for girls all over the world. Aoki Misako truly is the epitome of kawaii ambassador. It may have been a project enacted by the Ministry of Foreign Affairs in 2009, but Aoki Misako's very presence is like a kawaii ambassador for cultural diplomacy and remains to be so to this very day.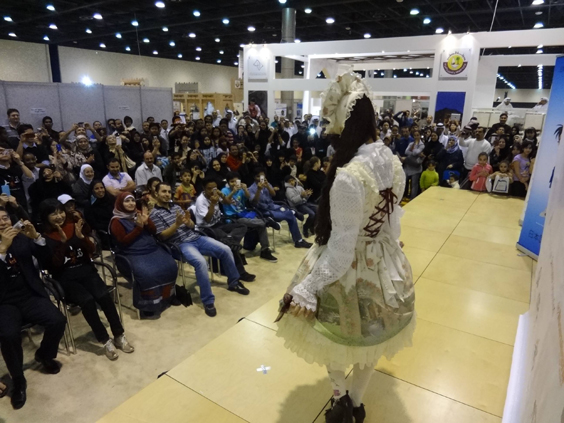 Kawaii Fashion Show. The crowd cheered when Aoki Misako appeared on stage.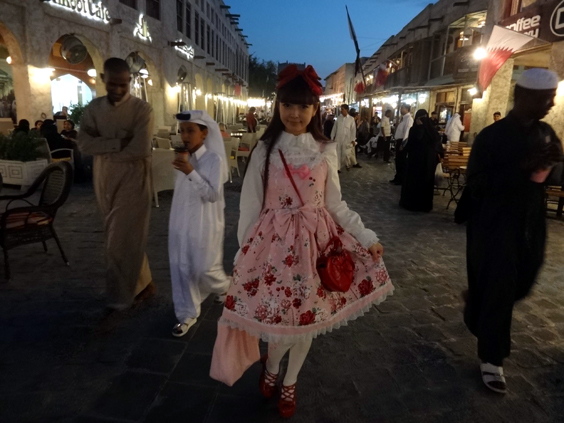 At the 'souq' (market).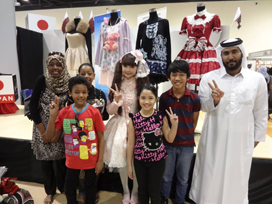 No matter where she goes everyone wants a photo with Misako.
In preparation for the event in December I gave a lecture in Doha a few months prior, in September. It was then that I revealed that I would be returning with Aoki Misako in December for the Book Fair and there was one lolita fashionista in the audience who was literally moved to tears at this news.
I don't know when or where the next stop on our itinerary will be, but I'm sure that Misako will be there ready to bear the flag for the world kawaii revolution once more. I can't wait.


A new article every Wednesday!
Next time: Report from the Kawaii Fashion Show in Doha, Qatar!

Columnist: Sakurai Takamasa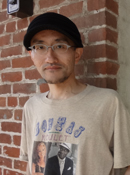 Contents Media Producer, author, journalist, managing director of Contents Street Inc. Chief Editor of iPhone magazine "Tokyo Kawaii Magazine" (ASCII Media Works), World Cosplay Summit Executive Advisor, Chief Researcher at Kodansha/Kodansha BC China Management Laboratory.
Cultural diplomat producing events in 103 cities in 24 countries. Books include "Galapagos-ka no susume"(Kodansha), "'Suteru' de shigoto wa umakuiku"(Diamond-sha), "Nihon wa anime de saiko suru
"(ASCII Shinsho), "Sekai no kawaii kakumei " (PHP Shinsho), and "Anime bunka gaiko "(Chikuma Shinsho). Writes regular columns in the weekly magazine "ASCII" and Yomiuri Shimbun.

●twitter http://twitter.com/sakuraitakamasa/